Last Saturday evening at the Indian Monument Garden saw the sashing of nine of ten beauties who will be vying for the Miss India Guyana 2017 crown come May 19, at the Marriott Hotel.
This year the Miss India Guyana Organisation accepted a total of 30 applications and after a month long of interviews and deliberation, they were narrowed to half. A further process of due diligence saw ten of the fifteen ladies seizing a spot in the finals, according to the organisers.
In a release, franchise holder Uma Bux stated, "The Miss India Guyana Organisation is not only looking to have a beauty ambassador on the international stage but… a young leader and role model. A young woman who can be held in high esteem as a public figure, an all-rounder, who can make Guyana proud and build a platform where young women… can come together to fight the many societal ills plaguing our country today."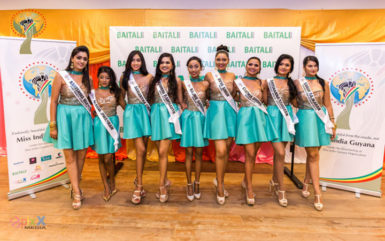 In a later interview with The Scene she mentioned that there will be preliminaries running up to the final leg of the pageant where the contestants will be assessed for behaviour and personality and added that this is so, as not to have any recurrence of last year. A few months ago the organisation dethroned last year's queen Brittany Singh allegedly owing to a breach of contract. The queen later denied this.
The Miss India Guyana 2017 contestants are believed to be among the best yet and it is expected that by the night of the pageant the training they would have received would have helped them to be well-rounded individuals.
The pageant night will be a packed event of categories: interview, talent, Indian wear, evening gown and question and answer segment. However, while five ladies will be chosen from the first four categories based on compounded scores, the lady to be crowned Miss India Guyana 2017 will be chosen based only on points garnered from the question and answer segment.
The contestants are currently undergoing rigid training so the lucky lady selected to represent Guyana will be well-grounded in her pageant abilities while baring an unquestionable character.
Some of the trainers working closely with the contestants are: Derek Moore (pageant coach), Neil Marks, Surida Nagredi and Paul Moore (public speaking and public image trainer), Uma Bux, Sheila Matura MP, Niki Budram and Fitness trainer Shavi from Genesis Fitness Club (personal and professional development trainer).
Also in attendance would be Miss India Worldwide Karina Kholi who will beperforming a dance as well as the Ishara Dance Troupe.
Missing from the sashing ceremony was delegate number Sangeeta Bahadur who is currently in Canada. The other contestants are: Cynthia Dookie, Alecia Jiwanram, Shoshanna Ramdeen, Divya Singh, Karishma Makwana, Samantha Chunilall, Rajnie Shiwpal, Sarah Rajkaran and Ash Ramnauth.
Around the Web