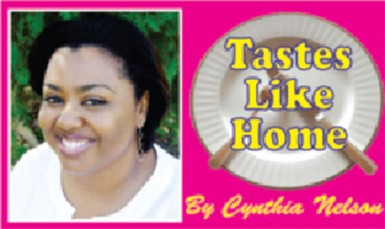 Hi Everyone,
How are you enjoying the bountiful mango season? I love gazing at the basket of mangoes on my kitchen counter. The mangoes' fragrance envelopes the entire room. With eyes closed, I like sniffing them too; so sweet.
I've been reviewing the list I wrote a little over a month ago telling you what I am planning to make this mango season – rice pudding (sweet rice) with mango sauce, mango-mustard salad dressing, flat breads with mango and aged cheese. All in good time my friends and I promise to share. One of the things on that list was a fresh fruit tart made of mangoes. I had asked for help in determining the filling for the tart shell. Sandra Seenan's (a long time reader of this column) suggestion of mixed curd cheese with beaten egg and milk topped with scrunched up ginger biscuits and a wisp of cardamom made me completely discard the idea of a pastry crust, opting instead for a ginger-biscuit crust.
I started to play around with some ideas and here's what I came up with: a baked ginger cookie crust, a filling of in-season cooked pineapple with a hint of orange, topped with slices of fresh mangoes. The tart was not only beautiful to look at but it tasted "super nice" according to a 10-year-old boy who tasted it. There were textural layers – first the soft bite of fresh mango, followed by the smoothness of the pineapple filling, finishing with the crunch of the crust. The fresh mango also worked as a palette cleanser between bites.
The tart is easy to make and assemble and uses fruits currently in season – pineapples and mangoes. Make it for dessert tomorrow. This recipe was tested using an 11-inch tart pan, and I would strongly recommend making the pineapple filling a day ahead so that it cools completely and that there's less work the following day. Here is the recipe.
Special Equipment
1 (11-inch) tart pan, preferably with removable bottom
1 (11 x 13-inch) baking sheet
Cake stand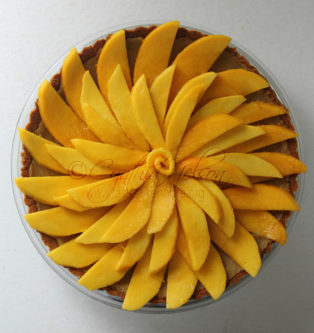 Ingredients
For filling:
2 pounds chopped pineapple
1 cinnamon stick
3 whole cloves
Zest of 1 orange (optional)
¾ cup water
¼ cup white sugar or to taste
For crust:
36 ginger nut cookies (or your preferred ginger cookies)
½ cup unsalted melted butter
For topping:
Slices of fresh firm ripe mangoes
Directions
For filling:
Puree the pineapple in a food process or blender until smooth.
Add pureed pineapple, cinnamon, cloves, orange zest and water to a pot and place over medium heat. Bring to a boil or until the mixture starts to plop/burp, reduce heat to low, cover pot and cook for 30 minutes.
Remove lid from pot after 30 minutes of cooking and raise heat to medium. Add sugar and stir to dissolve. Bring pot to a boil (plop/burp) and cook uncovered for 20 minutes or until liquid no longer seeps through the mixture. Remove from heat and cool completely. Set aside for use the next day.
For crust:
Preheat oven to 375 degrees F.
Break up the cookie-biscuit into large pieces and tip into the bowl of a food processor. Cover and pulse until reduced to fine crumbs. With the motor still running, drizzle in melted butter. Pulse to mix well and coat crumbs.
Put tart pan on to sheet pan.
Transfer crumbs to tart pan and spread evenly to cover the base of the pan as well as the sides of the pan. Use the bottom of a glass to help press the crumbs into the corners and sides of the pan.
Bake for 10 minutes or until the crust is crisp and firm to the touch; remove from oven and cool completely on a wire rack.
To assemble:
Spread the pineapple filling evenly over the base of crust coming half way up the sides.
Arrange the slices of mango on top of the pineapple filling starting from the outer edges working inwards.
Remove tart from pan and place on cake stand. Slice and serve.
Enjoy!
Cynthia
cynthia@tasteslikehome.org
www.tasteslikehome.org
Comments

Hi Everyone, Guyana opened its latest fast food restaurant chain in December – Burger King – and from all accounts, it's a huge success.

Hi Everyone, The year is still new, so hopefully you're still in a resolution frame of mind.

Hi Everyone, Today marks the beginning of the 12th year of this column, Tastes Like Home.

Hi Everyone, Today is Old Year's Day and that means that homes across Guyana will be making the traditional end-of-year Cook-up Rice.

Hi Everyone, At this time of the year several people always say to me, "I'd love to come to your home one Christmas; I can just imagine the fancy things on your table." I laugh and shake my head; "You'd be disappointed; I keep it traditional at Christmas.