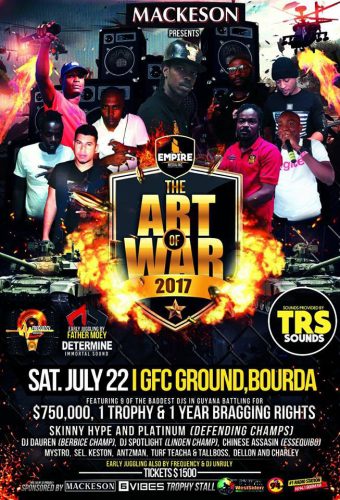 Mackeson and Empire Media Inc are set to host what they describe as the highly anticipated Art of War 2017 on Saturday, July 22 at GFC ground, Bourda.
This event, which promises "a night of musical warfare", is in its second year but according to the organisers has already created a social media craze with fans all hyped and ready for the battle. Art of War will feature nine of Guyana's elite DJs and selectors who will do battle for $750,000, one trophy and one year bragging rights.
According to a press release, competing DJs and Selectors are, defending champions Platinum and Skinny Hype, Dillon and Charley, Turf Teacha and Tall Boss, Antsman, Keston, Mystro, Dauren (Berbice) Chinese Assassin (Essequibo) and Spotlight Sound (Linden).
There will be four rounds in the clash: round 1: Declaration of War (Anything Goes including Dub-plates) 2 Elimination – 10 minutes, round 2: Engage the Enemy (Anything Goes including Dub-plates) 2 Elimination – eight minutes, round 3: Dead Artiste Round (Only dead artistes can be played No Dub-plates) 2 Elimination – 10 minutes, round 4: Final Round: Tune for Tune – vocal artistes only.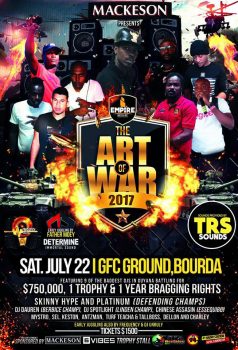 The Art of War clash will be judged by the fans while the rules will be enforced by the Host/Emcee. The crowd will be asked to judge by show of hands and not by voice or noise.
Early juggling will be provided by Father Moey Determine Immortal Sound, Frequency Sound, DJ Unruly, DJ Supreme and TRS Sound.
Tickets are $1,500 and will be available soon at Nigel's Supermarket Depot, White Castle Fish Shop and Korner Kick Restaurant and Bar. Gates will be opened from 6 pm and the clash will start at 9 pm. For more information visit the Facebook page Empire Media Inc or on Instagram @empiremediainc or call  David Williams on 687-0989 or Eusi Davis on 862-233-0494.