Just three weeks short of the staging of the Miss Guyana Renaissance pageant, twelve ladies are kept busy perfecting dance routines, walk and speeches.
In a recent edition of The Scene we introduced six of the contestants vying for the title; today we present the remaining six.
Deon Jewel Smith, 40, is the CEO of her own company called Jewel's International Floral Interior Designs Enterprise (JIFIDE). Before the company got its name Deon said, it began many years ago with her being a hairdresser, this became a thing of the past when she took up wedding planning and light designs. Today JIFIDE is known for its gold and dry floral designs.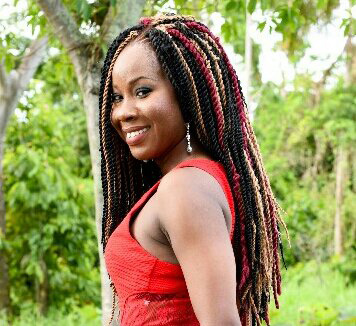 Deon said she once was caught up in an American television series Lifestyles of the Rich and Famous (that aired in syndication from 1984-1995) and was always fascinated by the models on the show. Having known Negla Brandis (the founder of the pageant) as well, Deon had always admired the way she carried herself and whenever they talked, Negla would encourage her to be a part of the pageant. She took the jump this year and so far she has learnt quite a lot and she is enjoying herself.
Deon is also the founder of the DVM organization (Developing Virtuous Mothers). Through this she helps to teach teen mothers necessary skills. Because she feels strongly about women and their education, this is an area she would want to continue to pursue should she win the crown. For hobbies, the Libra enjoys boxing, driving, swimming and dancing although she does admit to having two left feet. Her all-time favourite food is ground provision.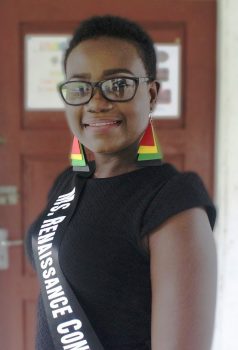 Stacy Carmichael is a mother of three and senior communications officer at Ministry of the Presidency (Press and Publicity Unit). Before that she worked at the National Communications Network for four years as a senior reporter, editor and news presenter. Stacy who had always been fascinated with pageantry said having her children early made her an unsuitable candidate for pageants. However, the Miss Renaissance Pageant embraces mature, intelligent women and Stacy, seeing her opportunity, entered.
The 32-year-old old former St Joseph High student said should she win the pageant she would want to focus on women and domestic violence. Through this Stacy hopes to be an inspiration to other women who might be mothers and wives, to show them that they can still pursue their dreams. Stacy, a Libra as well, enjoys singing, dancing and interacting with interesting people.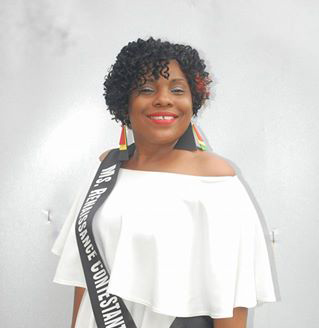 Forty-year-old Odessa DeBarros is an Administrative Professional at the Ministry of Education attached to St Rose's High School. This is Odessa's third pageant. Her first was the St.Gabriel's Primary School pageant where she finished as first runner-up. She also participated in the Canje Secondary School Pageant in 1991 and was crowned queen.
So far this pageant has helped her to find her inner-self and has made her more confident. "I've always been asked to model pieces for persons but being inexperienced in that area, I always say no. However, this pageant is giving me a bolder approach to modelling and fashion," Odessa said.
Odessa added that she has always been concerned about homeless children and believes they deserve a better place in society. Should she be crowned queen, she believes she could use the platform to help children in need. Odessa is a mother of two, a boy and a girl, and she enjoys cooking especially cook-up, travelling and meeting interesting people. Her favourite colour is orange.
Jillian Viola Moore is an Inspector of Police attached to the Office of Professional Responsibility. She hails from Berbice but has been living in the city for a number of years. Jillian has always been fascinated with pageantry. According to her, many years ago, pageantry was never aired on television but was broadcast on radio and since then she was hooked. It was a good Facebook friend of hers, also a friend of Negla's, who suggested and encouraged her to become a contestant in the pageant.
Jillian has always been concerned about domestic violence and child abuse and having specialized training in this area, she plans on continuing her work win or not. "We've always been affected by domestic abuse though it may not always be physical. As a domestic violence counsellor I've been trained by the police in recognizing symptoms of domestic violence. Where I grew up, it was a norm to see a man beating a woman. Child abuse goes hand in hand with domestic violence. Children who suffer abuse would tell you their mothers used to suffer at the hands of their fathers…," Jillian said.
Jillian is a law student the Nations' University. Her hobbies are singing, reading and public speaking. When not wearing her uniform she would mostly be wearing aquamarine. Her favourite dish is pepper pot with everything in it, and rice.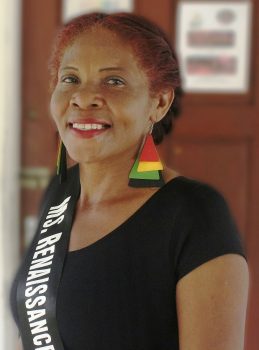 Nokolo David is a Publication Officer at Guyana Revenue Authority. Nokolo, who placed third when she competed in the Miss Brickdam Secondary School Pageant back in 1999, said she had always had a love for modelling and loves that pageantry gives women the opportunity to showcase poise and personality.
Nokolo has always been passionate about domestic violence, and believes this is the result of women not being valued. "….Women are seen as places in the kitchen. We're taken for granted and because of this we're abused. I want to have seminars to deal with this issue to help empower women and to help them see their worth. Even though it's a man's world, we belong here and need to be valued and appreciated. I believe in the quote. 'The strength of a nation is in its womanhood' and if men should recognise this, women would be valued."
Nokolo enjoys playing board games, meeting new people, travelling and indulging in her favourite Guyanese cuisine especially: cook-up rice, duck curry and dhal and rice washed down with a cold glass of mauby. Her favorite colour is red because it's a colour of strength, fire, passion and love, and also the colour within her African culture it signifies the blood of slavery and is the colour within the Golden Arrowhead that signifies resilience. She is the mother of one son.
Fifty-two-year-old Tessa Fernandes hails from Mabaruma, Region One. For many years before she migrated to Georgetown, Tessa played a pivotal role in the Miss Region One pageants as well as designed for the contestants who would have passed through her hand. With knowledge of what goes on in pageantry, she hopes this will help her to win the crown.
Her son, Desmond is currently part of the Mr Guyana African Roots pageant slated for August as well. Her son, she said, had always wanted her and his sister to be a part of the Mother and Daughter pageant, but his sister was always shy and it never happened. After hearing of this pageant, he signed his mother up for it; Tessa said she has been thoroughly enjoying the experience.
"I've always felt strongly about women's development," said Tessa.
"I had started primary school at eight. We lived in the riverain area and to be able to go to school we had one criteria; you had to know to swim. I never got to complete my primary education and got married at a young age then had twins [girls] at the age of seventeen. My husband encouraged me to go back to school and I went and wrote six subjects and then completed a diploma at UG in Public Management and a degree in Business Management," Tessa said.
Tessa has also completed a Diploma in Computer Studies. She also worked with SIMAP teaching more than 100 women from different communities in the North West District (Barabina, Bumbury and Hosororo). Fernandes is currently a teacher at St Barnabas Special School. She intends to pursue her Master's in Business Management at UG from September.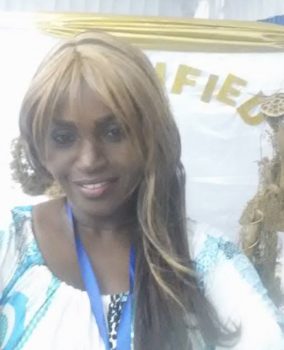 Tessa enjoys outdoor sports, reading and promoting her culture.
Her favourite colour is aquamarine.
Miss Renaissance Guyana was founded in 2003 by Negla Brandis and although this is its fourteenth year, this year's pageant is its eighth. The pageant had initially started out as an annual one but because of sponsorship has become a two-year pageant. The pageant specifically caters for women over thirty.
This year's pageant is slated for August 19 at the National Cultural Centre from 20:00 hrs.
Around the Web