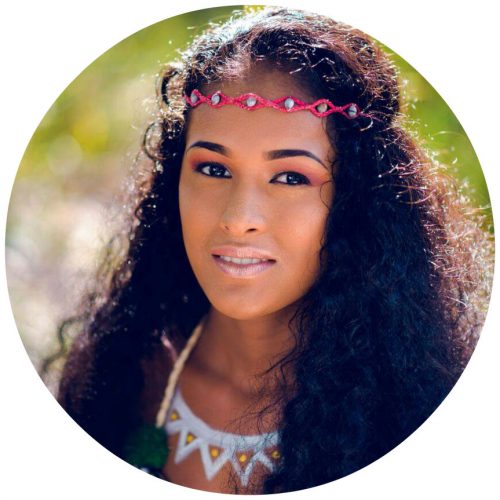 Young ladies from the ten administrative regions will today be sashed at the Everest Cricket Ground in anticipation of next Saturday's crowning of a new Miss Indigenous Heritage at the National Cultural Centre.
The Miss Indigenous Heritage pageant is held every two years.  In 2015, Region nine's beauty, Sherika Ambrose copped the title.
Next Saturday will be the ninth hosting of the pageant.
This year's indigenous beauties come from six of the nine Amerindian tribes namely: Arawak/Lokono, Carib, Warau, Arecuna, Patamona and Wapishana
The girls would have competed at the regional level and won, moving them forward to participate at this year's national level comprising of six categories; introduction, talent, evening wear, platform interviews, traditional wear and the final category of the question and answer segment. The first five segments will be tallied for each contestant and the final five to be chosen will be based on the combined scores. Once the contestants have been rounded off to five, they will compete during the final segment for the Miss Indigenous Heritage 2017's title on a clean slate…..
To continue reading this article
Comments

Nineteen-year-old pop/soul singer/songwriter and personal designer Jasha 'JJ Artz' Abrams, when he isn't making a statement with his voice is doing so with fashion.

During my extremely short-lived tenure as a model for Donna Ramsammy-James when I lived in Guyana, I was always hesitant of highlighting it as something that I did.

Canada-based Guyanese and humanitarian Sangeeta Bahadur finished as second runner-up in the Miss India Worldwide Pageant at the Royal Albert's Palace in Edison, New Jersey last Sunday night, October 8.

The wee hours of Sunday morning saw 20-year-old stunner, Sherryanna Balkaran of Paramakatoi being crowned Miss Indigenous Heritage at the National Cultural Centre.

Guyanese will this evening be treated to a display of fashion and live entertainment at Tower Suites poolside as in honour of Miss World Guyana 2017 Vena Mookram as organisers also attempt to raise some much-needed funds to cover her wardrobe for the Miss World competition being held in China which kicks off October 20.