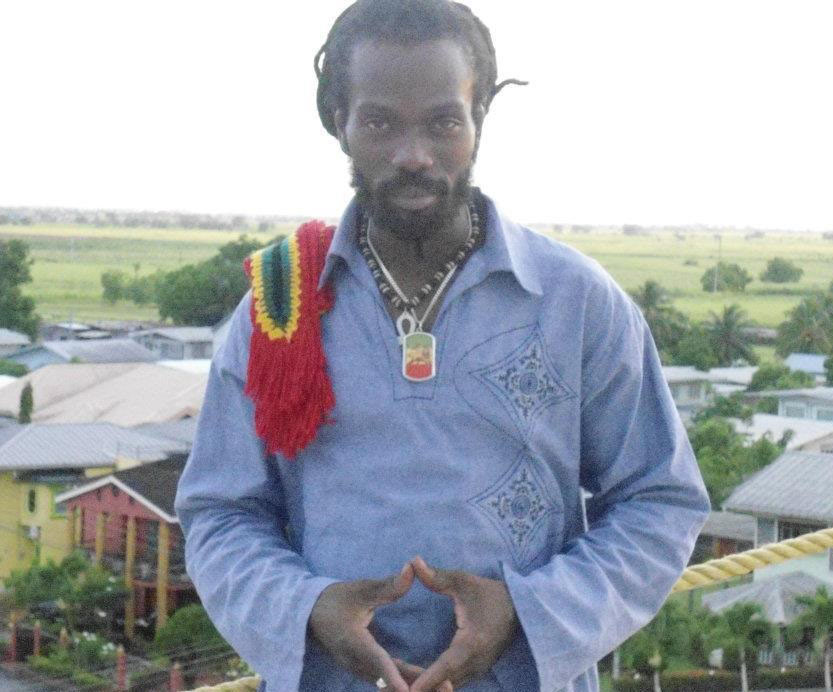 Lambert 'Lambi I' Semple, singer/songwriter and lead vocalist in the famous 'How are We Gonna Survive' produced by the now defunct popular group 'First Born', of which he was a founding member, has now gone solo. Just recently he released his fourth single 'Women and Children' which has already taken the radio airwaves by storm and has been rocking on five of the local stations.
The song speaks out against women and children being abused, drugs and the importance of education. It was first recorded back in 2009 in Trinidad & Tobago at a crucial point in Lambert's career and life. He shared that it was a time of reflection as well and the song was birthed through the inspiration of his daughter, Trinity.
In an interview with The Scene Lambert shared his journey through music with First Born, before them and even now that he's become a solo artiste.
"I had just returned from New York to Guyana. My wife and I had a new baby that we named Trinity. She was our third child and given the name as the purpose of keeping the three of them (children) in unity but shortly after my return my older daughter Sarafina who was ten at the time got sick and passed", said Semple trying hard to keep his emotions intact. This loss however, pushed the family to such a breaking point that they (the parents) decided to take a break and so he went to Jamaica while his wife stayed in Trinidad. A year later when Lambert could no longer fight back the desire to see his family, he boarded a flight to the twin island where he was reunited with them again. Then one day with little Trinity cuddled in his arms, the words for 'Women and Children' began to flow. Soon after he recorded at a studio there.
The singer said that many of singles are written from personal experiences; experiences that fans can relate to.
Coming from a family where music flowed through their veins, Lambert was caught up in musical activities at a young age. His music career began when he was just five years old. He recalled the late Teacher Georgie, a close family friend and teacher, hosted annual concerts where he and other participants would put on a show. She taught them to waltz, and recite poems from Macbeth and Shakespeare.
Lambert, who later turned to the Rastafarian religion, had started out at the Lutheran Full Gospel and the Wesleyan churches singing gospel songs. According to the artiste, his talent was pointed out to his mother by his Sunday School teacher, Sir Raymond. After realizing his talent, his mother, a fervent church-goer and singer, often gave him vocal training.
What Teacher Georgie began, opened a whole new world for Lambert not just performing onstage aspect but learning to recite poems led to him to learning to write compositions and at age fourteen, penned one of his first songs 'Better World, Better Place'.
Five years later when he was nineteen, he'd take on the H.H. Franklin Production Competition against thirty four other competing artistes, grabbing first place with 'Better World, Better Place'. The prize was a chance to record two singles and an all-inclusive trip to Jamaica. Sadly, none of this was materialized due to what was suspected to be lack of sponsorship. Nonetheless, Lambert didn't lose hope and three years later in 1997 found himself with First Born and Vizion Sounds in the Land of Reggae.
Lambert, who was a part of the group for fourteen years, said that First Born initially started with eight members: Troy Azore, Rolston Richmond, Trayon Garrett, Shawn Williams, Russell Lancaster, Steve Dannette, Campton Garrett and Lambert. The group was spearheaded by manager Campton. Together they released five of seven albums. They recorded most of their songs in Jamaica and was well received by the people there. In the past, the group would have recorded with Jamaican artistes; Gregory Isaacs, Dennis Brown, Buju Banton, just a few of the big names.
Singing with the rest of the group Lambert said has taken him to new heights. First Born's songs have reached four of the seven continents including; North America, Europe, South America, a few countries in Asia including Japan and they are famous for their conscious reggae music throughout the Caribbean. However, after a tour in 2009, Lambert left the group.
"Being a part of this group, I gained a lot of experience and had a good time with the guys", he said. However, wanting to find an identify for himself, he decided to go solo.
Since he's gone solo, Lambert has done a number of concerts in Trinidad and Guyana. To date he's opened for Luciano, Glen Washington, Conscious, Jah Cure and Admiral Tibett. Since his return he's performed two years at the Folk Festival at the Linden Town Festival, opened for Popcaan and also opened for Natural Black at 704 and did two concerts in New Amsterdam, Berbice.
Throughout his career Lambert has worked closely with record labels; Vizion Sounds and Brutal Tracks. Currently he's attached to DP Records.
Some of the famous songs written and sang by him are: 'How are We gonna Survive' (written by Lambert and Saiku Andrews and recorded with First Born), 'Repatriation Time' (written by Lambert and recorded with First Born) and Better 'World, Better Place' (written by Lambert and Saiku featuring Natural Black).
What is it being onstage performing for a crowd? In his own words, "Performing onstage makes me feel like I'm at the pinnacle. I could have no money and go perform onstage but then I begin singing and the crowd sings along; that makes me feel like a millionaire."
Speaking on how the music industry has evolved in Guyana, Lambert said: "The music industry has evolved greatly in Guyana. We hadn't any professional studios in Guyana back in the day or any musical engineers. We had to travel to Jamaica to record; now the
Jamaicans are coming here. The artistes today are better off because of the internet and social media and they can promote their own music.
"But when it comes to the support we get from past administrations and the current one; not much has been done. We need more festivals to showcase our artistes; they can include music in schools and also have a music school for persons wanting to do advance levels. I believe that having good music is a vital part in promoting tourism and promoting one's culture helps to sell one's country."
According to Lambert he is faced by similar challenges as other local artistes; the challenge of getting regular bookings for concerts in Guyana and for promoters to endorse local artistes the same way they do foreigners. Should both of these challenges be overcome the man noted, then local productions can reach a new level of success.
Lambert hopes that going solo can heighten his music career and he can be an ambassador for Guyana wherever his music takes him. It's his wish also that 'Lambi I' becomes a household name in Guyana and the Caribbean.
'Women and Children' is part of a thirteen-song album which he hopes through DP Records to release by April of next year. Lambert is currently working on a video for his latest single which is set to be released on YouTube in two months' time.
Around the Web