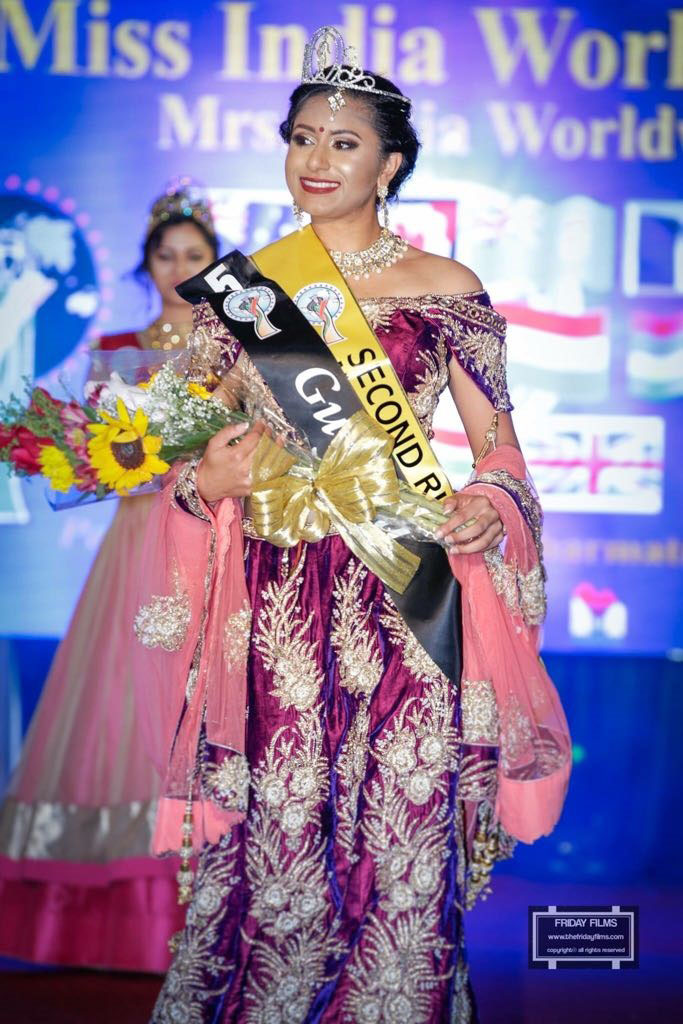 Canada-based Guyanese and humanitarian Sangeeta Bahadur finished as second runner-up in the Miss India Worldwide Pageant at the Royal Albert's Palace in Edison, New Jersey last Sunday night, October 8. Though the beauty did not cop the title she was still the queen of hearts having secured for herself the Miss Congeniality Award.
This year, 27 countries confirmed participation, but only 17 solidified and 14 made it to the competition; this would have been due to the hurricane devastation of Caribbean islands along with visa issues.
In a statement, franchise holder Uma Devi Bux said the Miss India Guyana Organization was hoping for at least a placement in the top five, but Guyana did even better and secured a spot in the top three. She added that she's contented and proud as ever of Sangeeta's performance and hard work. 
Meanwhile, in a release, Sangeeta said it was truly an honour and an absolute pleasure to represent Guyana.  The pageant consisted of five segments: Introduction, Evening Wear, Ethnic Wear, Talent and Question and Answer. The Talent competition was hosted two nights prior to the finale. Sangeeta performed an Indian classical dance outfitted in a robot costume, a fused Eastern/Western look. "I was nervous about how people would react to it but I went out and confidently presented it and the positive feedback that I received was tremendous – just knowing that something I created from scratch got the attention of celebrity choreographers…," she said. This included Bollywood choreographer, actor and columnist, Sandip Soparrkar who was raving about her unique talent piece.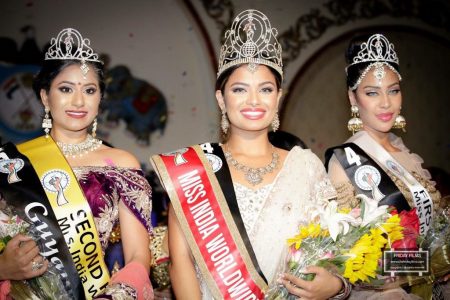 The finale began with an opening flag dance then gown choreography with the group before the ladies individually introduced themselves. Then came the Evening Wear and the Ethnic Wear before the announcement of the top eight who did their talent presentations. This led to the announcing of top five and the question and answer segment.
Sangeeta's evening wear was designed by designer Derek Moore and according to the
Bharatanatyam dancer, the princess sleeves added to her Indian wear gave her a royal feeling. For a young lady to be voted Miss Congeniality by her fellow contestants shows how genuine of a person she is. Some time ago in a sit down with The Scene soon, after her local win, Sangeeta proved the epitome of a queen. Little wonder then that her fellow contestants voted her Miss Congeniality. "It feels really great that the other ladies chose me as Miss Congeniality. Something that is very important to me is to be able to connect with people and to have been voted a recipient of this award confirms to me that it's such an important thing to be kind, considerable and to remain humble and true to people…," Sangeeta said.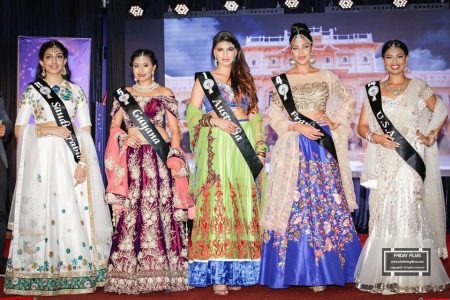 Prior to the pageant, Sangeeta kept busy with her workout schedule, practicing all her routines including the catwalk which she needed to perfect and did thanks to trainer Derek Moore. Now that the pageant is all over she can now focus on how she spends the rest of her reign. "I plan on carrying forward with general humanitarian efforts for and across Guyana. In the new year, I'd like to look into offering more workshops in the Indian arts which align with my platform goals as well as a few other initiatives I have in the planning phases. In addition to that I'll be doing a number of gratis dance performances and appearances at various charity fundraisers which all benefit Guyana in some way or the other," she said.
Asked whether she plans on participating in any other pageants, she said that many persons have expressed that she would be a great contender at the Miss Guyana World and Miss Guyana Universe competitions. However, that seems an unlikely possibility at this time as she's nearing the cutoff age for entry. She admitted that she feels satisfied and quite accomplished being Miss India Guyana 2017 and also placing in the top three at the international level adding that it feels good knowing she has done Guyana proud and would now like to focus on her career in Marketing and Communications. This will in no way take away from her humanitarian work.
She said it has been a privilege to represent Guyana and she will be forever grateful.
Sangeeta took the opportunity to thank national directors Uma Devi and Vitesh Guptar, designer and trainer Derek Moore, personal trainer Nathan Heimonen, sponsors Birkenstock Guyana and Anmol's Boutique in Brampton, Ontario Canada, coworkers at Carmen's Group, boss Katherine Lamb, CEO Joe Mercanti, family and friends and especially her little sister Chalisa Bahadur and mother Cavita Bahadur as well as her fans in Guyana and around the world.
The countries that participated were: Australia, Canada, Fiji, France, Guyana, India, Kenya,
Luxemburg, Mauritius, Netherlands, Saudi Arabia, South Africa, the United Kingdom and the
USA. The top five were Aarzu Singh of Australia, Stephanie Narmada Madavane of France, Madhu Valli of the USA, Reema Mathew of Saudi Arabia and Sangeeta. Miss USA was crowned Miss India Worldwide while Miss France finished as first runner-up, with Miss Guyana in third place.
Around the Web