The holders of the Miss India Guyana franchise have announced that they no longer have any interest in maintaining it.
This decision comes just a week after Guyana's candidate, Sangeeta Bahadur, placed as second runner-up and won the Miss Congeniality award at the 26th Miss India Worldwide Pageant.
According to one of the franchise holders, Uma Bux, in a release on Facebook, the relinquishing of the franchise was planned for the day following the international leg of the pageant whether Bahadur had placed or not.
The release further stated that the decision was made due to situations and circumstances that arose at this year's competition. This however, had not diminished the hope that Bahadur would finish in the top five. Bux added that they are content with and proud and of her overall performance which has given them the satisfaction and pride of ending their contract in celebration.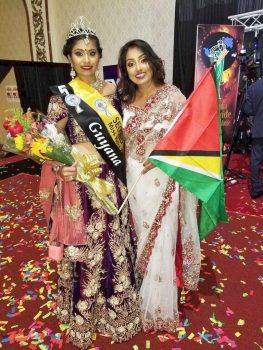 Bux along with partner Vitesh Guptar had taken on the responsibility of the franchise just last year and had only 13 days at the time to prepare their contestants for the local leg. Brittany Singh was announced the queen last year amidst drama. Persons had openly disagreed with the judges' decision including television personality, Joel Ghansham. Singh went on to represent Guyana at the international pageant finishing in the top ten and receiving the Miss Photogenic award.  Shortly after the international pageant, however, Singh was stripped of the Miss India Guyana 2016 title following a series of breaches of the contractual agreement, according to the franchise holders.
Last year, Samantha Singh had represented the country at the Mrs India pageant, but Bux noted that they didn't have a Mrs India Guyana this year as they franchise wasn't something they wanted to pursue. They had relinquished it since March, she said, adding that the organization did not believe it was worth the investment.
Bux said she was satisfied that her team has made a difference locally and internationally. "We made a difference in just two years with the local franchise and brand. We strongly believe, at this point in time, we can end our franchise holder-ship on a successful note."
In a later interview, she said it was an enlightening experience and her love for her culture and empowerment of young women mean much to her so having been able to merge these two loves was an incredible opportunity.
When asked whether she plans on taking on any other franchises she admitted that it was being considered for some point in the future. However, for now, she plans to put more of her energies towards her Give Foundation Guyana (a charitable organization), her personal life and her medical studies.
Persons interested in the franchise, which costs US$5,000 can contact Mr Dharmata Saran. This fee does not include the cost of hosting of the local leg of the pageant or providing the contestants and winner with the necessities to compete.
Around the Web