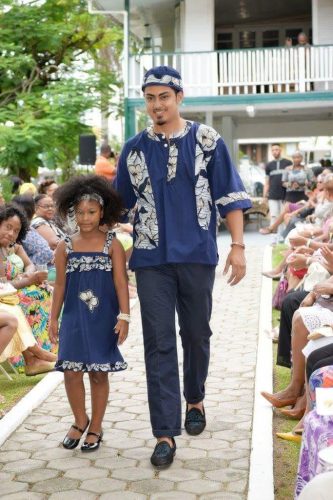 Photographs by Amanda Richards
Guyanese designer Donna Ramsammy-James launched her 'My Heart Beats in Africa' collection on Sunday last at the Herdmanston Lodge. This is her twentieth collection and as its name implies, comprises African prints.
Donna's collection included casual pieces as well as others that can go from office wear to the ballroom.
The fashion show started at 4.15 pm promptly and saw six segments with models displaying 150 colourful and striking pieces and because it was such a packed show, there was no time for intermission. There was a full house at Herdmanston; a total of 300 people.
Prior to the show designs were available for purchase from 3.30 pm to 4 pm and again after the show from 6 pm to 8 pm.
Donna who had spent a great deal of her life living in Nairobi, Kenya said her collection was inspired by the men and women of Africa. All her pieces were 100 percent handmade; all made within a ten-month timeframe.
The collection was introduced by drummers from Buxton Fusion. Guests seated in an open atmosphere saw models showing designs for men and women for all occasions. African accessories accentuated their look throughout and some carried African art and craft.
This affair was also seen as a cultural voyage as Donna used the opportunity to enlighten the audience on the African culture. Because of this, patrons left the event knowing something more about the continent and its people.
Designs are available for purchase and interested persons can contact Donna via email shape2000plus@yahoo.com or by telephone on 225-7134.
Comments

Nigel Butler, a former Burrowes School of Art student, is making great strides with his unusual artwork around Guyana.

The Guyana Ballroom Dancers Association (GBDA) hosted its third show and dance off last Saturday night at the King Solomon Hotel (Main Street Plaza).

Conscious/Reggae Guyanese artiste, Roxroy 'Arkaingelle' Young returned to Guyana at the beginning of this month to launch his second album 'Tru Da Fyah' which he did at the Guyana Rastafarian Council Headquarters.

Not a man of many words, Daniel Sears lets his photography speak for him and if, as the saying goes, 'a picture is worth a thousand words' then Daniel's pictures tells double for each one of them.

Two-time Calypso Monarch, two-time Chutney Monarch and five-time Shanto King, Roger 'Young Bill Rogers' Hinds is gearing up for three competitions in the upcoming Mashramani season.