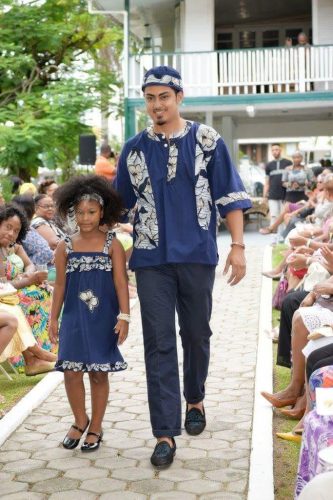 Photographs by Amanda Richards
Guyanese designer Donna Ramsammy-James launched her 'My Heart Beats in Africa' collection on Sunday last at the Herdmanston Lodge. This is her twentieth collection and as its name implies, comprises African prints.
Donna's collection included casual pieces as well as others that can go from office wear to the ballroom.
The fashion show started at 4.15 pm promptly and saw six segments with models displaying 150 colourful and striking pieces and because it was such a packed show, there was no time for intermission. There was a full house at Herdmanston; a total of 300 people.
Prior to the show designs were available for purchase from 3.30 pm to 4 pm and again after the show from 6 pm to 8 pm.
Donna who had spent a great deal of her life living in Nairobi, Kenya said her collection was inspired by the men and women of Africa. All her pieces were 100 percent handmade; all made within a ten-month timeframe.
The collection was introduced by drummers from Buxton Fusion. Guests seated in an open atmosphere saw models showing designs for men and women for all occasions. African accessories accentuated their look throughout and some carried African art and craft.
This affair was also seen as a cultural voyage as Donna used the opportunity to enlighten the audience on the African culture. Because of this, patrons left the event knowing something more about the continent and its people.
Designs are available for purchase and interested persons can contact Donna via email shape2000plus@yahoo.com or by telephone on 225-7134.
Comments

Can exuberance look graceful in a ballet performance? Yes. And Isaiah Luther is the man who makes it happen.

Today, from 4.30 pm, the Indian Cultural Centre will screen the film Chandni, starring Sridevi Kapoor, Rishi Kapoor and Vinod Khanna.

Last Saturday evening saw the sashing of eight of the nine gorgeous contestants vying for the Miss Earth Guyana crown at the Aracari Hotel and Resort.
Come tomorrow evening the National Park will come alive when what is described as Guyana's biggest car and bike show—Nik Shine Ride—kicks off and the finest and shiniest working old and new car, minibus and SUV face off for over $1 million in cash and prizes.

When Yohlanda Kerr won the Guyana Model Search back in 2009, hers was the coveted name and look.