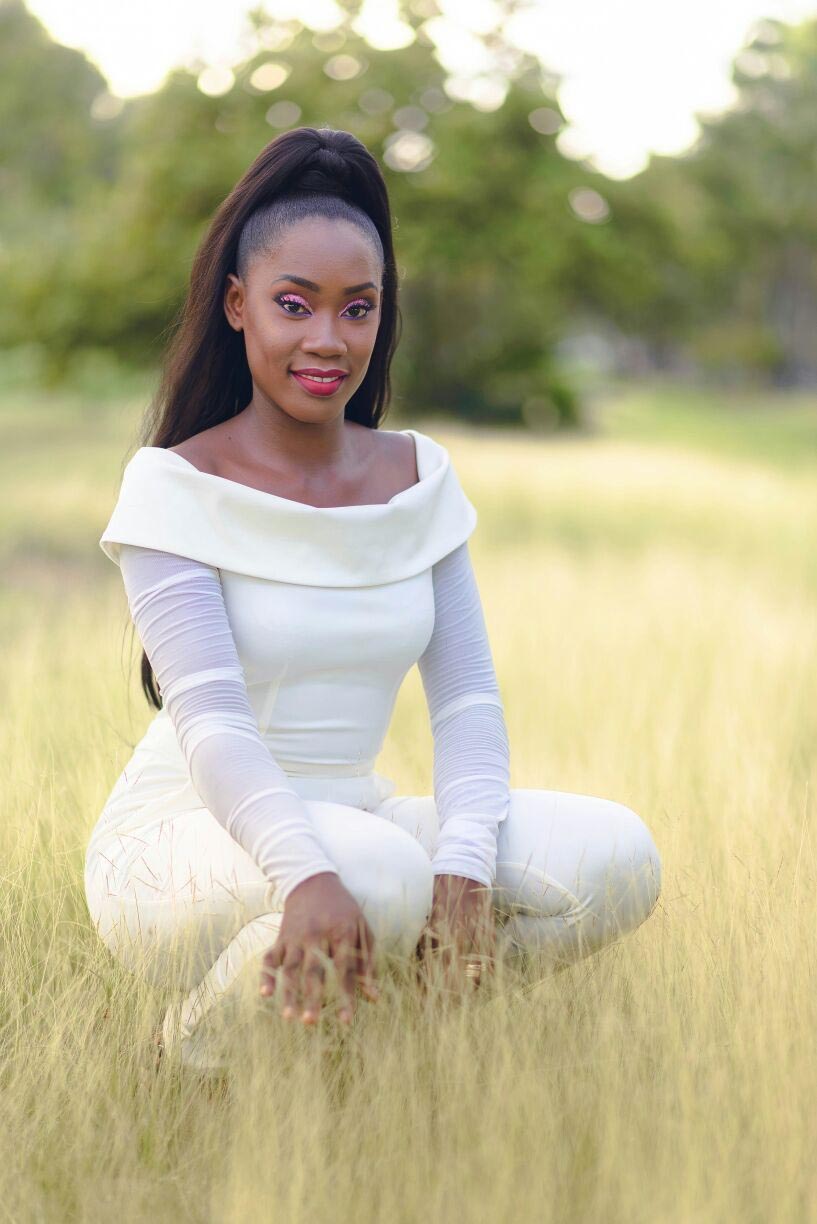 After spending most of the last two years working as a part-time makeup artist, Leony Grimmond has found her niche. Just months ago, she took up the profession full time and a little over a month ago she did the faces of the Miss Indigenous Heritage Pageant contestants.
"There would be times I'd be coming home from school [Patentia Secon-dary] and mommy would be there in makeup though she was going nowhere. All she had on was eyeliner, lipstick and a little bit of powder. I became fascinated with makeup since then and began practicing…," Leony said. She was 14 when she began learning to mix the colours and tried out on family and friends especially her sister Lakita Gordon and friend Ronessa Williams.
Although her mother would be the one to expose Leony to makeup, she was fascinated by the work of renowned MUA Renée Chester. Renée, she said, was her MUA two years ago when she said 'I do' to her husband Marcellus Grimmond. She was also drawn to the works of other MUA like Lafassie, Lisa Bradshaw, Nikita, Lecia from Linden, Arlene Villarule-Felix (aka AV of Trinidad), Angel Cumber-batch of Trinidad and from YouTube, Tatianna Ward (aka BeatfaceHoney) and Makeup with Jah.
Soon after her meeting with Renée for her wedding, Leony did a beginners pro course with Renée then her master class and just recently, as of last week, she completed her international certificate with AV.
The MUA who was a teacher before, did makeup professionally even while she taught at Premier Academy Nursery and Genesis Primary, though only part time. However, just months ago she decided to delve into her MUA career full time.
She caters for anyone. This has taken her to being the MUA for brides, women and girls celebrating birthdays especially sweet sixteen, anniversaries, baby showers, and attending proms, graduations, pageants and for photoshoots.
Leony noted that though persons are now using makeup for different reasons and as a form of expression, it still fulfils its original intention which is to enhance a woman's beauty. It gives women that extra "oomph," she added.
She still recalls her first professional client who was a bride. It was nerve-wracking, she said. She worried if she would remember everything she needed to do and even more about what her bride would look like at the end of it. What terrified her was not that she did not know what to do, it was the fact that she had to get it right for a woman who saw it as the most important day of her life. However, encouraging the bride calmed them both. In the end it was more than she could ask of herself and the bride loved it.
There is one memory she will always cherish and remember. "I love brides. To this day I can never forget a bride I worked with. Her name is Aliyah Heywood now. She was so nervous that things weren't going to go well and was shaking and almost crying… but I was married and understood the pressure of what being a bride can be so I talked her through it and she was all smiles after that. Now because of that experience we have become like sisters," she shared.
Leony finds sheer pleasure in her client being satisfied more than a flawless look. Just knowing she can make a woman feel empowered and beautiful is a big deal to her.
Becoming a MUA has changed her for the better. Having a business has forced her into setting standards for herself. Though it is important to be and look professional and to always speak standard English, Leony explained that sometimes a client may not be accustomed to that and will feel uncomfortable, so she has to always observe what makes her client comfortable. This helps both parties to relax and will fast create a bond.
Clients often confide in her about their how they feel; sometimes about their brows, other times concerning acne. One person once said, 'Leony I don't have any brows. I try but they don't look real' while another said, 'I have this event to go to and my skin is acting up… I've too many marks and spots. Can you fix it' and fix it she does.
Sometimes a client is in need of her advice on some issue that might not be makeup, at other times she is the one who is taking advice. "We all need each other," Leony said.
Throughout it all, her parents and siblings and her husband are her pillars and biggest supporters. She is encouraged by them always as well as a few MUAs who are supportive and always ready to give advice.
Leony is not always about makeup and can sometimes leave the house without wearing any. When she does, her favourite colours to play with for eyeshadows are browns, any earthy tone, purples and blues. Red lipstick would be it for her showstopper look, particularly the Sacha Cosmetics brand called 'Pass the Money'. Pinky nudes, pink in general, burgundy and lip gloss are her other must-have looks.
The makeup brands she uses and recommends are: Black Opal, Mac, Juvias Place, Morphe, Sacha, Maybelline NY, BH Cosmetics, LA Girl, and Derma Blend.
God plays a very important part in Leony's life. Growing up in a Christian home made her church life as important as her school life. She attends the Goed Fortuin Life Healing Centre Church. "No matter how far I go or what I go through, Jesus is and will always be a big deal for me."
Leony in her free time practices on dancing for WIST Dance Ministries International (a Christian Dance Company). Grow-ing up she said has always been about dance for her and every day after school she would put on the television and dance to the songs on in her verandah. Her neighbours would usually take their seats on their verandah and be her audience. Should she not dance one day, they would inquire from her mother if all was well. This is another passion of hers.
As the years progress she hopes to complete her Bachelor's and Master's in Social Work and hopes also that someday she will maybe have her own brand of eyeshadow. By then she would have taken makeup artistry to an international level.
She tries to live each day with these quotes: 'Inspire as many people as you can, even more when no one is looking', 'One must unlearn to learn', 'Your gift will take you where character must keep it', and 'A smooth sea never made a skilled sailor'.
Leony admonishes persons using makeup to always exfoliate their faces and remember to moisturize. She uses this opportunity as well to encourage other aspiring MUAs to follow their dreams, to not be discouraged and to always put God first.
Tomorrow, Leony, a Scorpio will be celebrating 26 years of life and though she plans to go about it quietly, she knows for sure it will be a special one because of the special people in her life.
Around the Web