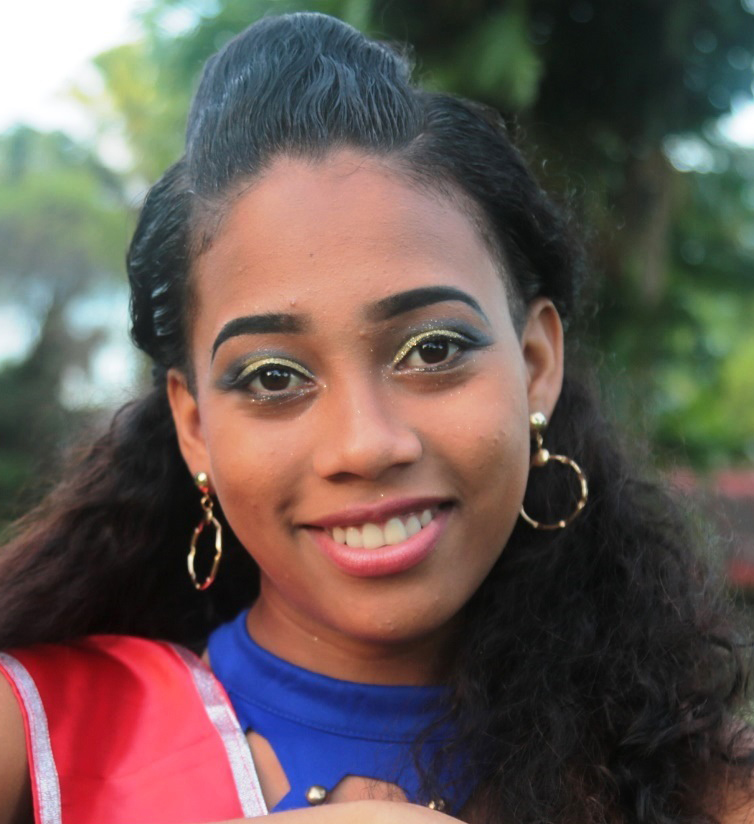 Eight gorgeous young women will vie for the inaugural Miss Teen Yarrowkabra crown on Saturday, November 25, at the Yarrowkabra Gym.
The Scene met with the contestants two Sundays ago at the Miss Guyana Talented Teen and Miss Princess Guyana Pageant in the Promenade Gardens.
The pageant is spearheaded by Coordinator Mellissa Daniels and Director Josh Mundo. Mellissa, also the leader of the Yarrowkabra Youth Arm, said she is excited about the pageant and is all about youth empowerment. The pageant, she said, will give the teens the opportunity of not just being positive role models to others in their community but allow them to highlight various issues in Guyana and educate persons on youth empowerment and the rights of a child.
Josh expressed his delight to be pulling off the first ever Miss Teen Yarrowkabra pageant and to be working with the youths. He said the pageant is expected to be an annual one and he is certain that in the years to come they can reach greater heights through this mode. He added that the pageant committee stands strongly behind its theme, 'A role model for today, while strengthening our community for tomorrow'. Josh further said, "Our interest is to elevate the youths of Yarrowkabra. Our aim is to develop the young minds, while enhancing and refining personal attributes such as self-esteem, public speaking and self-confidence that will assist with their future endeavours."
The Royalty Pageant Committee in September handpicked the contestants and soon after in October, training began.
The Scene is pleased to introduce the beauties who will be participating in next Saturday's pageant. In respective order from one to eight are: Nicketa Williams, Alliah Seecharran, Alicia Seecharran, Elena Andrews, Leanna Paris, Daniela Araujo, Shuna Johnson and Susha Moffat.
Seventeen-year-old Nicketa Williams, a former student of Hauraruni Secondary School is a Libra beauty, who will be speaking on the 'Rights of the Child'. Nicketa's favourite colour is royal blue and her all-time favourite dish is chicken chowmein.
Sixteen-year-old Alliah Seecharran is currently a student at Dora Secondary School. Her focus for the pageant will be 'Drug Abuse'. Alliah loves roti and chicken curry and her favourite colour is purple. She was born under the lucky star of Virgo.
Alicia Seecharran, a pretty Sagittarius attends Dora Secondary School. The 14-year-old is the youngest in this batch and will be giving her presentation on 'Child Labour'. Her favourite colour is sky blue and she enjoys eating fried rice.
Elena Andrews, a 17-year-old stunner and a Leo born, is a former student of Diamond Secondary School. This young lady will be highlighting the issues of 'Abortion' on pageant night.  Her favourite colour is baby pink and she likes having chicken chowmein at any occasion.
Sixteen-year-old Leanna Paris, a student at Computer World comes in at number five. Her platform is 'Teenage Pregnancy'. This Capricorn loves to eat macaroni and cheese and loves the colour that represents purity and innocence, white.
Daniela Araujo is a former student of Covent Garden Secondary. The 17-year-old will be speaking on 'Youth Empowerment'. The Scorpio will be celebrating her birthday come Monday. Her favourite colour is black and she enjoys having roti and chicken curry.
Fifteen-year-old Shuna Johnson is currently attending the secondary department of the Hauraruni School. Shuna will be highlighting the issues of 'Unemployment'. Another Virgo beauty, she loves a well-seasoned, mixed cook-up and has two favourite colours: yellow and red.
The last in the line up is Susha Moffat of Soesdyke Secondary. The 16-year-old Libra will be speaking on one of Guyana's major issues 'Domestic Violence'. Her favourite colour is pink and she loves eating roti and chicken curry.
The Miss Teen Yarrowkabra Pageant is set to begin at 20:00 hrs but gates will be opened from 18:00 hrs.
Tickets cost $500 for adults and $200 for children.
For tickets or directions or anything else regarding the pageant, persons contact Josh on telephone number 660-6626 or call or Whatsapp Mellissa on 677-4229.
Around the Web