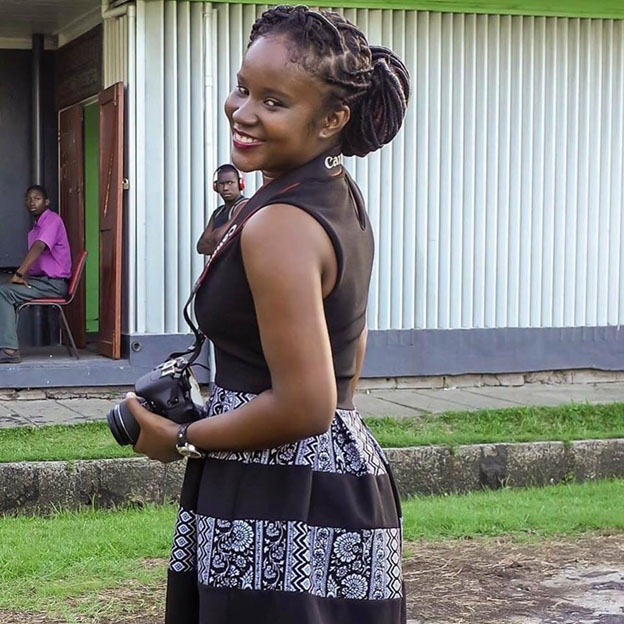 One day she took all of her savings and ordered camera equipment, giving in to the pull of photography; she has not looked back since.
Krest Cummings, who took up profession of photography some four years ago, has captured special moments at weddings, anniversaries, parties, concerts and other festivities such as school sports. As it pertains to people photography she takes candid, close-ups, family, fashion, glamour and pregnancy photographs.
"… I do not regret the day I took all my allowance savings and ordered my equipment. It was one of the best decisions I've made," Krest said in an interview with The Scene.
When asked what it was about photography that captivates her, Krest quoted Dr Myles Monroe: "We were born to be a solution in our generation, and it is our duty and responsibility to deliver that solution when our time has arrived."
So for Krest, she is captivated by the art of photography because it provides a solution to the lives of people. Taking photos allows her to capture precious moments that once gone can never be rewound. This explains her slogan: 'Smile! Memories last 4Eva.' A picture tells a story of once upon a time when we were either happy or sad and allows us to embrace the past as if it is in front of us. And for Krest, just knowing that she can help people to savour that moment in time through her lens and watch their faces brighten, letting her know that they are satisfied, gives her a special joy.
Photography was not Krest's passion while growing up, but she does not regret the way it fell right into her lap. She was studying Communications at the University of Guyana, which included a course in photography. It was while learning the basic rules of lighting and camera angles that the thrill of photography took over Krest and she was lost in the wonder of the magic a camera can create.
This introduction created a hunger in Krest for more and she began watching numerous YouTube videos, learning tips and guidelines from professional photographers. This motivated her to learn more which led to her getting into the profession.
Asked what it was like the first time she took a job, Krest revealed: "Oh my! I was nervous. I prayed a lot. You would think it was an interview I was going to do. I just did not want to mess up or disappoint my client. It was a wedding photoshoot, and as I arrived at the bride's residence she was more than welcoming and that helped me relax. I even ended up helping the bride press her veil and put on her clothing, since she was a foreigner and her immediate family wasn't around. But after taking some shots I was more comfortable and I knew this is what I would like to do as a part-time job."
Krest is currently a final-year, Bachelor of Law student at the University of Guyana. This has always been her dream career, although photography has become a passion of hers.
Everyone has challenges at one point or another, but Krest's challenge as a photographer compared to that of a man is quite different, because she is a woman. She found that male photographers tended to overlook her until they saw her quality of work and acknowledged that she means business. She has to keep reminding herself often that whether man or woman, we all have creative minds and are born with our own gifts.
Another challenge for her is when people think that because she is a woman, she should be paid less. Her philosophy though is if a woman's work is good as a man's then she should not be short-changed. In addition,   sometimes she's at an event where she is the main photographer and is referred to as the cameraman. At first, she was offended, now she just ignores it. Another challenge is her height which finds her often on tiptoe trying to capture a shot but she's grown accustomed.
With the technology of camera phones rapidly increasing, Krest was asked how this affects her.  "Being a photographer in the 21st century is not a walk in the park. Photographers have to constantly refresh their minds on new equipment and editing software that will enhance and enlarge a photographer's business. Also, with smartphones being the popular thing of this era, at some events attendees ask the photographer to take pictures with his or her phone, neglecting the fact that the photographer is there to take pictures with her camera… Totally defeating the purpose that the photographer is soliciting an income from the event and if each person does that, the photographer would eventually leave the event with a handful of pictures. But this is the era we are living in and as a photographer I would say, it's all part of the job," she shared.
Krest is inspired by the works of photographers Ryan Brenizer and Jason Lanier. When she has a question, she sends it to them or watches their tips on YouTube. She calls them veterans in the business.
When Krest is not studying or taken up with photography, she is usually at Bourda Market assisting her mother, Jacqueline Cummings at Jackie's Snackette. She is what one would call a "market baby". She noted that from the time she was old enough to leave the house, her mother took her straight to the market.
Her spare time, she said, is important so she tries to use it wisely. In her free time, she dances with the rest of WIST (Worship in Spirit and In Truth Dance International Ministries). She is also a part of Campus Crusade for Christ (CCC) where when she is not on campus, she can be found in the library of hanging out with her CCC family
Her hobbies include: cooking (she is usually cooking up a storm on special occasions), reading inspirational books such as Living with Purpose by Dr Myles Monroe, Kingdom Woman by Tony Evans, Quiet Time by Dag Heward-Mills and Life Promises for Success by Jim Tressel. Another hobby of hers, a unique one, is smiling.
Krest is a former student of the Institute of Business Education, from which she graduated with ten passes at the Caribbean Secondary Education Certificate exams; she also has a Bachelor's Degree in Communication Studies.
Krest doesn't have a studio, but can be contacted via Facebook. She hopes in the next decade to have her own photo studio with employees. By then she believes that she would have gained much knowledge on photography; enough to open a school and train passionate individuals. And of course. by then, she would have already been practicing law for a number of years.
Krest can be reached via Facebook at Krest Cummings Photography.
Around the Web