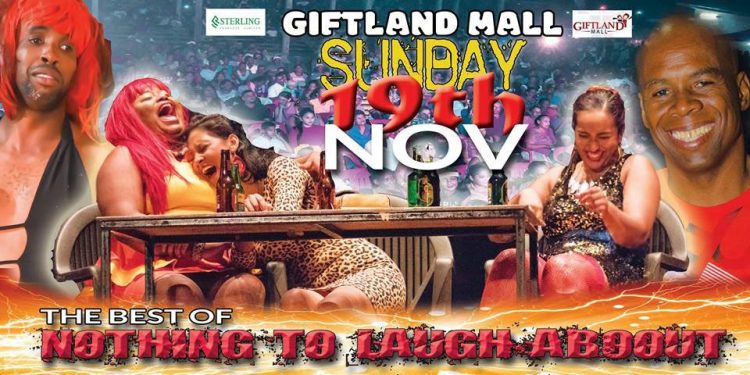 Come tomorrow night at the Giftland Mall patrons would be treated to the 'Best of Nothing to Laugh About' which would comprise some of the best skits that show did over the last ten years since it entered the entertainment industry.
According to a release from organisers, the show is as serious as it is funny, and it brings to the fore issues that are of critical importance to the country.
"As always, the show will spare no one, there is no vindictiveness but just taking funny potshots at everyone, so that people can see the lighter side of our very serious society and laugh at themselves," the release said.
The cast will include Lyndon 'Jumbie' Jones, Michael Ignatius, Kirwyn Mars, Chris Gopaul, Clemencio Goddette, Leza 'Radika' Singh, Mark 'Chiney man' Kazim, Marisa Morgan, Gerard Gilkes, Simone Persaud, Alana Craigen, Leon Cummings, Johann David, Mark Luke Edwards and Brian Goodman with Sonia Yarde as stage manager.
At the show, the franchise will launch its DVDs so patrons will be able to purchase DVDs of Nothing to Laugh About Part 1-10 as well as Uncensored Part 1-3 & 5-8. The DVDs are usually sold at a cost of $1,000 but any DVD purchased at the show will be 50% off, the release promised.
Patrons are advised to be on time as the show will begin at 8 pm sharp.
Tickets cost $1,500 and $3,000(VIP) and $500 for children and are available at Payless Variety Store, Gizmos & Gadgets, Nigel's Supermarket, Giftland, Igloo outlet (Providence) and Sir Mars
There is no dress code.
Comments

Two Fridays ago, Onikha Joseph clinched the coveted Calypso Monarch title after stiff competition from ten other contestants before a large gathering at the National Park.

On Sunday last, contestants of the I'm A Big Deal Miss Berbice Beauty and Empowerment Pageant put aside the glitz and glam associated with pageantry to team up with the police of Rose Hall Outpost, the mayor, workers of the town council and youths in a clean-up exercise around the Berbice town.

Drummers from around will soon have the opportunity to participate in the country's first drum festival next week Sunday and the chance to win over $1 million in cash and prizes.

New graduates of the National School of Theatre, Arts and Drama are expected to entertain patrons next Saturday, when they perform in Michael James's Skin Teeth Nah Laugh, a comedy.

These little ones from the Cherry Blossom Play School in Kingston yesterday had their part of Mashramani celebrations when the school held a mini parade.