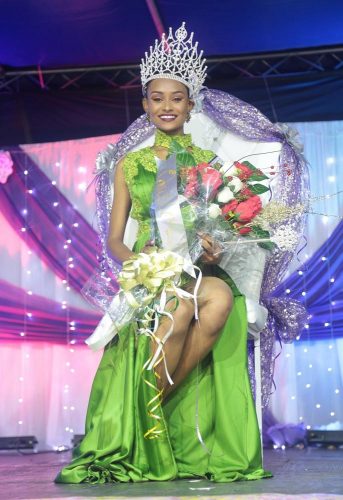 At minutes after 2 am this past Sunday (November 19), 18-year-old Farah Valentina Bates made history when she clinched the title of the inaugural 'I'm A Big Deal', Miss Berbice Pageant in a stiff competition against 11 other beauties.
Farah, a current University of Guyana student pursuing public management studies and a Prevention of Teenage Suicide (POTS) volunteer also won Miss Best Smile, Miss Best Talent and Miss Best Gown.
The Miss Berbice Pageant was the first of its kind to hit the county. The pageant is said to have attracted one of the largest crowds in pageant history here in Guyana and brought with it some of the finest entertainment that throughout the night that had the crowd on its feet. But that could also be because the sold-out pageant flooded the Albion Sports Complex ground forcing promoters Royston Drakes, Capitol News Senior Journalist/Producer and Tracey Khan-Drakes, Capitol News Online Editor to order more seats for patrons before the pageant had even started…..
To continue reading this article
Comments

Amina Khan has been putting her exceptional touches on cakes for a little over two years.

Artiste Gavin Mendonca has just released his second studio project through Kross Kolor Records – a four-song EP under the label 'Hung Up On Your Cross'.

Since Candacy Subrattie made her debut at Guyana Fashion Week (GFW) in September 2016 she has been requested by several designers to model their pieces.

Overseas-based Guyanese Ahmad 'Prince Ally' Ally is currently on one of his frequent visits to Guyana.

The WIST Ministries International will host its annual Christmas production tonight at the National Cultural Centre.