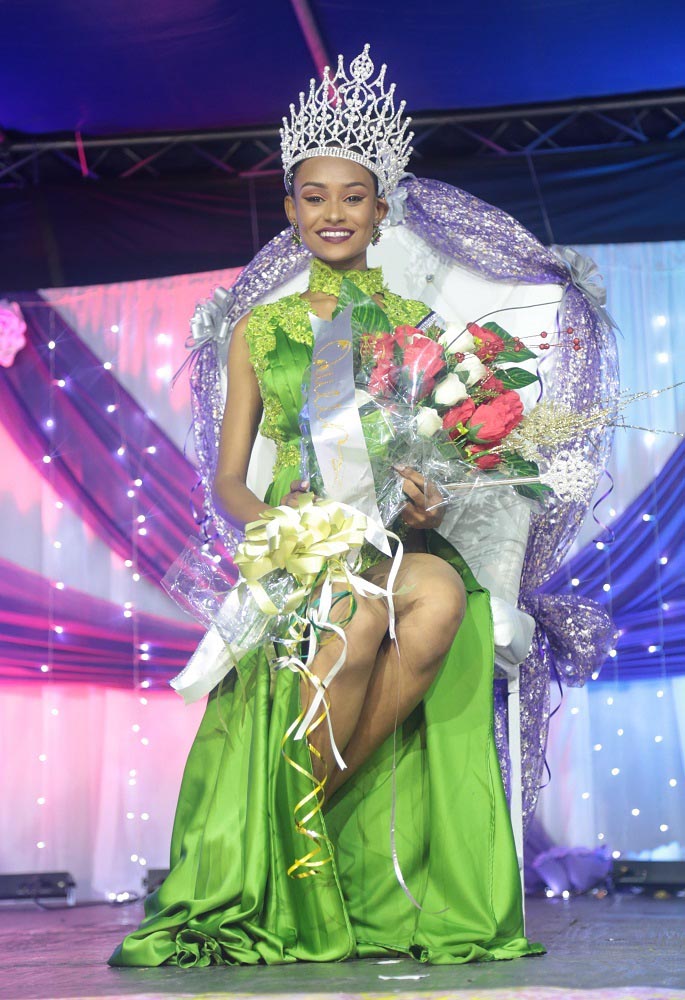 At minutes after 2 am this past Sunday (November 19), 18-year-old Farah Valentina Bates made history when she clinched the title of the inaugural 'I'm A Big Deal', Miss Berbice Pageant in a stiff competition against 11 other beauties.
Farah, a current University of Guyana student pursuing public management studies and a Prevention of Teenage Suicide (POTS) volunteer also won Miss Best Smile, Miss Best Talent and Miss Best Gown.
The Miss Berbice Pageant was the first of its kind to hit the county. The pageant is said to have attracted one of the largest crowds in pageant history here in Guyana and brought with it some of the finest entertainment that throughout the night that had the crowd on its feet. But that could also be because the sold-out pageant flooded the Albion Sports Complex ground forcing promoters Royston Drakes, Capitol News Senior Journalist/Producer and Tracey Khan-Drakes, Capitol News Online Editor to order more seats for patrons before the pageant had even started.
The night was so packed with entertainment that although the pageant began at 20:30 hrs, it went until the wee hours of the next day.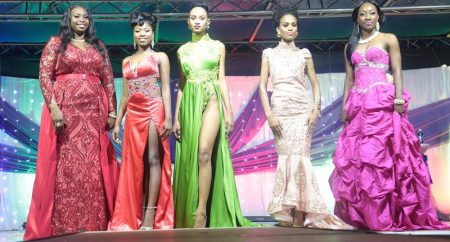 'I'm A Big Deal' opened with an introductory dance of the contestants to the Chris Martin song "Big Deal", during which they introduced themselves to the crowd. The contestants were: Shaquilla Sharpe, Denica Henry, Jinnela Walker, Kelisha Ramoutar, Tatiana Lancaster, Seeta Dalloo, Chelcia Gobin, Farah Bates, Tracy Griffith, Atasha Pantlitz, Clendolita Lashley and Latoya Williamson.
The costume category saw the ladies wearing colourful and glittering designs depicting Guyana's resources. The pieces were designed by some of Guyana's finest designers including Sonia Noel, Randy Madray and Jason Shurland; some of the contestants designed their own costumes as well.
After a few entertaining items, the contestants dazzled the crowd in the beach wear. Shaquilla stole this round. Her Guyana colours, crocheted, flower piece showed off her curves which she flaunted confidently. Seeta kept her piece to a modest red bra and long beach wrap skirt; one young man in the audience was overheard commending her for this. Perhaps the eye-catcher of this round was Jinnela in her Jason Shurland beach wear depicting Guyana's black water in its golden brown colour. Farah modeled a one-piece Randy Madray design in hues of purple, pink, blue and yellow accentuated with a lilac scarf and a pair of matching shoes.
The talent category saw Shaquila wrapped in the Guyana flag doing a spoken word: "United We Stand, Guyana Is We Land"; Denica also did a spoken word: "Dah Gyal Deh"; Jinnela sang Alessia Cara's "Scars To Your Beautiful"; Kelisha did a fusion of drama and interpretive dance to Duane Stephenson "Better Tomorrow" highlighting domestic violence. Meanwhile, Tatianna sang a song; Seeta did an Indian traditional dance; Chelcia, an interpretive dance to Jessica Reedy's "Better"; Farah did a dramatic dance highlighting that suicide is not an option; Tracy danced to Maya Angelou's poem "Still I Rise"; Atasha danced to Jackie Jaxx's "Guyana"; Clendolita dramatized Maya Angelou's "Phenomenal Woman" and Latoya finished the talent segment with a dramatic piece.
Then came the glamour evening gown segment where the contestants brought elegance, poise and grace flaunting some stunning and entrancing designer pieces to Alicia Keys' "Superwoman". The top five were then chosen from compounded scores.
It was time for the question and answer segment which saw each of the five finalists starting with a clean slate. They were each asked a question by one of the five judges, based on their platform. Farah, who was asked what she would do to spread awareness on suicide if she should win, said that to be a queen is not just an honour but a responsibility. She added that she is already attached to POTS and they are going into schools spreading awareness on this issue, and that she would continue doing the same letting persons know that life is precious. Apart from POTS, she said she would also collaborate with NGOs to spread awareness on suicide. This, of course, was the best answer of the night and fairly won her the crown.
Farah was announced the queen soon after and was crowned by a former Miss World contestant along with Minister within the Ministry of Natural Resources Simona Broomes.
Shaquilla was the fourth runner-up, Atasha the third runner-up, Latoya second runner-up and Tatiana, first runner-up. Special awards were given to Kelisha (Miss Photogenic and Best Walk), Latoya (People's Choice), and Denica, Miss Congeniality.
Around the Web