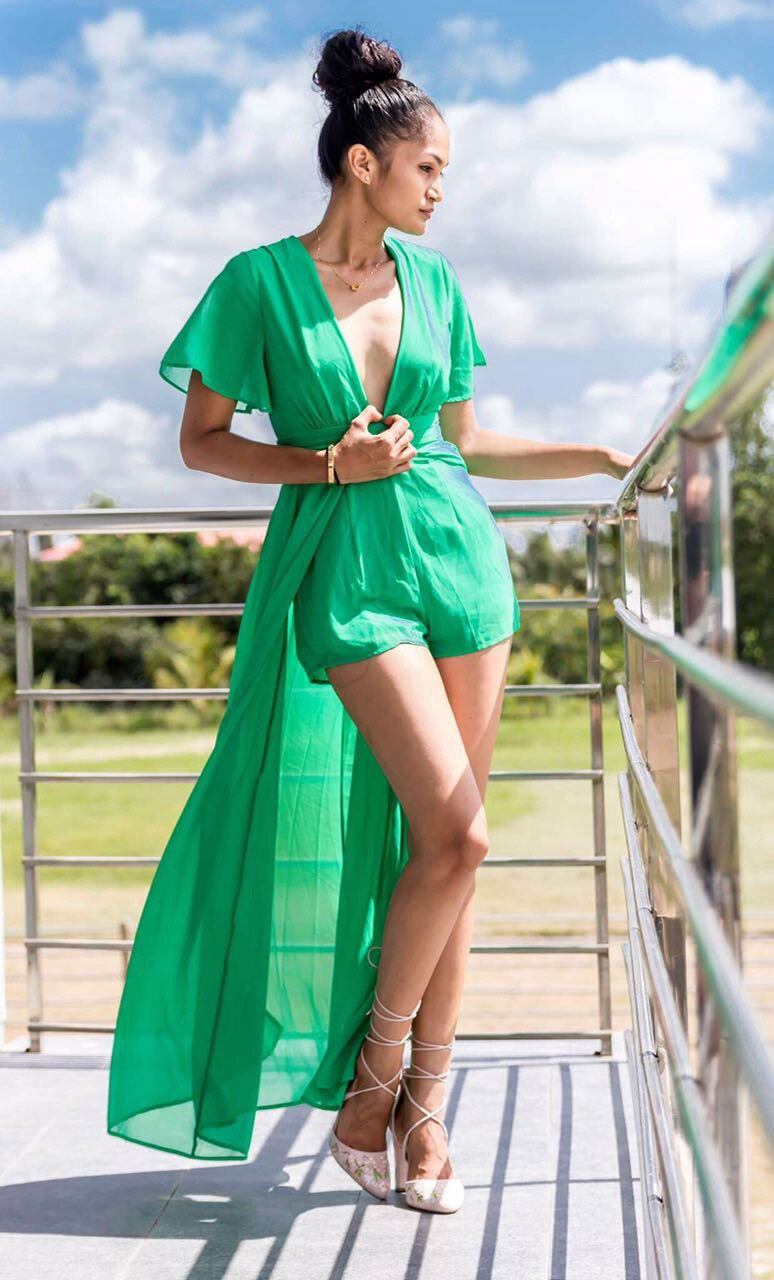 Since Candacy Subrattie made her debut at Guyana Fashion Week (GFW) in September 2016 she has been requested by several designers to model their pieces. Her height, which was once one of her biggest insecurities and a feature she was never confident about, has now become one of her best features every time she steps onto the catwalk.
This week in a sit down with The Scene Candacy shared the 411 on life as a model, before and after.
Candacy had a normal childhood until she entered her teenage years when she realized that her height was more distinct than other girls her age. That was when her insecurities began as well as the teasing. One repeated often by peers but mostly by adults was 'How's the weather up there?' 
"I was very insecure about my height and my size," said the 5'9 model. "I was scared to wear heels and wore baggy clothes most of the time."
She loved to throw her own pieces together. And when there was a certain trend in fashion, she never follow it, wanting only to feel comfortable in what she wore. Her all-time favourite things to wear back then was track pants usually with white V-neck t-shirts. She was always sort of a tomboy.
She steered clear of heels until she got her first job. Then a neighbour, Asha Pieters, a former Miss Guyana Talented Teen, took the responsibility of dressing her for work. According to Candacy, it would be the first time she wore heels and a skirt and it felt awkward. Slowly she began descending the stairs trying to walk properly in the heels. As careful as she was, she still tripped but that didn't discourage her; she went to work that day in heels, and the day after that. This was the beginning.
As time passed people would often say to her, 'You should become a model' and she would always wonder what it took to become one.
Three years prior to the first time Candacy stepped onto the catwalk at Pegasus for GFW 2016, she was out shopping with her mother at Fogarty's. She vividly remembers that she was wearing a green dress that day and an elderly woman approached her and began pulling at it, checking it out. A bewildered Candacy asked the woman if she could help her. Her speaking startled the woman who said she was sorry adding that she thought she was a mannequin. Again, thoughts of modeling crossed her mind.
One day while at home in Bartica, Candacy said, she saw an ad on Facebook for a casting for models, but it was after the casting date had already past. The following month in March she saw another ad for a casting and called to express interest. The dress code for persons auditioning was black leggings, black vest and a pair of heels. Candacy did not know this but coincidentally she did wear a black vest and took the initiative to wear heels. But instead of leggings she wore a green skirt. Nevertheless, they gave her a number, took her measurements and sent her into the judges. All went well until one of the judges said, 'Okay, raise your vest now' so they could see her abdomen – part of the requirement. She was never confident about revealing her skin but did it anyway. Candacy was then requested to walk and surprised one judge who thought she did a good job walking in heels having never modelled before.
The next day she got an acceptance call and then began rehearsing with the other models. There was a second elimination process overseen by Richard Young, but she was chosen.
She said that she once watched an interview with model Victoria Beckham who said modelling stole her smile. "I don't quite agree. There are times when we need to be fierce yes." According to the young woman, she keeps her composure by finding someone in the crowd sitting directly in front of the runway and makes that person her target, keeping her eyes on him/her as she walks. But before getting on the stage, she is usually nervous, almost as nervous as she was the first day she modelled. To help with this, she takes deep breaths before stepping out.
'Must be humble'
Being a model, she said, is not always about a particular look. These days, designers cater for people of different sizes and this allows for models of     varying sizes and heights to apply. What is even more important for a model to be requested by a designer is his or her attitude. A model must be humble enough to show off whatever the designer thinks looks good on him/her. "You're like a clothes hanger; you need to sell their clothes," she noted.
"Modelling builds your self-confidence," Candacy elaborated. "It allows you to network; it helped me to be less of an introvert and to socialize."
However, there are challenges that models often deal with, like being underpaid and usually it is the younger models that are often taken advantage of. Models invest in their time and energy and are asked to groom themselves a certain way not forgetting to always have their own pair of heels for shows and they comply often for little or nothing. Many times, a lot of the shows are done for a charitable cause, so this means models will not be paid yet still they are not compensated in snacks or anything that could help them. She noted that while they like to help such causes and because of their passion for modelling, they hardly ever turn down offers.
Some of Candacy's inspirations in modelling and outside of the industry are: Naomi Campbell who she always admired even before she took up the career, Gigi Hadid and local model Meleesa Payne. She has always revered American actress/singer/ dancer Jennifer Lopez and truly adored Princess Diana as she feels she shares similar traits of being humble and being herself.
Candacy hopes in the near future to own her own business, hold seminars to empower young women especially single mothers and more so the women of the hinterland areas, teaching them to become leaders. She sees herself completing her Masters in Business Management, winning the Miss Renaissance Guyana Pageant and looks forward to that day when she would grace the runways of the 'Big Four': Milan, London, Paris and New York.
The Gemini beauty describes herself as someone who is humble, charismatic, always aspiring for self-improvement and most importantly God-fearing. She is a member of the St Phillips Anglican Church.
Candacy enjoys reading (adventurous and romance novels), travelling, jewelry making – which she does for herself only and planning weddings. She is also a member of Cacique Toast Master which she said has helped her with leadership and communication skills. Currently, Candacy is pursuing her Business Management degree at School of the Nations.
Her favourite quote is by Confucius – 'I hear and I forget, I see and I believe, I do and I understand'. Using this quote she encourages aspiring models and young people in general. "I felt that I had a lot of barriers pertaining to my height, but you need to get out there and try because only then will you realize how much you can achieve. You should get out there and try. It's not going to be easy, but you have to remain humble and disciplined and most importantly know yourself; know your worth and what you stand for.
Since Candacy began her modelling career she has strutted for multiple fashion shows and done a number of photoshoots. Some of the other fashion shows she would have graced the runways at are: Style Mission 2016 for the Jubilee and Tribute to Mothers for the opening of New Thriving at Providence where she walked the runway with her 12-year-old son, Conan Subrattie. GFW last year saw Candacy winning the Model Image Competition for the Model of the Year Award.
Around the Web