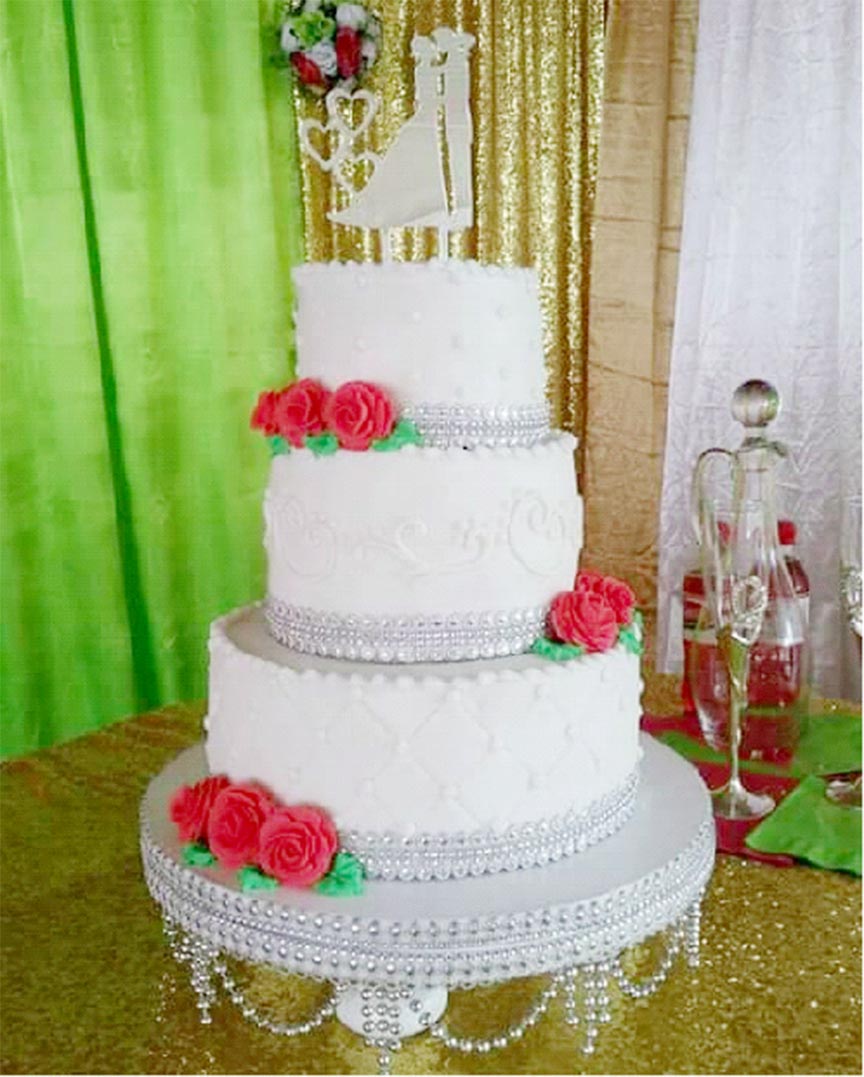 Amina Khan has been putting her exceptional touches on cakes for a little over two years. The Business/ Integrated Science/Social Studies teacher said it was her passion for cake-making and decorating that led to her opening her own business although her distinct touches to cakes began years ago with her mother in their kitchen.
"Baking is both hot and hard work," Amina said. "But at the end I can just stand back and admire my work. I know what I want my finished product to look like and before it's done I'm anxious as to if it'll come out as it should. But it has always, since I began doing this, brought a lot of satisfaction."
That satisfaction increases when she sees her customers beaming as they receive their cakes.
Growing up, Amina followed her mother around the kitchen soaking everything in. She helped mixing butter and sugar and beating eggs. As she got older, she would help out more. Her mother, she said, was her biggest inspiration. Her mother took cake decorating classes, but only created cakes for personal use. There was always a pretty cake at their house for whatever the occasion was.
The first time Amina baked a cake by herself was at West Demerara Secondary School, while she was a student there. She was a second former and it was a group assignment. However, having seen her mother bake dozens of times before, she told her friends that she knew to bake. So, they mixed the ingredients and whisked the eggs after which Amina went ahead and baked. It turned out perfectly, she recalled and that did it; she began baking more often after that.
Having a love for art and cooking, she sought to join the Art stream in school but there was only a Home Economics class available. Before long there was no Home Economics class either as the teacher left to work at another school. That forced her to drop the idea of writing the subject at the Caribbean Secondary Education Certificate exams. However, she did not let that diminish her passion.
She later began baking for friends and relatives whenever an occasion arose. They thought she did an amazing job and encouraged her to take classes and turn her talent into business. At the time she was studying at the Cyril Potter College of Education. Nonetheless, she followed their advice and did her training through cake decorator, Ingrid West.
With encouragement and support from her family, Amina opened Amina's Creative Cakes and Cake Decorating. But she had her own challenges. One being the extreme designs some customers come up with, yet she has never let anyone down.
One of her most challenging cakes, Amina said, was for a wedding, which led her to baking 17 cakes in order to make the required layers.
Amina still teaches and she noted that balancing her business and school can sometimes be difficult. However, what she does is bake cakes in the wee hours of the morning, after she would have written her notes of lessons. Time plays a big factor in her being able to pull this off and she advises customers to place their orders at least three days before.
Usually customers request sponge, black, chocolate and fruit cakes. Asked whether she has ever had to make a cheesecake before, she said she has made it for herself and family but has never had an order to make any. But if someone did place an order for cheesecake, she would most certainly make it.
In addition to cakes, Amina bakes pastries and wants to one day add this to her business as one of her services. Of course by then, she would need to have a few employees which she certainly hopes to do.
Knowing to bake and do cake decorating the young woman said has benefited her in bettering her creative skills and financially too. "Being a cake decorator is more than just simply making a delicious cake – it's about creating an edible work of art," she said.
For ideas she likes looking at "Cake Boss" and "How To Cake It" on YouTube.
Her favourite icing to work with is butter cream as it spreads easier. She uses also royal icing and fondant.
Since she took up baking, the roles between mother and daughter have been reversed in the kitchen; now her mother helps out while she does most of the baking. Sometimes she has at least three orders a week. Her peak time for this year was this year for Mother's Day.
Already, Amina said, persons have been placing their orders for the holidays, specifically, Old Year's Day.
Amina who said the three words that best describe her are kind-hearted, talented and creative, loves reading (mystery and adventure novels), cooking, browsing the internet and playing with her nieces.
Amina can be reached on Facebook/Amina's Creative Cakes and Cake Decorating or Facebook/Amina Khan.
Around the Web