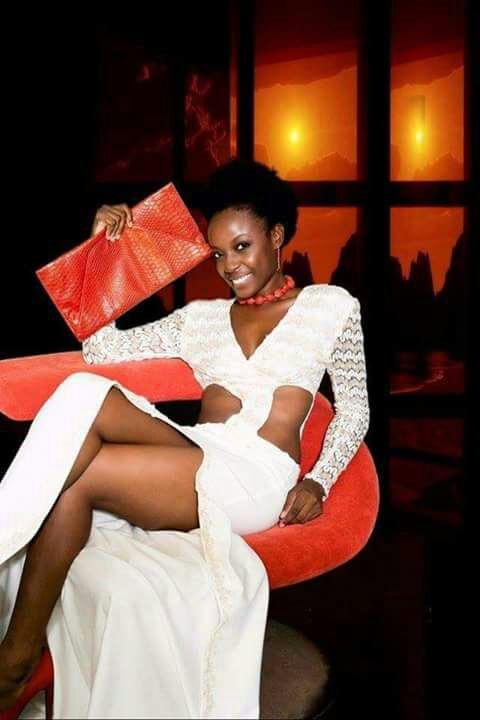 Abeni Sullivan has been making strides as a designer in the fashion industry for some time now. Over the last ten years, she has been designing for family and friends and made her debut last year when her collection of casuals under the label 'Illusions' hit the runway at Guyana Fashion Week.
The Scene spoke with Abeni while she worked. She was prepping models for a fashion show tomorrow, where they will display her collections of swimsuits, evening and casual wear for men, women and children. Each collection consists of 15 of Abeni's one-of-a-kind pieces. Her swimsuit collection is titled 'Rebirth of Illusions' and she was mulling a name for her evening collection.
Her first real piece, the designer recalled, was made when she was 15.
Abeni remembered that while just a little girl she made her dolls' clothing from whatever materials she could get her hands on; this included cutting out tiny dresses and swimsuits from socks even. She learned from her mother, Abeni said. Her mother was always sewing clothes for herself and Abeni.
"My mother encouraged me a lot. She was the first person to inspire me in designing and always gave me tips on how I should do a particular design. In fact. she was the one to give me my first sewing machine," Abeni said.
However, as it would turn out, meeting one of Guyana's most renowned designers, Sonia Noel, added to that inspiration. Victoria Secret was another inspiration for Abeni as well. She would admire the lingerie and though she did little swimsuits when she was little, she had left those out of last year's fashion show.
Abeni said that although she did not put herself out there over the years, whatever work she did was helping to build her clientele.
Every piece allows her to express herself and everything she designs says "Abeni".
 "Persons would usually say they like my designs. I always get good feedback. Sonia Noel was always encouraging. There's one particular phrase that I could never forget her saying, 'Sell yourself' and so I try to do that with each piece."
However as much as Abeni loves designing and playing with fabric, her biggest challenge is often finance, though things have improved since she took her designing to the level of having a business. Another challenge she has had and learnt to overcome was the art of making pants. 
Her favourite material to  work with is knit (jersey material). She finds it easier to work with it, though not all designers would agree with this.
"Most of the time I get my ideas while sitting in church (Restoration of Life in South Ruimveldt). I get ideas from dreams also," she said.
Asked whether her swimsuit ideas come to mind in church as well, Abeni laughed and said she's never had one.
Abeni is not letting the shores of Guyana stop her and has just this September, created designs for two carnival bands. One band required 25 pieces and the other band 'Bajan Paradise' saw her designing 20 more pieces.
Travelling to these areas, as well as around Guyana, she said, helps to inspire her. The idea of seeing different cultures is something she lives for and when it comes seeing that classy sophisticated set of work people, Abeni likes being in Manhattan.
Tomorrow's show, 'Unchained Through Fashion,' will see the likes of some of Guyana's finest models including Tandika Favourite and Rudy Richmond. The idea for the name of the show, Abeni said, came about because Guyana is locked in to a particular fashion and so she's hoping this show promotes unique and out-of-the-box pieces that will remove the stereotype and welcome other fashions.
Abeni said too that because of Guyana only welcoming a particular kind of fashion, designers are not being supported enough and added that more should be done to promote their talent in and outside of Guyana.
Abeni hopes that some years down the road, she will have a boutique that is prepared to take orders and sell ready-to-wear pieces as well.
She tries to spend her free time with her children. Whenever she can include it, she enjoys sight-seeing.
'Unchained Through Fashion' is being put on by Abeni and designer Mark Junor at the ACDA Building at Thomas Lands.
The show will run from 3 pm to 6 pm. Tickets costs $2,000 regular and $5,000 for VIP.
For a closer look at Abeni's designs, go to Limitless Creations by Abeni Sullivan on Facebook. 
Around the Web