Hi Everyone, Today begins the two-week celebration of Chinese New Year also known in China as the Spring Festival. At the heart of the celebrations as with so many others, are food, family, and traditions. In Guyana, we cannot talk of Guyanese cuisine without including Chinese food. Chinese cuisine is an integral part of our diverse cuisine. And we won't have it any other way.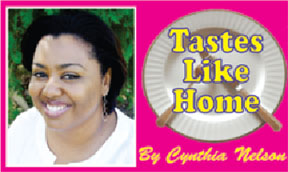 Ask any Guyanese living abroad what they miss most about home and they will, without hesitation say, the food! And we do boast of having the best Chinese food in Guyana. Am I wrong? Maybe I am biased.
So what's on your menu this weekend? If I were in Guyana, there'd be a couple of homes at which I'd be feasting. Since I'm not, I am going to make a few things, just as I do at Easter, Eid or Phagwah, in search of a taste of home.
Today, instead of breakfast, I'll start at brunch with Chinese-style Congee – a rice soup. This breakfast dish has variations all across Asia and is also known as Jook. When it is made plain without added ingredients and flavourings it is eaten as breakfast, however, when meat, fish, and other savoury ingredients are added, Congee becomes a full meal. I am making Chicken Congee flavoured with dried shrimp. So good! What makes Congee stand out is the texture of the soup – creamy from the rice being cooked slowly to the point of disintegration in lots of liquid.
Midafternoon I'm going to feast on some Chicken Pau/pao/bao. Pao/Pau is a type of yeasted steamed bun with filling. The fillings can be meat or vegetarian. I am doing a combo – chicken with carrots, cabbage and scallions/green onions. These will go down well with some of my cold, refreshing ginger infused swank.
For dinner, I am making stir-fried longevity noodles with prawns. Longevity noodles are known for their golden yellow colour and are slightly chewy. This is not your regular Chow Mein noodles. Longevity noodles are made unbroken; it is one strand of noddle that has been stretched extremely long and then wrapped/layered upon itself. In keeping with tradition it is recommend that the noodles not be broken when cooked. It is not an easy task tossing it when stir-frying but having a wok with a wide breath makes it not so difficult.
Longevity noodles are usually served at birthdays and celebrations to mark long life.
Tomorrow, brunch is going to Steamed Scallion Buns (Hua Juan) with Braised Pork Belly. I use the same Pao/Pau dough to make my scallion buns. These buns are good on their own with the hint of sesame oil that seasons the buns and the herbaceous scallions/green onions.
I use the word braise instead of stew to describe the pork dish and that is because very little liquid is used to cook the meat low and slow. When it is done, there is no sauce, just the meat in chunks that can also be used as cutters.
Dinner (I just rubbed my hands in glee) is Cantonese-style Crispy Roast Pork (Siu Yuk), Vegetable Fried Rice and Smashed Cucumber Salad. The pleasure of this roast pork is all about the crispy skin that puffs up, and the contrast in texture to the tender meat it shelters. This dish benefits from an overnight marinating of the meat while the skin is air-dried in the refrigerator to ensure perfect crisping.
To finish off, I'm going to have some Tapioca Pudding with caramelized bananas. I am not sure how Chinese this is but that's what I am making (laugh).
Where are you going this weekend to celebrate or, what are you going to make?
Cynthia
Steamed Scallion (Green Onion) Buns
Yield: 12
SPECIAL EQUIPMENT
Steamer
12 pieces 4-inch square parchment paper
INGREDIENTS
For dough:
3 cups all-purpose flour
1 heaped teaspoon instant yeast
6 level tablespoons white granulated sugar
1 cup warm whole milk (110 – 115 degrees F)
¼ cup vegetable/Canola oil
For dressing:
1/3 cup of thinly sliced scallions (green part only)
½ teaspoon fine table salt
¼ teaspoon sugar
1½ tablespoons sesame oil
DIRECTIONS
For dough:
Mix together the flour, yeast and sugar.
Add milk and vegetable oil to the flour mixture to create a dough (add a little more milk or use room temperature water if more liquid is needed to bring the dough together). Knead dough for 2 minutes then transfer to an oiled bowl; cover put some place warm to rise for 1 hour.
For dressing:
While the dough is proofing, mix together the ingredients for the dressing and let sit for at least ½ hour.
To make buns:
Punch down dough to release gas and knead dough for 2 minutes. Divide evenly into 12 pieces.
Working with 1 piece of dough at a time, roll each piece into a long oval shape. Brush lightly with dressing. Leaving about ¼-inch of the rolled dough intact at the top, take a knife and make 4 to 5 cuts through the dough creating strips.
Lift the dough at the end that is intact and twist the strips together lengthways and then twist the dough onto itself in a circle to make a bun. Tuck the end tightly to the bottom of the bun. Place the dough, tucked-end down onto a piece of parchment paper. Repeat until each piece of dough is rolled, brushed with the dressing, twisted, shaped and tucked under.
Cover buns and put in a warm place to rise until more than doubled in size about 45 minutes to 1 hour.
Bring a pot or pan with water to a boil.
Working in batches, transfer the buns to steamer racks and steam for 13 minutes. Transfer steamed buns to wire racks to cool.
NOTE
If not using all the cooked buns, cool completely, wrap tightly in parchment paper, foil, and put in a freezer bag to freeze. When ready to reheat, remove bun from freezer and bring up to room temperature. Wrap with plastic wrap or put in sandwich bag and microwave for 20 – 25 seconds.
Chicken Congee (Chinese Rice Porridge)
INGREDIENTS
½ cup dried shrimp
3 tablespoons oil
2 carrots, peeled and cut into ¼-inch rounds
3 stalks celery cut into ½-inch pieces (see notesbelow)
2 liters water (8 cups)
1 cup chicken stock
1 cup raw white rice
2 heaped cups cooked chicken meat, shredded
Fish sauce or soy sauce to taste
Sliced scallions or fried onions (optional  garnish)
DIRECTIONS
Add the dried shrimp to a small bowl and cover with 1 cup boiling water for 10 minutes to rehydrate the shrimp.
Add oil to a pot over medium high heat, when hot, add carrots and celery and cook until soft (reduce heat a little, do not let the veggies brown).
Raise heat to high; add shrimp and soaking liquid as well as water and chicken stock. Stir and bring to a roaring boil. Cook for 3 minutes then add rice and reduce heat to low. Simmer uncovered for 1 hour or until the rice is very soft and the mixture thickened. Do not stir the rice; check it after the hour and if it is not sufficiently disintegrated, let continue to cook for another 20 – 30 minutes.
Stir in cooked chicken meat.
Season Congee with fish sauce or soy sauce to taste; start with 1½ tablespoons, stir, taste and add more as needed.
Garnish with scallions or fried onions and serve.
NOTE
If you can't find stalk celery, use ½ cup of Chinese/Guyanese celery finely minced (leaves and tender stalks)
Comments

Hi Everyone, Several years ago while standing in the cashier line at one of the supermarkets here in Barbados, a man (tourist) standing immediately behind me pointed to the small tray I had just put on the cash belt and asked what it was.

Hi Everyone, What's Cooking is a series in which I answer questions and share advice about food and cooking that you may have but are too shy to ask.

Hi Everyone, Have you had your fill of mangoes yet? Me? Almost. Next week I am going in to preservation mode – pureeing the pulp and freezing in half cup portions for use later in the year.

Hi Everyone, This is the third and final part of our heat series on hot peppers.

Hi Everyone, This week, we continue our heat series featuring hot peppers currently in season.