Hi Everyone, Although I eat fish all year round, during Lent – the 40 days leading up to Easter – I tend to eat even more fish and seafood, mostly because of tradition. Being raised Catholic meant that during this period there would be fasting on some days, the eating of vegetarian food, and the consumption of lots of fish, especially on Wednesdays and Fridays. With fish curry being one of my top favourite dishes, I am always searching for variations in cooking technique, seasoning, masala mix, or added ingredients all the with the aim of exploration and enjoyment. And some would say, obsession.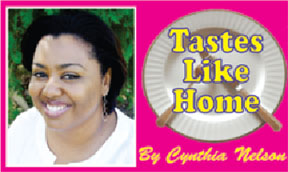 Here in Barbados, you do not really get what we call 'skin fish', that is, fish that do not have scales such as catfish, Thomas, hardhead or gilbaka. Well, you can if you buy it frozen from the vendors who bring it from Guyana. Speaking exclusively within a Guyanese context, whenever we are making a stew or curry with scale fish, we tend to par cook the fish by lightly frying it, this is to firm up the flesh so that when the fish is added to the stew or curry sauce/gravy, it can stand up to the gentle boil to absorb flavours and finish cooking. Over the years, I have shied away from this practice out of laziness and in the belief that if I don't overcook the fish by adding it too early to the pan that it would not fall apart – partially or completely. I've been having pretty good success so far.
Most of the times when I cook scale fish curry, coconut milk (preferably fresh) is my cooking liquid of choice. The coconut milk not only brings excellent flavour to the curry, it also provides creaminess to the sauce/gravy. About 2 years ago I was watching a documentary on the ancient food culture of India. The 11-part series was regional in its scope, and while I was interested and fascinated by all of it, it was Kerala's prolific use of coconut in both sweet and savoury dishes that really enthralled me. The fact that this southern state is one of India's leading producers of fish says that they know a thing or two about cooking seafood. Period. It was in the Kerala episode of the documentary series that I learnt about the cooking of the grated coconut in the curry itself. I watched and rewound a few times as a home cook deftly cooked a pan full of curried snapper (without pre-frying), thick with coconut, that had me salivating. It wasn't so much that it was a huge revelation but more like, yes, of course, it makes total sense, especially given how we eat coconut in dishes like coconut choka, coconut chutney, salara etc.
When coconut-based, the curry is rich, not only in flavour and taste in combination with the aromatics and spices, but the sauce has body from the coconut itself with the added benefit of dietary fibre. Just to back up a bit, when I say coconut-based, I don't mean cooked with coconut milk, rather, the masala for the curry is made with the coconut itself. The foundation of this curry is a paste made out of lots of freshly grated coconut, ginger, garlic, onions, hot pepper, cilantro/coriander, chili powder, turmeric and garam masala. Moistened with water, all the ingredients are ground to a thick paste of dropping consistency. Salt to taste and tamarind pulp are usually added to season and give the hint of sour that compliments seafood and certain vegetables so well. With the coconut-curry base cooked with enough water to loosen it and make it into a sauce, seafood such as fish, shrimp, or crab are added and smothered in the sauce, until tender and cooked through. One of the tips I learnt while watching the show is that once the seafood, especially fish is added, the pan/karahi is shaken to settle the fish into the sauce, this is to avoid bruising and breaking the fish by stirring with a spoon. This approach is freeing for those of us who would rather not fry fish, particularly the soft flesh ones that cook up quickly before making a curry. It cuts out an entire step and makes cooking faster. Once the fish is nestled in the curry, there is no need to stir to disturb the fish or to add salt, the coconut masala is already seasoned with salt.
For me, the real star of a coconut-based curry is not the fish or shrimp, it is the sauce. Don't get me wrong, there is much pleasure in biting in to the tender plump prawns with the coconut sauce clinging to them; the fish perfectly cooked and so light that you want to gently cradle it with your fingers to transport it to your mouth. But the sauce, oh man, it is thick but not heavy, it is easy to scoop up with roti or mix with rice. Actually, it is great when mashed into boiled cassava, eddoes, sweet potatoes or yams if that is what you're having with your curry. Whenever I make this type of curry, I always reserve some of the sauce by itself to eat with bread or sadha roti for breakfast.
So if you are looking to shake things up in the kitchen, try making the curry.
Cynthia
Coconut-based Fish Curry
INGREDIENTS
For masala:
2 cups fresh grated coconut
½ cup chopped onions
2 tablespoons chopped ginger
2 tablespoons chopped garlic
¼ cup chopped cilantro/coriander (see alternatives in notes)
Chopped hot pepper to taste
1 heaped tablespoon ground turmeric
1 heaped tablespoon chili powder
2 tablespoons garam masala
1 cup tap water
Tamarind pulp to taste (see notes)
Salt to taste
For curry:
4 tablespoons oil
Sliced hot peppers to taste (optional)
1½ cups of chopped tomatoes
½ cup chopped onions
A pinch of salt
4 cups boiling water
4 pounds bone-in snapper cut into steaks (already scaled, cut, washed and drained well)
DIRECTIONS
For masala:
Add all the ingredients except the tamarind pulp and salt to a blender and puree until fully incorporated. Add a little more water if necessary but not so much that the mixture becomes watery.
Add tamarind pulp and salt to taste and pulse a few times to mix; taste and adjust to suit your taste by adding more tamarind or salt. Set aside.
For curry:
Add oil to a large pan such as a karahi and place over medium heat until hot.
Add sliced peppers, tomatoes, onions and salt, toss to mix, reduce heat to low and cook until the onions are soft and the tomatoes are pulpy when mashed with the back of a spoon. This is an important step and can take from 15 – 20 minutes.
Turn heat to medium high and add in the coconut-masala paste; stir to mix in with the tomato-onion mixture and cook on high heat for 8 – 10 minutes, stirring every 3 minutes. This is to cook out the rawness of the paste; you will notice the mixture gets a shade or 2 darker but do not let it burn or get brown.
Pour in the boiling water, stir well to mix, bring to a boil then turn heat to low and cook uncovered for 10 minutes.
Raise heat to medium high, stir the curry sauce, let it come to a boil then add the fish in one piece at a time, nestling the fish into the sauce, smothering it. If necessary, use a rubber spatula or a flat spatula (like the one used to flip pancakes or roti) to gently nudge the fish neatly into the pan. Cook on the high heat, uncovered for 10 – 12 minutes or until the fish is done cooking and the sauce is to your likeness – it should be thick and easy to spoon. Shut off the heat and let the curry rest for 10 minutes before serving.
NOTES
In place of fresh cilantro/coriander, use 4 large blades of chadon beni or as an alternative, use 4 sprigs of celery, including the tender stems.
To make the tamarind pulp, add about a clump, the size of an egg to a bowl and pour 1/3 cup boiling water over it. Let sit for 10 minutes that then rub the tamarind to release the pulp. Discard the seeds.
You can use any type of fish you would like for this recipe – scaled or un-scaled but it works really well with scaled fish because of the short cooking time and no pre-cook (frying) required.
The cooking time for the fish will vary depending on the thickness and size of the cut, the variety of fish, and whether or not it is bone-in.
I use this same coconut based masala to make prawn curry, however, use only half of the masala mixture for 2 pounds of prawns, the rest you can bottle and refrigerate; it will keep for 2 weeks, or you can freeze it.
To defrost, simply remove it from the freezer and let it come up to room temperature on the kitchen counter.
Comments

Hi Everyone, Several years ago while standing in the cashier line at one of the supermarkets here in Barbados, a man (tourist) standing immediately behind me pointed to the small tray I had just put on the cash belt and asked what it was.

Hi Everyone, What's Cooking is a series in which I answer questions and share advice about food and cooking that you may have but are too shy to ask.

Hi Everyone, Have you had your fill of mangoes yet? Me? Almost. Next week I am going in to preservation mode – pureeing the pulp and freezing in half cup portions for use later in the year.

Hi Everyone, This is the third and final part of our heat series on hot peppers.

Hi Everyone, This week, we continue our heat series featuring hot peppers currently in season.