Hi Everyone, This week we conclude the 5-part series on Tastes Like Home August Holidays. When I decided to make this dish for the August Holiday series, I had no idea that it would line up as one of the dishes usually made during Navratri, which concludes today. Navratri is a period of nine days observed by Hindus as the most auspicious days of the lunar calendar. It is a period of fasting and the eating of vegetarian dishes.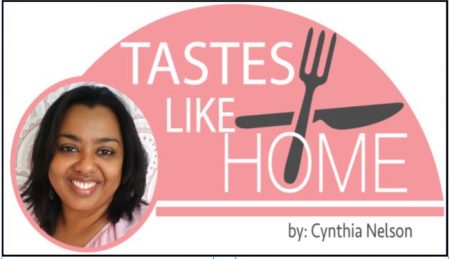 You know how some people have bucket lists? Well I have lists of foods and dishes that I would like to try, and this "fried" sago was one of them. As you know, I am always interested in trying new dishes and flavours with familiar ingredients. Prior to this Sabudana Khichadi, I have eaten sago pearls in porridge, as a dessert pudding, and ground sago as Pão de Queijo (Brazilian cheese bread-rolls). I was looking forward to trying the savoury side of sago.
It starts with a 4 to 5-hour or (if you have the time) an overnight soaking of the sago to plump them up. The sago is then fried/sautéed with oil or ghee along with whole spices – mustard seeds and jeera – turmeric, chopped hot pepper, salt, peanuts and potatoes. Fresh cilantro/coriander and a squirt of fresh lime or lemon juice finish the dish. It is very attractive. And I was looking forward to eating it.
I turned up my face after the first spoonful and pushed the bowl away from me. Disappointed. I decided to have a couple more spoonfuls to decipher and understand what it was about the dish that I did not like. It wasn't the flavour profile; it was the texture. It was soft and a bit gummy; I did not like how it felt in my mouth, and, it tasted, well, a little bland, at least to me. I packed the rest into bowls and give 1 bowl each to two of my taste testers. Guess what? They loved it! For the exact reason that I did not like it – the texture. You see how taste is a subjective thing? They reported enjoying the soft chew and tender mouth feel, the welcome meatiness from biting into the peanuts and potatoes. Their enthusiasm convinced me that I should give the dish a try again, sometime in the future.
I'm sharing the dish with you because you too may like it, and having another vegetarian dish in our food repertoire is always a good thing, don't you think?
Sago Kitchree (sabudana khichadi) is a dish made in India that is often eaten by people observing a fast during the periods of Shivratri, Navratri or similar Hindu religious occasions. In certain parts of the country, it is widely available as a street food. Kitchree, a dish some of us are familiar with – rice, and split peas cooked with spices to a thick soup like consistency or dry, depending on personal preference – refers to a style of cooking. Think of it this way, we use the term "fry" to mean cooked gently, on low heat, sometimes covered. We say that we cook fry potatoes, fry squash, fried bora etc. Our "fry" is a style of cooking a variety of ingredients.
As I said at the beginning of the series, my August Holidays involved learning and relearning how to make certain things, and trying a familiar ingredient in an unfamiliar way. It was eventful and enjoyable. Do give the Sago Kitchree a try and let me know what you think.
Cynthia
Sago Kitchree (Subadana Khichadi)
INGREDIENTS
½ cup room temperature water
3 – 4 tablespoons ghee or oil (see notes)
1 ½ cups diced potatoes (1 large potato or 2 medium-sized potatoes)
Salt to taste
½ cup peanuts (raw or blanched)
¼ teaspoon black/brown mustard seeds
½ teaspoon whole geera/cumin seeds
Minced Hot pepper, to taste
½ teaspoon ground turmeric
Chopped fresh coriander/cilantro (optional)
1 ½ teaspoons lime or lemon juice
DIRECTIONS
Rinse the sago 2 to 3 times and drain well. Add to a bowl along with ½ cup of
water and let soak for 4 to 5 hours or overnight.
Add ghee or oil to a fry pan and heat over medium heat.
Add potatoes with a light sprinkling of salt, toss to mix, reduce heat to low and cook covered until the potato is cooked through.
Raise heat, push the potatoes to one side in the pan and add the peanuts to toast, push that aside in the pan when done and add the mustard seeds, jeera, hot pepper and turmeric. Cook until the spices are fragrant then mix everything  together and cook for 1 minute.
Add in the sago and salt to taste, toss to mix with the nuts, potatoes and spices, cover and turn heat to low. Remove cover after 2 minutes and toss. Cover and cook for another 2 minutes, repeat this until the sago is no longer white but translucent. This should take from 6 – 8 minutes.
Shut off heat, add cilantro if using and lime/lemon juice, give a final toss and serve hot.
NOTES
You can boil the potatoes and cut them into chunks instead cooking them at the start of the fry-up.
Start with 3 tablespoons of oil and add the other one when frying the spices.
August Holidays – Part 5
Around the Web