Hi Everyone,
I want to tell you about a cake I made last weekend. I had some semolina flour left over from baking bread and making parsad for Diwali, so I decided to use it up making a cake.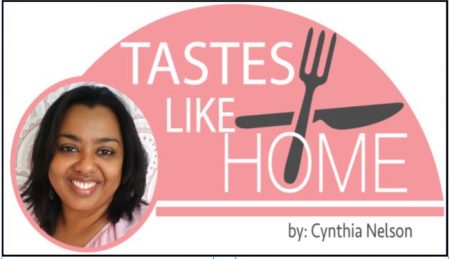 Semolina cake is nothing new; it has been around for centuries. It is a very popular and common dessert in the Middle East, India, Myanmar, and Greece. It goes by different names, the obvious – semolina cake, Namoura, Revani, Basbousa and Sanwin Makin. Each country has its own variation – some use olive oil and vegetable oil while others use butter. Some versions include yogurt while others do not. In some recipes, coconut is mixed into the batter, while others use desiccated coconut as a garnish. The similarities lie in the generous use of citrus (mostly oranges) and nuts such as pistachios and almonds as a garnish. While the ingredients may vary, the cake is always prepared the same way – baked and soaked in orange or orange flavoured syrup.
Let me step back a bit to tell you what semolina flour is and why it makes this cake different, even though regular wheat (as in all-purpose flour) is added to the cake mix.
Semolina flour is flour that is made from hard durum wheat. Like cornmeal, it comes in a variety of textures from coarse to very fine flour. It is naturally yellow in colour, therefore, it enhances the colour of anything that it is made with – bakes, bread, pizza crusts etc. It is the type of flour used to make dried pasta and Moroccan couscous.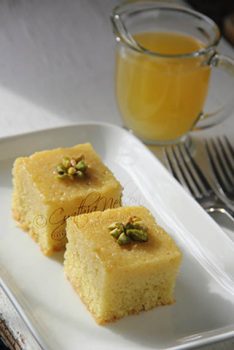 This high-gluten flour gives excellent oven spring to cakes and breads. In cakes, semolina flour gives a course texture and this is what makes it so perfect for absorbing the citrus-rich sweet syrup, without weighing down the cake. The syrup is suspended in the crumb of the cake and released as you bite into it; the flavour intoxicating, like a sweet fresh-squeezed orange.
As I have said before, there are many versions of this cake so it was impossible for me to choose a recipe to follow, so I did what I usually do – analyzed the recipes and came up with something I believe will work for me based on my taste and the ingredients available. One of the things I wondered is why the cake was called semolina cake when some recipes required almost equal amounts of regular wheat flour. The answer was clear when I looked at the texture of the cake and its taste. This was definitely a semolina cake.
It is a very simple cake to make, the star of cake is the syrup. I would recommend that rather than making an orange-flavoured syrup (made with zest) that you make orange syrup (made with orange juice), and if you can, make it using freshly squeezed orange juice, the flavour is simply outstanding; it is light and refreshing. The other key thing about this cake is knowing when to add the syrup to the cake. First, the syrup should be completely cool to room temperature before pouring or spooning over the hot-out-of-the-oven cake. If the syrup is hot or even warm, it would weigh down the cake making it dense and unappealing.
Garnishing, while appealing, is not necessary. I had pistachios on hand, so I used them. What I can tell you is that the bits of chopped salted nuts brought a nice crunch, and the little bit of salt with the sweet cake tickled the taste buds in the most pleasant of ways.
This semolina cake holds up well and is even better the next day. You can also serve it cold or chilled direct from the refrigerator, the syrup keeps it moist. I shared the cake with my taste testers directly from the refrigerator and it was just as good as the day it was made fresh.
The holidays are soon going to be upon us and most people have already started to search for goodies for the holiday table. You can add this cake.
Cynthia
cynthia@tasteslikehome.org
www.tasteslikehome.org
Semolina Cake
with Orange Syrup
SPECIAL EQUIPMENT
8-inch round or square cake pan or dish
INGREDIENTS
For cake:
½ cup fine semolina flour
½ cup all-purpose flour
1 tablespoon cornstarch
1 tablespoon baking powder
¼ cup (2 oz) unsalted butter softened
½ cup white granulated sugar
1 tablespoon orange zest
4 eggs, room temperature
1 teaspoon vanilla essence
For syrup:
2 cups freshly squeezed orange juice
1 cup white sugar
DIRECTIONS
Preheat oven to 350 degrees F.
Butter baking dish or pan and set aside.
Mix together flours, cornstarch and baking powder and set aside.
Add butter, sugar and zest and cream for 3 – 4 minutes if using a hand mixer, double the time if working by hand.
Add eggs one at a time, ensure each egg is fully incorporated before adding the other. When necessary, scrape the sides of the bowl.
Mix in vanilla.
Add the flour mixture and mix for a smooth batter, do not over mix but ensure there are no lumps.
Pour batter into prepared baking pan/dish, shake to ensure batter is evenly spread and tap the pan against work surface to eliminate any bubbles.
Transfer to oven and bake for 25 – 30 minutes or until a skewer inserted comes out clean.
Meanwhile, make the syrup.
Add the juice and sugar to a saucepot and place over medium heat. Stir until sugar is dissolved; bring to a boil then lower heat to low/simmer and cook for 10 minutes.
Remove from heat and let cool completely.
When the cake is done, remove it from the oven, place on a wire rack and prick all over the top of the cake with a toothpick. Slowly pour or spoon (using a pot spoon) the syrup all over the cake (use about ¾ of the syrup only, leaving the rest to serve along side the cake).
Let cake cool completely before cutting, garnishing and serving.
NOTES
If using store-bought orange juice, check to see if it is already sweetened or have added sugar, if it does, then only add ⅓ to ½ cup sugar to make the syrup. If you can find no-sugar-added juice, that would be ideal.
Pour/spoon about 1 cup of the syrup immediately when the cake is out of the oven and then wait 5 minutes to spoon some more of the syrup. Do this intermittently until about ¾ of the syrup has been added to the cake. I find this approach gives the cake time to gradually absorb the syrup and for it to be evenly distributed throughout the cake. Be sure to not neglect the edges of the cake.
Cut the cake directly in the pan.
I cut the cake into serving size squares; you can do the same or cut it into diamond shapes or regular cake slices.
Around the Web