For as long as I can remember, I have suffered terribly from acne. It was so bad that after a while, in my early 20s, I decided to acknowledge it as a part of my features because it seemed to be a phase I was stuck in.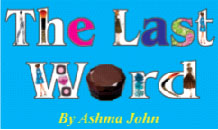 I exhausted every product in the skin-care aisles of supermarkets and at one point I even dotted my pimples with toothpaste. Opting for full coverage make-up and rarely going out in public without it was standard protocol for me. I was fascinated by well-marketed, quick-fix acne solutions and even though I never bothered to acknowledge the root cause of my prolonged teenage acne, I was somehow okay living with it because I could conceal it. ….
To continue reading this article
Comments

Whenever I am buying shoes, I try to remember the wise words from the Guyanese proverb: 'When yah like play cheap yah does pay dare,' that my Godmother always preached to me.

Just as prom pictures were about to dominate my Facebook timeline for the next two weeks or so, they were quickly dwarfed by the stories and photos of the recently averted Republic Bank robbery and the Camp Street jailhouse fire respectively.

A woman's connection with her undergarments is a unique one, and this is especially so in the case of many Guyanese women.

Earlier this week, I woke up to images of a glowing pregnant barely covered Serena Williams gracing the cover of Vanity Fair on my Instagram feed.

The memory of the spoken word can last a long time. I can still remember words that were said to me from eight years ago by people I have lost total contact with.