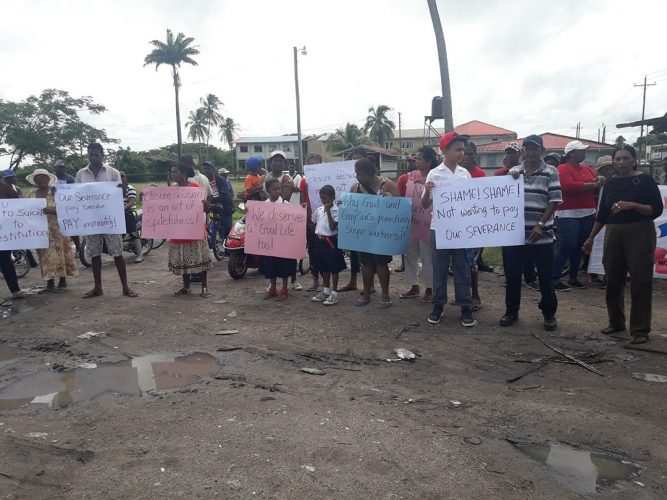 Some measure of practical relief would have been brought to the laid off sugar workers, victims of the meltdown of the once all-powerful sugar industry though it is clear that the travails of both the government and the hapless former GuySuCo employees and their families are far from at an end.
At the outset the point should be made that government's intervention, at this juncture, to allow for a partial payment of severance to the laid-off sugar workers was a move that it had little choice but to make. It had been preceded by both expressions of concern among social commentators as well as the private sector regarding fears of an extended hiatus between being laid off and being afforded their severance payment. What is also in evidence and would unquestionably have grown worse as time went by is a persistent pinprick of political agitation on the matter fuelled by what was bound to be the practical difficulties arising out of the loss of jobs.
If most of the public reportage on the laying off of thousands of sugar workers has more-or-less been skirting the edges of its political implications none of us who live in the reality of the situation will doubt for a moment that there are profound political implications to the situation. The sharp divisions on whether or not the time had come to bite the bullet and begin the winding down of a sugar industry which, in economic terms, had long become a considerable economic burden to the nation had been driven largely by political perspectives  and this will continue, doubtless, to be the case into the future…..
To continue reading this article
Comments

A scheduled visit here by a Brazilian trade and investment delegation originally due to take place this month as a follow-up to one to Brazil by a team of Guyanese state officials last May has been postponed until mid-February, Stabroek Business has been informed.

Roraima Airways Chief Executive Officer Captain Gerry Gouveia says that the "legitimate concern" over the recent delay in returning home experienced by a number of Cubans on account of mechanical defects to the Air Aruba aircraft should not be allowed to overshadow the significance of the service to promoting "friendships and business ties" between Cuba and Guyana.   

Work towards the creation of a Secured Transaction Regime in Guyana is being accelerated through a collaborative arrangement between the Government of Guyana and the Inter-American Development Bank.

A letter written to the Managing Director of the majority Russian-owned    Bauxite Company of Guyana Inc.
Information released by the Small Business Bureau (SBB) last week indicates that during last year the agency facilitated a total of fifty loans to clients   valued at $269.7 million and up to November 30, 49 of those loans valued at $221.8 million were disbursed.