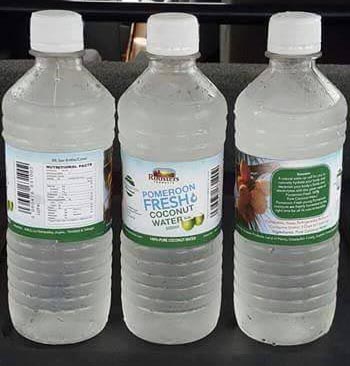 The refusal by the Trinidad and Tobago food safety authorities to allow a shipment of coconut water from Guyana to be sold there on the grounds that it does not meet the requisite safety standard could engage the two CARICOM countries at government-to-government level even as the Government Analyst & Food & Drug Department (GAFDD) insists that tests carried out on the product here have given the coconut water a clean bill of Health.
Director of the GAFDD, Marlan Cole confirmed this week that the agency had issued a free Sale Certificate to Roosters Products for the export of a consignment of coconut water to Massy Distribution of Trinidad and Tobago. This newspaper has learnt that samples of the coconut water had also been cleared by the Scientific Research Council of Jamaica during a regional coconut forum in Kingston in November. However, information has since surfaced suggesting that the opinion of the two agencies is not shared by Caribbean Industrial Research Institute (CIRI) or the laboratory testing facilities at the University of the West Indies.
The existing regional standard for coconut water was created by the CARICOM Regional Organization for Stan-dards and Quality (CROSQ) and speaks to absence from the product of natural or artificial substance substances or ingredients designed "to enhance its quality or preservation." The standards also dictate that chemicals present in the product "should only be those present as a result of the natural development of the fruit while on the tree."….
To continue reading this article
Comments

A scheduled visit here by a Brazilian trade and investment delegation originally due to take place this month as a follow-up to one to Brazil by a team of Guyanese state officials last May has been postponed until mid-February, Stabroek Business has been informed.

Roraima Airways Chief Executive Officer Captain Gerry Gouveia says that the "legitimate concern" over the recent delay in returning home experienced by a number of Cubans on account of mechanical defects to the Air Aruba aircraft should not be allowed to overshadow the significance of the service to promoting "friendships and business ties" between Cuba and Guyana.   

Work towards the creation of a Secured Transaction Regime in Guyana is being accelerated through a collaborative arrangement between the Government of Guyana and the Inter-American Development Bank.

A letter written to the Managing Director of the majority Russian-owned    Bauxite Company of Guyana Inc.
Information released by the Small Business Bureau (SBB) last week indicates that during last year the agency facilitated a total of fifty loans to clients   valued at $269.7 million and up to November 30, 49 of those loans valued at $221.8 million were disbursed.