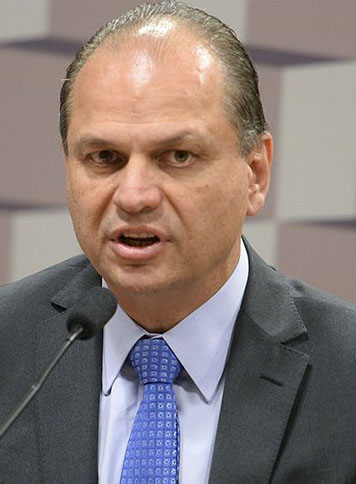 A scheduled visit here by a Brazilian trade and investment delegation originally due to take place this month as a follow-up to one to Brazil by a team of Guyanese state officials last May has been postponed until mid-February, Stabroek Business has been informed.
Last May, a multi-sectorial team of government officials undertook a visit to Brazil where wide-ranging investment-related discussions were held. Stabroek Business had been informed that the now postponed return visit is expected to yield at least one formal proposal from the Brazilian side for a large-scale investment in an agricultural venture here.
Earlier this week a Guyana Office for Investment (Go-Invest) source told Stabroek Business that the now rescheduled Brazilian investment visit remains very much on the bilateral front burner and that it was expected to be one of the subjects for discourse during a courtesy call on President David Granger by Brazil's Federal Minister of Health Ricardo Barros who was due to arrive here yesterday to discuss Brazilian support for the local health sector.
Go-Invest anticipates that the February visiting delegation will comprise nine to twelve Brazilian officials and that it will be led by officials of the country's Parana Development Agency (APD), a state-run agency that serves as a bridge between government and the private sector, assisting in the survey of data, provision of information and in making strategic investment-related decisions. APD is also responsible for positively impacting the   relationship between state and private organizations, whether national or foreign in order to promote business opportunities and generate employment and income.
Stabroek Business understands that the Guyana delegation expected to engage the Brazilians in February will include state officials attached to the Ministry of Agriculture, including the National Agricultural Research & Extension Institute, the Lands & Surveys Department, the Guyana Livestock Development Agency and Go-Invest, all of which were represented during the May visit to Brazil. Next month's meeting between the two sides is expected to extend discussions started when the Guyana team visited Brazil in May, focusing on, among other things, likely Brazilian investments in hinterland agriculture which could have significant prospects for Guyana in the areas of technology transfer and employment.
Bilateral relations between Guyana and Brazil are considered to have under-realized over the years despite the signing of a number of agreements between the two countries and what is widely considered to be the significant potential for Guyana to benefit from trade and investment and other forms of support from the continent's largest and most developed country. The creation of a road link between the two countries has been on the cards for decades and while cross-border relations have manifested themselves in limited trade and technical assistance from Brazil, bilateral relations between the two countries are still considered to have fallen well below their potential up until now.
In December President David Granger paid an official visit to Brazil the most arising out of which came an announcement that the Brazilian Petroleum Corporation (Petrobras) was keen to play a role in Guyana's emerging oil sector. While there has been no announcement here regarding a formal arrangement that links Petrobras to Guyana's imminent oil exploitation programme, President Granger is reported to have said that Guyana can benefit from the experience and expertise of Brazil's "well-established petroleum industry," and that Guyana continued to view Brazil as "an important strategic partner, an economic partner."
Following his December Brazil visit, the Guyanese President had been quoted in the media that Guyana has "extended an invitation to the entire world to examine the prospects of petroleum exploration and production in Guyana, and Brazil certainly is one of those and will be welcomed," though no specifics regarding Brazil's likely involvement have as yet been made public.
In the short term the forward movement of bilateral relations in the areas of trade, investment and technical co-operation is likely to centre around the February visit here by the Brazilian delegation and the firm agreements that derive therefrom.
Around the Web