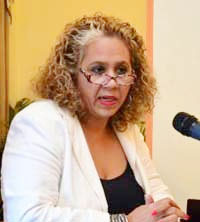 Work towards the creation of a Secured Transaction Regime in Guyana is being accelerated through a collaborative arrangement between the Government of Guyana and the Inter-American Development Bank. (IDB).
Arising out of a briefing by the Ministry of Business, this newspaper has learnt that the Government of Guyana has concluded engagements with an IDB consulting team that will hasten the pace of progress towards the  creation of a sound Secured Transaction Regime (STR's) here.
Widely regarded as a critical tool in the conduct of business in developing countries, STR's provide lenders with ready access to   collateral in the form of moveable  assets thereby increasing enterprises' access to credit.
STR's are held to be a particularly useful tool in the business sector in developing and underdeveloped countries where security markets are usually underdeveloped and where financing takes the form of debt rather than equity. Put differently, the ability of an enterprise to provide a prospective lender with readily accessible collateral in the form of movable assets   increases the enterprise's access to credit.
The World Bank,  strongly promotes secured transactions reform, pointing out that robust legislation governing secured credit mitigates lenders' risks of default and thereby increases the flow of capital and facilitate low-cost financing for projects in developing countries. The Bank says that discrepancies and uncertainties in the legal framework governing security rights are the main reasons for the high costs and unavailability of credit, especially in developing countries. Laws governing secured credit mitigate lenders' risks of default, a critical concern in the local lending community.
Stabroek Business understands that on January 15, IDB Country Representative Sophie Makonnen and the Project Consultant Tom Johnson met with Minister of Business Dominic Gaskin to discuss the inception mission for the development of a Secured Transaction Regime here. Subsequently, meetings were held between an expanded IDB consulting team, stakeholder government ministries and private sector representatives with a view to taking the process forward following the September 12, 2017 signing of a Collaboration Agreement for the development of the Secured Transaction Regime among the Inter-American Development Bank and the Ministries of Business and Legal Affairs.
The Agreement embraces the creation of a legislative framework as well as the development of an electronic registry for registering all movable property in Guyana. The Ministry of Business has told Stabroek Business that the new system will provide an integrated model for all secure transactions for movable property including machinery as well as intangibles such as companies' receivables. The Ministry says that the new regime could potentially increase lending, a development that will have the effect of both improving capital flow for development at the small business level as well as improving lenders' risk management.
Around the Web