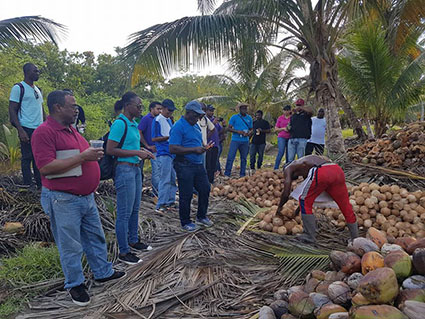 In what is being seen here as a response to last January's seizure by the authorities in Trinidad and Tobago of a consignment of coconut water from Guyana on the grounds that it failed to meet the requisite food safety standard and therefore could not be sold there, Director of the Govern-ment Analyst-Food & Drugs Department (GA-FDD)Marlan Cole has told Stabroek Business that the agency has secured the services of a Jamaican consulting agency
The Jamaican consulting entity will conduct what he says will be "hands on training for Laboratory Technicians, Inspectors and other technical personnel designed to upgrade their food safety testing capabilities".
On Wednesday Cole told Stabroek Business that while the training exercise was part of the continual process of enhancing the capabilities of the staff of the GA-FDD "in anticipation with its greater responsibilities" the decision to undertake this training programme at this particular time had to do with what the Department saw as the need to help protect what is regarded as the potentially lucrative market for coconut and its by-products. "One of the issues that we have taken account of is the recent rejection of coconut water originating in Guyana by the authorities in Trinidad and Tobago",  Cole told Stabroek Business…..
To continue reading this article
Comments

Prospects for the immediate-term fortunes of local rum manufacturers Demerara Distillers Ltd, in the light of what the company sees as a backing away from global free trade is likely to be one of the critical areas of interest, going forward, company Chairman Komal Samaroo says in the recently released 2017 annual report.

"While the front-loading of contracts and the securing of large contracts might be politically popular it might prove to be economically disastrous, University of Guyana Business Professor Leyland Lucas has said in an article that seeks, in part, to respond to the popular argument touting the virtue of so-called front-loading, that is, the drawing down of significant cash amounts of as yet unearned income from the oil and gas industry.

Against the backdrop of protracted public and private sector prevarication over the taking of steps to cater for the United States' Food Safety Modernization Act (FSMA), a US diplomat here has dropped a broad hint that unless local companies whose ambitions extend to securing traction in the US market get their houses in order, they are likely to find themselves out in the cold.
By Leyland M. Lucas In the late 1990s, Guyana signed an Oil and Gas exploration agreement with Exxon's subsidiary, EEPGL.

Hanoman Ramsaroop is a farmer 'to the bone.' On Fridays he makes his way to the Anna Regina Market to sell the vegetables cultivated on his farm situated off the Capoey access road.