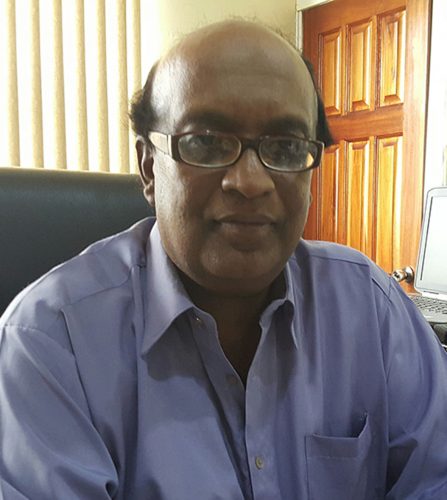 While the National Agricultural Research and Extension Institute (NAREI) should continue to perform its service-related functions to the country's agricultural sector including its role in providing valuable technical support to privately-run projects, there exists a case for attaching fees to services provided by the Institute, Chief Executive Officer of the National Agricultural Research and Extension Institute (NAREI) Dr. Oudho Homenauth has told the Stabroek Business.
Responding to a question raised by the Stabroek Business regarding the need for the state-funded research and extension entity to enhance its self-supporting capacity, Dr. Homenauth declared that while the services offered by NAREI are important to the viability of the large numbers of local small farmers with limited resources, there exists a case for attaching fees to some of the services provided by the agency that enhance both the efficiency and  the profitability of large agricultural operations. Homenauth said that such charges should be "separate and distinct" from contracts which NAREI undertakes for private agricultural investments.
Currently in its thirty-fourth year of existence   NAREI was established by an Act of Parliament arising out of the outcomes of a 1982 study designed "to identify alternatives for the management of agricultural research in Guyana" and undertaken by the Netherlands-based International Service for National Agricultural Research (ISNAR)…..
To continue reading this article
Comments

After we had spoken with Visiting Professor at the University of Guyana's School of Enterprise, Business and Innovation (SEBI), Professor Leyland Lucas, and his support staff early last week, we headed across to the new facility created to house the School.

While most types of fruit produced in the Caribbean have traditionally been considered to be largely of niche market value, reports emanating from JAMPRO (Trade and Investment, Jamaica) the state-run agency set up to promote business opportunities in export and investment, point to a drift of some fruit onto the mainstream market.
Heeralall Sukdeo, owner of Sukdeo and Sons Fishing Enterprise, says that local companies have suffered significant losses since they can no longer export catfish to the United States of America and he predicts even more severe ramifications if measures are not put in place to address the ban.

Cheryl Williams might easily be mistaken for a sprightly but retiring grandmother focused on simply enjoying this phase of her life though once you hear her story you quickly understand that nothing could be further from the truth.

General Secretary of the Guyana Trades Union Congress (GTUC) Lincoln Lewis on Tuesday told the Stabroek Business that he fails to see how the Government of Guyana could continue to neglect to pronounce on "the excesses of the Russian  management of the partially  state-owned Bauxite Company of Guyana Inc.