While most types of fruit produced in the Caribbean have traditionally been considered to be largely of niche market value, reports emanating from JAMPRO (Trade and Investment, Jamaica) the state-run agency set up to promote business opportunities in export and investment, point to a drift of some fruit onto the mainstream market.
Noted for its research into market opportunities that could impact Jamaica's export sector, JAMPRO is reporting that four fruit: mango, avocado, papaya and pumpkin, hitherto regarded as niche products, have now entered mainstream markets. Avocado, JAMPRO says, is now considered a "super food" and that interest in yam and ackee was also "on the rise."
The disclosure comes against the backdrop of a broader effort by JAMPRO to alert Jamaican investors to existing openings in the export market for tropical fruit.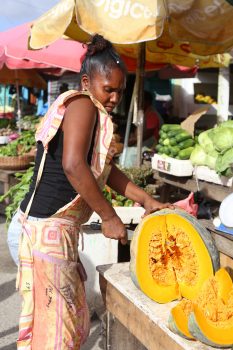 JAMPRO would appear to be responding to its research which suggests that international demand for tropical fruit is forging ahead of supply on the global market.
Simultaneously, the Stabroek Business has monitored a report regarding a campaign launched in Jamaica earlier this week designed to focus increased investments in the country's agricultural sector.
Jamaica, the Jamaica Gleaner reported this week, is seeking to challenge Mexico as a major producer and exporter of tropical fruit in the region. Simultaneous with the push by JAMPRO to move Jamaica more aggressively into tropical fruit production, the country's Ministry of Commerce, Agriculture & Fisheries (MICAF), is reportedly advocating a redirection of investments towards production in response to what it says are market opportunities that coincide with a concurrent demand for health foods. The Gleaner quotes Courtney Cole, the Chief Technical Director in MICAF as stating at a recent JAMPRO forum that the country's investors should consider shifting their money from "paper destinations to agriculture." The newspaper also quotes JAMPRO Sales and Promotions Manager Marlene Porter as saying that some tropical fruit are "outpacing other internationally traded goods, and that mangoes in particular are in heavy demand," though she added that the impact of the fruit fly on crops could constrain the island's efforts to capitalize on the mango export market.
Porter reportedly made a point of emphasizing the nexus between likely    export success and meeting the quality requirements of the international market for fruit, information which, she said, could be sourced at both JAMPRO and at the Ministry of Agriculture.
Simultaneously, Jamaica's Agro-Investment Corporation is reporting that it has thousands of acres of land available for agricultural investment. The Agency's Agro Park programme also provides farmers with technical assistance and marketing support. And investors also benefit from various shared costs including those associated with security and irrigation. Jamaica is also developing a programme for the sharing of crop insurance costs among investing farmers, the Gleaner reports.
Around the Web