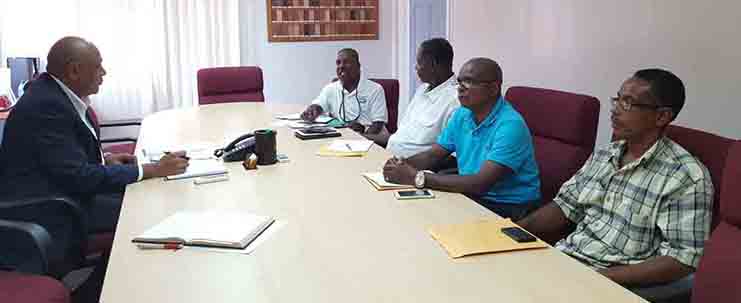 General Secretary of the Guyana Trades Union Congress (GTUC) Lincoln Lewis on Tuesday told the Stabroek Business that he fails to see how the Government of Guyana could continue to neglect to pronounce on "the excesses of the Russian  management of the partially  state-owned Bauxite Company of Guyana Inc. (BCGI) without leaving itself open to charges of itself being indifferent to issues of workers' rights.
"The fact of the matter is that the Ministry responsible for monitoring and pronouncing on the industrial relations situation at BCGI appears to have taken a hands-off position," Lewis said.
The remark came shortly after Lewis and members of the BCGI Branch Executive of the Guyana Bauxite & General Workers Union (GB&GWU) met with Natural Resources Minister Raphael Trotman in what Lewis said was a "constructive engagement" that had served to address and "to some extent, clear up some matters pertaining to the company and the workers. Lewis said that during the meeting one of the issues was the return to the BCGI workers of amounts due to them for overtime work which the company had earlier and inadvertently paid over to the Guyana Revenue Authority (GRA). Payment to the workers is awaiting the return of the amounts to the company.
Substantively, Lewis had sought a meeting with Trotman to clear up a statement made by Trotman in a letter to BCGI Managing Director Valery Vinokurov in which he had said that government was "maintaining an arm's length approach to union matters." Lewis had earlier said that he was concerned that the remark by Trotman in the letter might cause it to appear the government was indifferent to the company's industrial relations record. However, he told Stabroek Business that once the union delegation had met with Trotman they left satisfied with the outcome of the deliberations. "It was our impression that Minister Trotman made a commitment to communicating with BCGI "clearing up such misconceptions as might have arisen in the letter" he had earlier sent to Vinokurov.
Lewis, meanwhile, has told Stabroek Business that in what he said was "a further attempt to deepen the frustration that BCGI had inflicted on the workers" the company had told the branch executive at a Tuesday meeting that it would concede formal union recognition only after it had received official notification from the Trade Union Recognition and Certification Board. (TURCB). In an angry retort to what Lewis described as "a nonsense",  Lewis said that the official result of the poll "on which the TURCB has signed off" and which has long been in the possession of the   Ministry of Social Protection is more than enough to settle this matter.
"The reality is that here is a circumstance in which the subject ministry, which is in possession of the official results of the poll should simply be directing the BCGI management to cut the nonsense and begin to deal with the branch as the legitimate workers' representative.
Around the Web