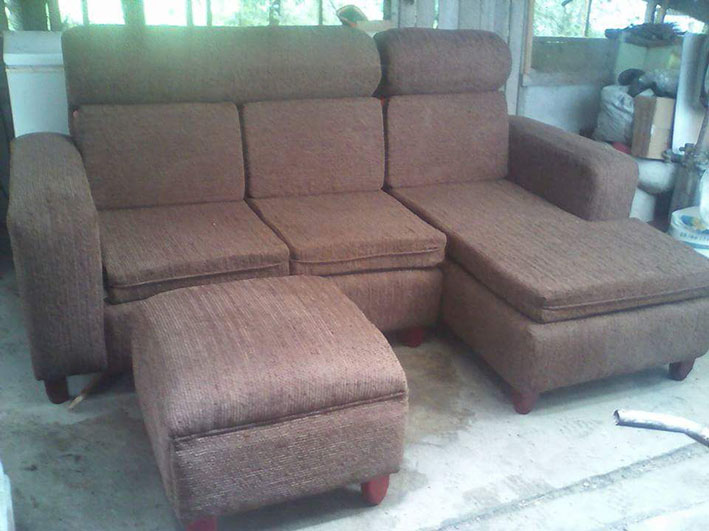 Strathspey on the East Coast of Demerara is home to a skillful craftsman who has been building a reputation in the creation of eye-catching furniture for more than two decades.
Kelvin Wilson, known to friends as "Junior", has been practising his craft after leaving school at the age of fifteen. Seeking a marketable trade he registered at the Linden Technical Institute in the hope of learning the skills necessary to become an electrician. It was while waiting for feedback regarding his admission or otherwise to the Institute that his grandmother, with whom he was living at the time, encouraged him to 'work along' with one of her friends, a carpenter, as an apprentice. It worked insofar as he made a decision to put his initial ambition of becoming a carpenter behind him.
Two years later, having gained some measure of skill and experience 'Junior' parted company with the man who had afforded him 'a break' in his new trade. Afterwards, his life's journey took a detour. He seized the opportunity afforded by an offer to employment as a hired hand on a Caribbean cruise liner though, eventually, homesickness saw him return to Guyana.
Now determined to embark on his initial ambition he, thereafter, established his own modest business, "Kelvin Woodworking", situated at Lot 6 Strathspey Railway Line. Now a family man, married with two children, he has turned Kelvin Woodworking into a thriving enterprise. Along with his wife and four employees he has built the establishment's  reputation for the creation of attractively designed furniture, chairs, tables and an assortment of other decorative pieces. If getting to the top in his trade is still a work in progress his market has grown primarily through his reputation in communities along the East Coast Demerara. Expansion beyond that limited market is his current goal.
Seeking, these days, to become more responsive to changes in the market Kelvin is seeking to take a deeper look at the art of carving wood, a response to frequent customer demands for the replication of styles which they bring to him.
Insofar as business growth is concerned, however, Kelvin is altogether aware that he still has mountains to climb. He understands that expanding his market depends on attracting a broader customer and does not rule out the likelihood of taking on contracts to produce furniture for department stores.
In the period ahead his immediate goals are the expansion of Kelvin Woodworking and sharing his skills with youngsters with a view to offering worthwhile employment options.
Whereas many similar types of businesses have complained about a scarcity of top grade woods for furniture manufacturing Kelvin says that acquiring material is not anywhere near as difficult as recruiting persons with the aptitude for the trade. Passing on his experience and skills and enhancing the quality of the goods placed on the market in order to improve competitiveness is his foremost goal. In this regard he has thrown out a challenge to youngsters interested in learning the trade to make contact with him through his Facebook page, Kelvin Woodworking.
Around the Web