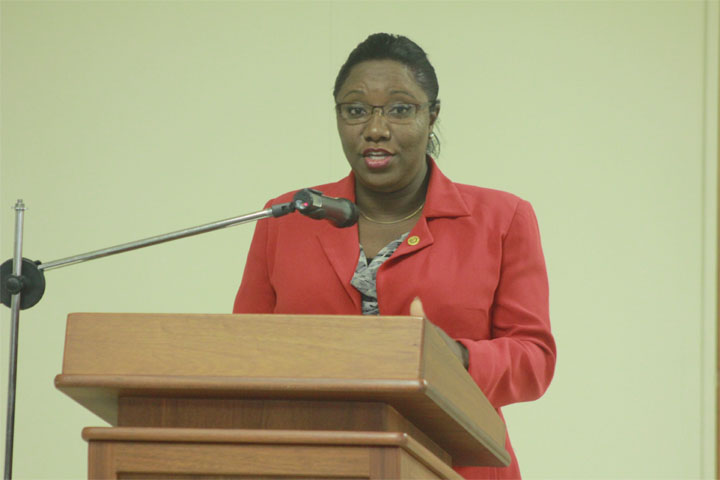 Chief Executive Officer (CEO) of CREDITINFO Guyana, Judy Semple-Joseph  has told Stabroek Business that the ability of the Credit Bureau to provide local business institutions with critical and reliable data on their potential customers has been a critical factor in persuading banks and other key commercial institutions to 'sign on' to the services which it provides.
Speaking with this newspaper earlier this week Semple-Joseph reflected on the journey towards full acceptance which CREDITINFO had undergone since its launch here in 2013, asserting that since then the organization had positioned itself to offer additional ways of data use to facilitate the business community.
She said that having taken some time to secure acceptance as a provider of credit information for banks and other local lending institutions, CREDITINFO Guyana has more than proven its worth as an important support tool for both borrowers and lending institutions. Pointing to what she said  had become a far more expedient borrowing/lending regime in Guyana, Semple-Joseph said that banks and other lending institutions are now offering "more loans and more same-day loan approvals," a development which she attributed to "the ready availability of credit reports" through CREDITINFO.
"Courts, for example, is now offering virtually instant loans to customers whilst commercial banks as well are providing same-day approvals," Joseph said, adding that the enhanced borrowing/lending regime had resulted from the qualitative improvement in the overall environment resulting from the ability of CREDITINFO Guyana to provide "easy and reliable information" that can significantly accelerate lending decisions. "We are aware, based on what we are seeing that the banks and other lending institutions are benefitting from the services that CREDITINFO provides, through the availability of credit reports. We are now experiencing a much higher level of loans, more same-day loans and more immediate loans," Semple-Joseph told Stabroek Business.
CREDITINFO, Semple-Joseph says, has come a long way from its initial, sometimes strenuous efforts to encourage local commercial banks to sign on to its services to a point where she says that "all of our local commercial banks now utilize the service. We consider this to be a considerable accomplishment and an acknowledgement by an important section of the business community of the importance of data-driven decision-making.
And according to Semple-Joseph CREDITINFO Guyana itself was in the process of seeking ways of expanding its services to keep abreast of the various transformations in the business sector. She alluded to the upsurge in applications for money lenders licences, pointing to the fact that this development is likely to open up additional demand for credit reports. Semple-Joseph did point out, however, that in the process of its buildout, CREDITINFO would be concerned with the importance of continuing to function with the confines of the laws and regulations governing its operations in Guyana. "That is a circumstance of which we remain particularly mindful," she says.
Going forward, Semple-Joseph told Stabroek Business that the entity is currently contemplating a demarche on local trade creditors with a view to determining the nexus between their needs and the services being offered by CREDITINFO. "We are considering, as well, a possible approach to Landlords who are renting homes and other premises so as to afford them opportunity to measure their credit risks. All of this is in an effort to reduce credit-related risks," Semple-Joseph told Stabroek Business.
Meanwhile, the local CREDITINFO Head told Stabroek Business that the entity was now "moving beyond credit reports since we have the tools that can help businesses to advance their operations in other ways. We believe that while it will take a mindset change, businesses will come to understand better the importance of taking strategic decisions that are based on information provided through accurate and reliable data. That is one of the important avenues that we intend to explore."
Around the Web