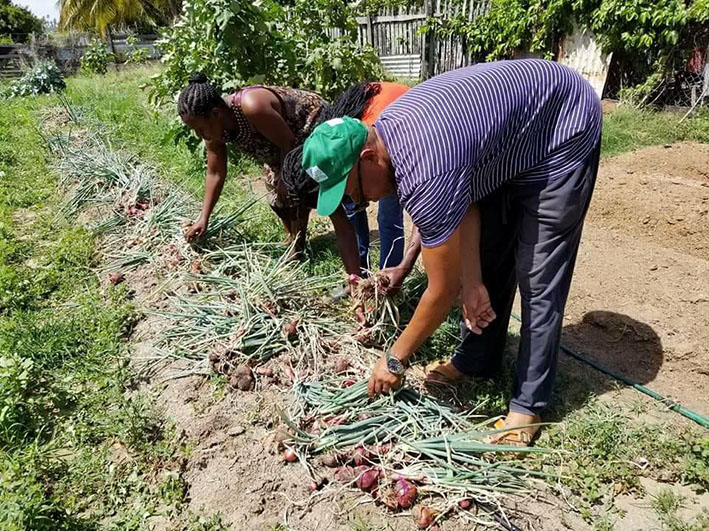 With the various recent trials having declared onions a 'sure thing' as far as successful cultivation in Guyana is concerned, greater numbers of farmers are beginning to pay an interest in the cultivation of a crop that has been, for decades, close to the top of the country's list of agricultural imports.
Kildonan, Corentyne farmer Sean Winter has already reaped some of the financial rewards associated with the cultivation of onions and says that he is encouraged to dedicate more of his farm to the three-month crop. He has set himself a harvest target of around four hundred and eighty pounds for the next crop. That amounts to an 87.5 per cent increase over what he currently produces.
Winter runs a modest farming operation, a quarter of an acre to be more or less precise. His range of crops include carrot and beetroot. Simultaneously, a modest crop of onions is being cultivated on a 60ftx4ft bed. He expects the effort to yield him around sixty pounds of onions.  Going forward, he is targeting the cultivation of seven additional beds of similar size. His decision, he says, has been carefully weighed, influenced on the whole by factors that include accessibility of planting materials, availability of markets and price.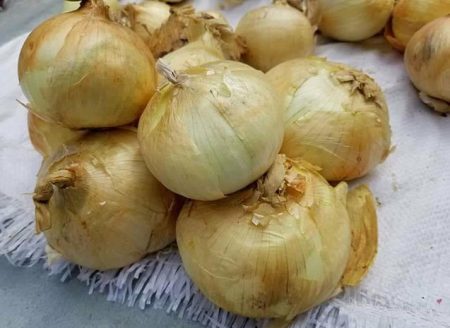 Winter's progress in onion cultivation has been largely a function of his benefiting from onion trials conducted by the National Agricultural Research and Extension Institute (NAREI) and the Promotion of Regional Opportunities for Produce through Enterprises and Linkages (PROPEL) project. He accepted the challenge to plant onions in April 2017. The initial trial underperformed. However, the bountiful harvests of other farmers kept him 'in the game". He stayed around for a second trial and adjustments to his farmer practices brought him better results.
Winter concedes that his second undertaking was patterned in some effort after the approach of a neighbouring female farmer. She had been part of the earlier trial and had gotten good returns. "So myself and one of NAREI's Extension Officers visited her farm to observe what she was doing…from watching her I realized my mistakes…………onion is a crop that likes sun so instead of putting the seedlings in trays under the cool you have to expose them to sunlight," Winter said.
The second trial was a success. Instead of planting seedlings that were transferred from trays, Winter planted the seeds directly in the soil near to the sprinkler. This allowed direct exposure to sunlight and water. He believes that these two elements coupled with the strategic use of pesticides and fertilizers contributed significantly to the success of the crop.
A portion from that harvest was sold at an event held at the Promenade Gardens Georgetown. The remainder was sold to consumers at Kildonan where Winter's farm is located. The Red Creole variety was sold for $200 per pound and the Texas Early Grano was sold for $100 per pound.
Winter says that the return on onion is high and little cultivation effort is needed. "You need to do proper land preparation…once you drench the land properly to kill the pests and then apply fertilizer the crop will be good."
Winter aims to cultivate onions on a large scale. Accordingly, he is currently seeking to access additional farmlands in order to facilitate expansion. 'Down the road,' he says, he aims to be sufficiently successful to enable him to supply supermarkets and restaurants. What he really wants to do is to reduce the country's onion import bill.
Around the Web