Up until now it may well have been one of Buxton's best-kept entrepreneurial secrets. These days, however, Primo's Sewing Establishment is doing its own fair share to attract business to a community which, not so long ago had been marked down as one of the more troubled communities in coastal Guyana.
What this modest sewing establishment reflects is an attempt to kick-start enterprise in the face of adversity; it makes the point, emphatically, that where opportunity is provided Buxton can rise to such challenges as are set before it.
The significance of Primo's tailoring establishment reposes in its links to  Buxton  – from the symbol of enterprise through which it seeks to set a community  example, to its role not only in providing employment for eight members of the community but also in what has become its subsidized services to adults and children, alike, in Buxton. It opens its doors for business each weekday from 08:00 hrs. to 16:00 hrs.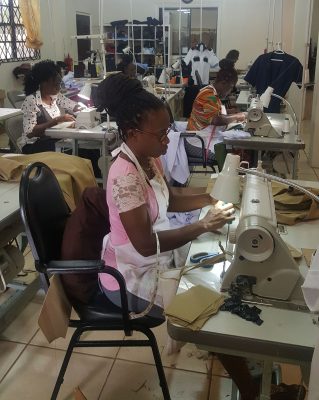 That is not to say that it does not have a firm business focus. Conceived by Washington-based Guyanese George Abrams, the establishment was launched two years ago. Abrams, Stabroek Business was told, hoped that by investing in the venture it would eventually realize a measure of success that would help Buxton to 'rise again.' The process may be gradual but there can be no question than that the entity has already made a mark.
Over time, the company has built a still modest but potentially lucrative customer base, securing contracts that range from providing school apparel in volumes to working garments for offices and factories. These days, Primo's services contracts for more than twenty five schools including East Coast secondary schools at Annandale and Bladen Hall as well as President's College. Community support has been the 'bread and butter' of the operation. Those contracts apart they have made inroads into the urban market having secured contracts to 'turn out' apparel for two city hospitals. Marketing, it seems, has made some inroads.
Much of what the company has accomplished so far is due to the energy and dynamism of the entity's Manager, Nicola Lynch. Once she ran a fast-food operation, before she was recruited specifically to market the establishment and 'bring the contracts in.' Lynch says that having been employed as the company's Marketing Manager she undertook a survey of schools between Graham's Hall and Mahaica. "It wasn't easy to persuade them to come on board with us since they were established already and had persons supplying them. We did a lot of convincing. We did samples for them so that they could see the type of work we produced." On the basis of the available evidence her persistence paid off.
But that is not all. Lynch believes that it is the nexus between the skills of the staff and the competitive pricing that has attracted contractual arrangements with establishments like the Balwant Singh and St. Joseph's Mercy Hospitals and the security firm Integrated Security Establishment. It was her success in winning the company contracts like these that won her promotion and recognition.
The twin challenges ahead for Primo's are, first, to consolidate its gains, and secondly to focus simultaneously on customer retention and market expansion. Lynch is optimistic. She believes that it is a matter of sustaining the standards by ensuring that its holds on to those standards that won it the patronage that it currently enjoys. If 'business is good," Lynch says it can be better. What the company is targeting is an opportunity to benefit from the provision in the country's Small Business Act which provides for a 20% allocation of state contracts for small businesses. "Business can be even better, especially if we can get some government contracts. Whenever they have tenders out in the newspapers, we normally apply and supply the necessary requirements but we have not been lucky.
Like so many manufacturing entities across the country, Primo's has a huge bone to pick with the Guyana Power and light Company. Just recently, frequent power outages compromised one of the company's sewing machines resulting not only in repair costs but also compelling the company to invest in a generator.
As the Manager of an entity whose survival depends on satisfying a range of customer preferences Lynch has had to learn quickly about the value of good customer service. She concedes that the company has had its 'run-ins with some disgruntled customers. "When they come and make comments, we would explain to them and take them through the procedures involved in making the garment," Lynch says.
Not unaware of the virtues of effective marketing, Primo's has successfully married conventional and contemporary tools to suit its communication needs. On the one hand it 'gets the word out' through the contemporary radio outlet, 93.1 Real FM and the ever popular Facebook. Its second tier of communications media include the popular print media whilst, in pursuit of the market embodied in the ordinary villager the company has been known to press an old-fashioned Bell Crier into service.
Around the Web