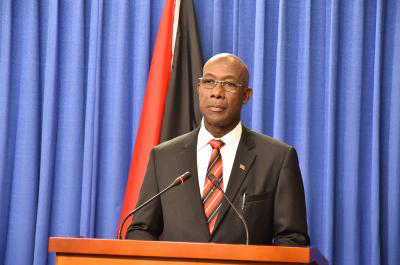 The success which Credit Unions in the Caribbean have had in attracting increasing numbers of members and exponentially growing their savings continues to be compromised by their failure to provide optimum returns on those savings through their inability to disentangle themselves from the less than lucrative savings mechanisms offered by commercial banks," Trinidad and Tobago Prime Minister Dr. Keith Rowley has said. 
 At an event in Port of Spain last week designed to mark the opening of the Caribbean Confederation of Credit Unions Convention, Rowley declared that while Credit Unions in the region were "fit and well" their "real significance, true value and full potential……..will; be lost to the world at large, if, side by side, the movement does not come face to face with commensurate levels of independence, responsibility, accountability, authority and maturity." Specifically, Rowley said that Credit Unions in the Caribbean must be "free from dependence upon commercial banks and private sector institutions to lodge your membership shares and deposits." Rather, he said that Credit Unions should be "free to put the mechanisms in place, if they so desire in the provision of the widest range of financial services to all and sundry, noting at the same time that costs associated with ATM's, purchase and sales of foreign exchange, wire transfers and letters of debit and credit all eat away at shares, deposits and dividends so sacrificially and painstakingly accumulated.
 And in a blunt assessment of the condition of the credit union movement in Guyana, Head of the University of Guyana's School of Enterprise and Business Innovation (SEBI) Professor Leyland Lucas endorsed the view that commercial banks were reaping 'the sweet of the deal' in their relationship with credit unions. "Over the years, this relationship has thrived as the established financial sector has viewed it as uncompetitive. From their perspective, this market segment remains too poor for the established financial institutions to consider entering. Instead, they chose to perform the more 'high end' lending, while managing the financial resources garnered from the 'low end' contributors and benefitting from such a relationship. Any review of the history of established banking-Credit Union relationships will show a significant spread between benefits of these resources accruing to the banks as against what accrues to the Credit Unions. The absence of enlightened legislation, seeking to upgrade the status of Credit Unions has helped to reinforce this situation.
 The concerns raised by the Trinidad and Tobago Prime Minister at last week's regional credit union forum have been the subject of low-level but intense discourse among some credit union followers who continue to criticize the limited   benefits accruing to members from their savings beyond relatively modest short to medium-term loans and annual dividends. Local Credit Union   members benefit mostly from loans associated with household purchases, family emergencies, liquidation of debts and modest investments.
 According to Rowley while cooperative credit unionism has 'come of age" this can only be epitomized "to the extent that we are prepared to walk the talk, take hold of the baton and head toward completion of the final leg… Power to change the future will call upon you to draw down from the wealth of merits of your proven track record and, above all, summon your richly gifted attributes of tenacity, grit and determination, and by no means least, your abiding and relentless passion for progress and excellence," he said, adding that "Our objective in the Caribbean should be to take a page from the Canadian experience, where credit union members enjoy, in many provinces, higher levels of deposit protection than that which is available to commercial bank customers."
 In his article Lucas declares that "while one may fully endorse the views of Prime Minister Rowley, these are based on the assumption of the requisite legislation here in Guyana, which he said is sadly lacking. "Currently, within the Laws of Guyana, Credit Unions are strictly regulated both in their lending practices and investment options. Even within the local stock market, Credit Unions are not permitted to place their resources. These investment restrictions place major controls on the ability of Credit Unions to be innovative and competitive. There needs to be significant updates of the Banking legislation that will allow for the transformation of Credit Unions, such that they can offer products and services similar to those currently available from Banks. Absent such legislative changes, Credit Unions will remain in a time warp, locked into the ideas of times past," Lucas writes.
 Regional (2016) credit union statistics quoted by Dr. Rowley indicate that Trinidad and Tobago accounts for almost half the number of 297 credit unions – with a membership of 2,505,918 in the Caribbean.
 Rowley said the number of credit unions in the Caribbean in 2016 was 297 with a membership of 2,505,918. Shares and deposits reportedly amounted to $5.3 billion dollars, Loans totaled $4.3 billion, and reserves stood at $651.6 million.
Around the Web