Giftland Mall, widely regarded as the single most ambitious shopping and entertainment investment undertaken here up until now received eight million visitors since its official opening on July 2, 2015, though the entity's Chief Executive Officer Roy Beepat told Stabroek Business in an exclusive interview on Tuesday that managing the giant complex has been an enormous challenge in the face of a less than convivial business environment.
In a fast-moving interview at his Pattensen office inside the Giftland Complex Beepat said that Guyana is yet to arrive at a position where it provides a convivial environment for entrepreneurs. "The banking Acts and regulations are in dire need of overhauling and unless this is done  local companies without the necessary financial backing have little chance of survival , and projects like the Giftland Mall will only be affordable by foreign companies. There is, Beepat said,  "a critical and urgent need for the private sector, bankers, the Minister of Business and the Finance Minister to get together and work towards what is in the best interest of local industry otherwise in short order Guyana will be overrun with foreign companies who will be unopposed."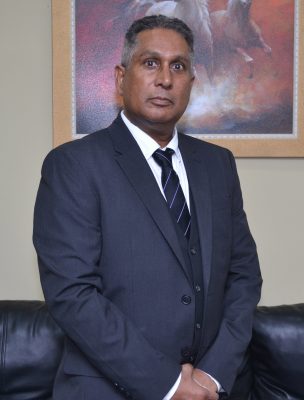 Meanwhile, Beepat says he wants the APNU+AFC administration to institute a probe into what is seen here as the rival MovieTowne investment a project which he said was "closely linked to the previous administration, NICIL and the Chinese company, China Harbour and one which he says he views "with great skepticism."   He says he believes that a probe revealed that Giftland and MovieTowne, two investments in the same sectors, were never playing on a level playing field. He said that such an investigation should be pursued on the basis of "logic" founded on concerns "of foul play" that have already been confirmed by the Commissioner of the Guyana Revenue Authority, whose own probe had confirmed that equipment  consigned to the Cheddi Jagan International Airport project had been transferred "elsewhere."
  Beepat told Stabroek Business that Guyanese "have been unwittingly manipulated into funding the MovieTown Complex."
 And in what he regards as a further negative of China Harbour's association with Guyana he points to the fact that while Jamaica's 14-gate Airport has cost the government there US$63 million "and other regional airports with more capacity and gates had cost much less to build" he questioned what he said was the "cost overrun" on the CJIA.  
Beepat says that as the MovieTowne project unfolds the investor MovieTowne should be required to pay its VAT "up front" in the same manner that applied to the Giftland project. 
 In calling for the creation of the "level playing field which he said the incumbent administration had promised, Beepat says he believes that the GRA "is in a strong position to cite China Harbour for breach of contract."
 Beepat, meanwhile, told the Stabroek Business that government needs to do much more to protect local industries from extra-regional "invasion" in some sectors of the economy.
"There should not be a free-for-all like that which has seen many   Guyanese businesses close to Chinese competition. There should be restrictions on what sorts of businesses foreigners are allowed into. Unless this is done we cannot build a strong Guyanese business community. We will always be at the disadvantage of much stronger and wealthier foreign companies. I believe that there is a need for foreign investment, but these should be in the productive sectors and where Guyana needs help, I don't see how people coming here from other countries and opening retail and wholesale companies helps Guyana. We lose on taxes and revenues which this country desperately needs."
Around the Web