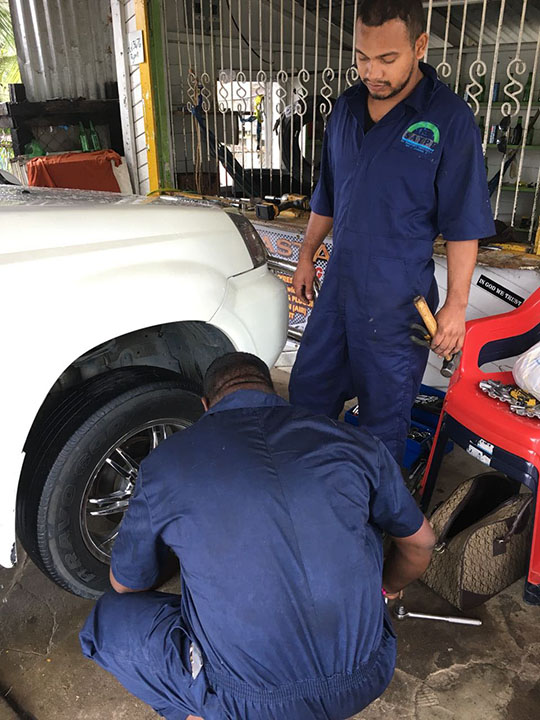 Reyead Shadeek believes that poor customer service has contributed significantly to undermining the reputation of the motor mechanical industry and he wants to do something about it. So he has set himself the task of offering a service that is competent, reliable and does not ask his customers to 'pay through their noses.' It may sound far-fetched but that is Reyead's ambition. There are countless mechanic workshops in Guyana but car owners still complain about a lack of professionalism, dishonesty, overcharging and unreliability. Those who understand the industry would be aware that that is a
difficult assertion to challenge. So that what Reyead says he wants to do is to "earn a decent income by offering customers a service that is honest, convenient, dependable, and affordable." Again, people can hardly be faulted for being skeptical about that pronouncement. 
 Reyead says that the vision behind Reliable Automotive Service was born when he was seven years old. It was tied to a promise that he had made to his dying mother to 'take care' of his younger brother. His primary school years were spent with an aunt in Matthews Ridge and at the age of 10 he was sent to Georgetown to live with his grandmother.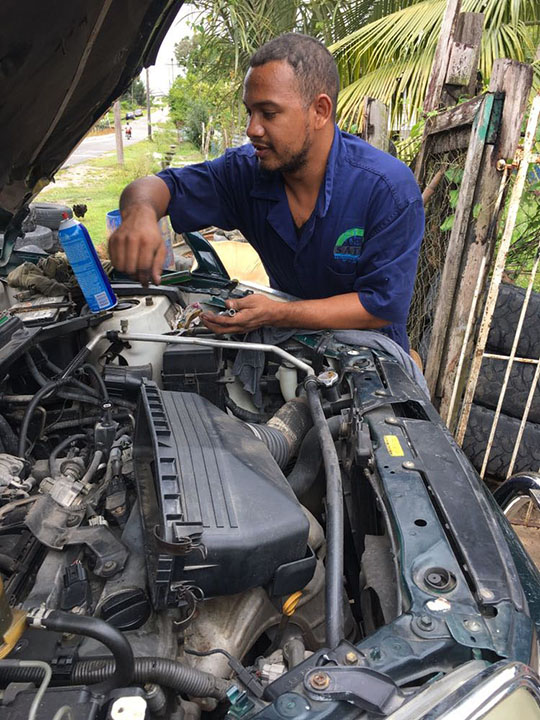 A turning point in his life came when he joined the Meadow Bank Catholic Church. The church provided a moral rudder and a Priest as a mentor. Financial constraints forced him out of school but it was a question of another door opening, the academic door having closed. He joined a workshop in Alexander Village as an apprentice and took his boss' advice to enroll at the Guyana Industrial Training Centre. In 2014 he graduated as the school's Best Student and afterwards turned a temporary attachment at a local car dealership into a permanent job.
 Reyead used his spare time effecting motor repairs and servicing for family members and friends and it is through this pursuit that he grew to understand the industry better. "I wanted to start my own business because I saw the opportunity to do better for people and for myself. But I didn't have money to invest in a big workshop and tools and advertising," he reminisced.
 He 'bounced' the idea of starting a business of his own off "a friend in marketing" who specialized in marketing. His recommendation was that he keep his job and 'branch off' on a part-time basis. The regular income was needed to equip any new shop that he would open since up until then all he possessed were, a tool kit and a lap top.
Finally, in April 2017 Reliable Automotive Service opened its doors for the first time at Herstelling, East Bank Demerara, staffed by one full-time mechanic, two part-time mechanics, a facebook page and 250 business cards. Family members and friends are usually the first target market along with the neighbourhood vehicle owners. Within a month a few modest jobs had come in. Reyead recalls that the Shop's first 'big job' was to change the suspension on a Mark 11. The earnings from this job were invested in more inventory.  Afterwards "referrals" started coming in. A point had now been reached where Reyead had to make a critical decision. He left his paying full-time job and attached himself to RAS completely. The Shop's reputation grew steadily, to a point where its proficiency with repairs and restoration won it a reputation for 'bringing back the dead'. Based on the advice of a 'business advisor' Reyead decided to specifically target professionals and business owners. Additionally, he provided free engine checkups and consultations for customers with more than one vehicle. "Over time, I established a number of relationships with reputable persons doing body work, electronics, tyre repairs and replacements and the sourcing of vehicle parts. We worked on weekends by appointment."
  Over time, as well, Reyead has built into his service protocols the practice of roadside support. Nothing comforts people who encounter emergencies on the road more than reliable help that is just nearby. RAS, Reyead says, has meanwhile maintained an unshakeable commitment to honesty.
 He noted that the business was recently contacted by a gentleman in Barbados via Facebook. The customer took up an offer of a free engine check-up and the recommendation was to change the engine. A detailed estimate was prepared and the customer was impressed with the company's professionalism and complimented Reyead for same, noting that RAS didn't operate "GT style". "This made me feel great," said Reyead.
Financing and expanding the customer base remain major challenges in a highly competitive sector and in an environment with a conservative banking culture. As far as equipment is concerned there are still mountains to climb. That, however, does not deter Reyead. "I am doing engine rebuilding, engine replacement and fixing mistakes made by other mechanics using a garage jack and a few specialist tools. I was able to obtain the Guyana Tourism Authority business and several others based on word of mouth referral and the value-added service we offer," he pointed out.
 Reyead is currently seeking grant financing from the Small Business Bureau. He does not, at this juncture, qualify for a commercial bank loan. RAS was registered in January this year and despite not yet making a profit, has paid the Guyana Revenue Authority taxes for the first quarter in anticipation of major growth in the business this year.
 Reyead is excited about the future. "We recently ordered a portable engine hoist, several jack stands and a few more specialist tools. We registered with the Centre for Local Business Development in anticipation of tapping into some business from oil and gas operations here. I will also be targeting elderly vehicle owners and companies in Georgetown and along East Bank Demerara to offer our services," he says.
Around the Web