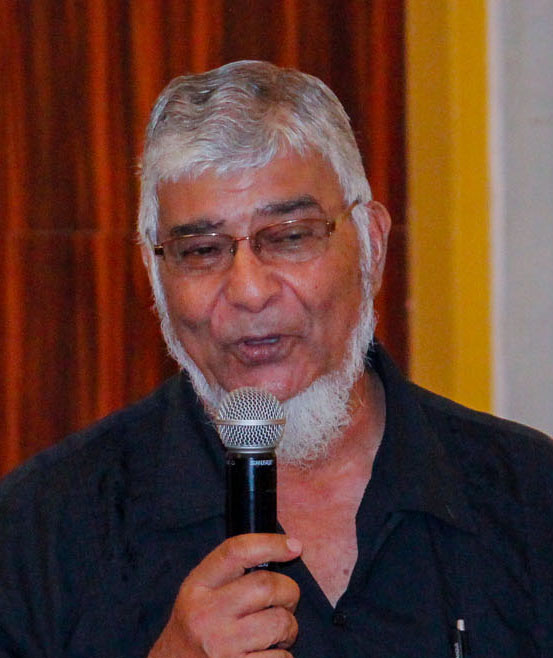 When you peruse the showroom at Fibre Tech Industrial Plastics tucked away on Agriculture Road, Mon Repos, a stone's throw away from the National Agricultural Research and Extension Institute (NAREI) you are inclined to think that it is misplaced, that it ought to occupy space in downtown commercial Georgetown, where more eyes can see what the company has to offer. Somat Alli,, the seventy-one-year-old proprietor couldn't disagree more, his line of reasoning being that it says something for what Fibre Tech has to offer that potential customers can find their way from all corners of coastal Guyana deep into what is not always an altogether accessible road to view and all too frequently acquire some of the pieces on offer. If the spacious showroom welcomes 'all comers,' the award-winning Guyanese manufacturer feels especially pleased when re-migrants find their way to Fibre Tech, his line of reasoning being that the company challenges a conventional wisdom then when you return to Guyana to 'start a new life,' so to speak, you bring everything 'from foreign' with you. 
On Wednesday when we arrived at the Fibre Tech Complex there were a handful of overseas-based Guyanese who were doing more than casually browsing. They were 'testing' products in various ways, sitting in chairs, running their hands across surfaces and making gestures with their hands whilst scrutinizing bathroom sets as if mentally measuring the spaces in their new homes into which these pieces would have to fit. 
Over the years Fibre Tech has been up and running, Somat Alli has come to understand that the kind of decision-making that goes into acquiring the pieces that the company offers can sometimes require protracted customer contemplation. Accordingly, he creates discreet distance between himself and the visitors to his showroom, allowing colour, design and sturdiness to speak for themselves, intervening only when issues requiring his personal attention arise.
On Wednesday he opted to spend the hour he had promised talking with us, proffering views on the economy, the country's electricity supply woes, the taxation regime, dumping and the state of the manufacturing sector with a sense of candour and openness not customarily associated with businessmen, preoccupied with trading in their goods and services and content to dwell beneath what they regard as a controversial political radar that picks you up when you have too much to say.
On Wednesday he chose to tell us about what he believes is a combination of high taxes and import duties on raw materials and the wholesale dumping of what, he says, are, all too frequently, inferior imports, which, he says, continues to strangle the life out of the local manufacturing sector. It is, he says, a nettle which the highly touted public-private partnership is yet to grasp, the conversation invariably wandering off into areas of an infinitely less urgent nature.   
What he wants, he says, is a tougher, more definitive line   on the dichotomy between what is sometimes the boisterous advocacy of a policy of free and unhindered intra-regional trade and a set of circumstances that allow for "everything from soft drinks to Kiss cakes" to pour into Guyana from Trinidad and Tobago only to encounter vigorous protectionist measures when attempts at reciprocity are made.
 Here, he blames Guyana – both the government and the private sector for, historically, failing to make a sufficiently robust case for the removal of barriers that institutionalize a lopsided intra-regional trading regime. He concedes, too, that in a global marketing culture where much of the traction of manufactured products derives from the quality of labeling and packaging, what, all too frequently, are "high quality products" must give ground to options that place greater emphasis on product presentation, including packaging and labeling where, he says, a more persuasive case can be made for increasing market share.
Like a growing number of urban businessmen and women with whom this newspaper has spoken, crime now appears to occupy a permanent place on the billboard alongside the worries of the business sector, sitting, it seems, just below the country's seemingly endless electricity woes. Alli says, unhesitatingly, that growing crime is not an insurmountable problem. He contends the creatively crafted "community-based programmes" aimed, first, at keeping children in schools and afterwards channeling them into skills-training initiatives can transform "some communities" from incubators for criminals; and while he believes that corruption and ineptitude sit like barnacles on the back of the Guyana Police Force, he insists that more effective policing will remain a pipe dream unless it is allied to a greater focus on relevant training and levels of compensation that bear some correlation to the challenges associated with policing.
Time was when Alli was an executive member of the Guyana Manufacturing and Services Association (GMSA). For a while after that he was, perhaps, one of its most unrelenting critics in the business community. It was not, he once said to this newspaper, "sufficiently proactive" in responding to the challenges confronting the sector and seemed uncertain as to whether it was prepared to robustly engage the government on issues affecting the manufacturing sector. "Part of the problem has to do with the fact that the GMSA sometimes seems unsure as to whether it is able to separate political views from the interests of the sector," he told Stabroek Business on Wednesday when we reminded him of those days.
A lot has changed. This interview had been first discussed at a GMSA event at the Pegasus Hotel some months ago where Alli was in attendance and where his company received a sectorial award for services to manufacturing. A few years earlier that might not have been the case.
These days, he says, "some things have changed." He applauds what he says are more serious attempts at public/private sector engagement that address small business issues, agriculture and the need for a more convivial operating environment for the manufacturing sector. He is, however, demanding more, perhaps more than anything else a more "balanced" trading arrangement that provides no mechanism to allow for strong and meaningful 'retaliation' to the phenomenon of invading consumer goods that hold huge advantages in competition with our own. "The manufacturing sector," Alli insists, "cannot function effectively in isolation from collaboration   with government. What we need are policies that afford our manufacturers the opportunity to produce at competitive prices, to have access to markets both at home and abroad, to provide employment and to make a meaningful contribution to the growth of the country's economy."
Around the Web