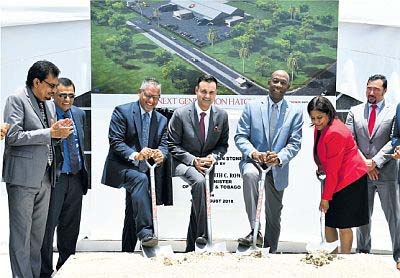 (Trinidad Guardian) As T&T gears up for the Caricom Heads of Government meeting in Port-of-Spain this November, Prime Minister Dr Keith Rowley says the growth of the local manufacturing sector relies heavily on the success of the Caricom Single Market and Economy (CSME).
Speaking at the sod-turning for the Nutrimix Group of Companies' Next Generation Hatchery in Brechin Castle, Couva on Wednesday, Rowley said that while T&T is interested in the Caribbean market for trade, there are others who have their eyes on reaping the benefits of the CSME.
In order for T&T to benefit, he said there must be a proper presence and advocacy, and it is why the Government has requested and has been granted a Caricom Heads of Government meeting this November with a single agenda of discussing the CSME.
"This is of great interest to the people of T&T because we are possibly the major beneficiary of the Caricom economies. And if we are to grow in the way we are expected to grow when this facility is completed in the way that our country's potential is to be realised, and if we are to preserve what we have, we have to ensure that the Caricom market remains alive and remains our major marketplace. That is the assignment and we observed this before we became the government. That is why today we have a Ministry of Foreign and Caricom Affairs," Rowley said.
There have been heads of Caricom, technocrats or foreign interest groups who are in support of the CSME, however, Rowley said that with Caribbean integration, there may be winners and losers.
"Every Caricom government is afraid to be the loser in any area. As a result of that, we have been kicking this can down the road for years until it has not become a matter of self-criticism at Caricom. We have been saying at the level at the heads of Caricom that we have been skylarking and postponing this issue."
So far, the Bahamian government has expressed its intention to remain in Caricom, but back in April, its Prime Minister Dr Hubert Minnis said that country will not be part of the CSME, nor will it allow for the free movement of Caribbean citizens to its islands.
The Jamaican government is also revisiting the rationale of the revised Treaty of Chaguaramas, which established Caricom. The treaty seeks to improve the standard of living and work in Caricom states, accelerated, coordinated and sustained economic development and foster increased production and productivity. In June, Jamaican Minister of Industry, Commerce, Agriculture and Fisheries Audley Shaw told the Jamaican Parliament that while "the overarching objective of the CSME is to increase our collective wealth and well-being through sustained economic growth derived from a continuous increase in production and productivity, this goal has somewhat eluded us due to half-heartedness and sometimes, a lack of commitment and an unevenness in the extent to which member states embrace the provisions of the Revised Treaty to increase our common wealth."
It was based on these developments that T&T sought out November's meeting.
Rowley said that there are suggestions that a having a single market and economy is too much of an aspiration. He said there were proposals to just have a single market or single economy.
Around the Web