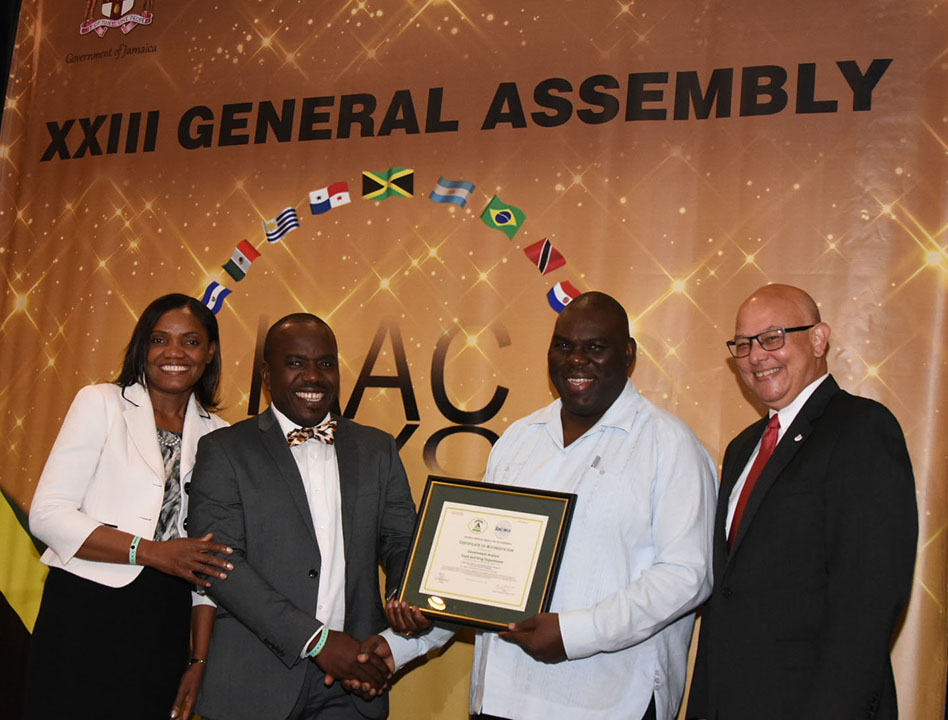 Guyana's Government Analyst Food and Drugs Department (GAFDD) has now better positioned itself to support the country's agro-processing sector in its quest to access international markets following its receipt on Monday of a Certificate of Accreditation  in conformity with the ISO/IEC 17025:2005 standard from the Jamaica National Agency for Accreditation. (JANAAC).
ISO/IEC 17025 accreditation is the single most important standard for calibration and testing laboratories around the world. ISO 17025 accredited laboratories have demonstrated that they are technically proficient and able to produce precise and accurate test and calibration data. The accreditation of the GAFDD comes at a time when food safety standards in some of the world's most lucrative markets are rising continually and when the United States' Food Safety Modernisation Act (FSMA) continues to demand heightened levels of food safety guarantees from countries wishing to access its markets. The conferral of the accreditation also coincides with evidence of marked growth in the country's agro-processing sector and in the export readiness of its produce.  
The presentation of the Award to the GAFDD coincides with the 23rd General Assembly of the Inter American Accreditation Cooperation (IAAC) staged earlier this week at the Hilton Rose Hall Resort and Spa in Montego Bay, Jamaica.
GAFDD Director Marlan Cole said in a statement that the accreditation covers the Department's Food Chemistry, Food Microbiology, Excise and Water Chemistry laboratories. "Accreditation now gives the Government Analyst – Food and Drug Department Laboratory – the only of its kind in the public sector entity in the region that is accredited – the authority and scope to attest to results generated from its analysis and tests that is now recognized and accepted anywhere in the world," the statement said.
Funding for the programme leading to the realization of the new standard was facilitated by the CARICOM Regional Organization for Standards and Quality (CROSQ) via the 10th European Development Fund (EDF).
Cole said that going forward the GAFDD will be seeking to transition to meet the requirements of the ISO/IEC17025:2017 Standard whilst continuing to pursue its mandate "by protecting consumers from substandard food, drug, cosmetics and medical devices and facilitating both local and international trade."
Much neglected by the authorities over the years the GAFDD is due to undergo a comprehensive overhaul which will include a new complex and the upgrading of its laboratories.
Around the Web