Lindon Blyden and his four children, three sons and a daughter, are probably keepers of one of the best-kept secrets in poultry farming in Guyana. Blyden Farm, situated on a plot of land at Cuffy Koker, Friendship, East Bank Demerara, seventeen miles from Georgetown, may be part of the group of farmers comprising the Marfriends Cooperative Society, though, in its own right, the Blydens' impressive poultry 'spread' is more than worthy of a generous measure of individual attention. Within the Marfriends group it is easily the standout operation. 
The senior Blyden himself is the financial investor in the venture. Otherwise, he is, for the moment at least, at best, a part-time farmer, his substantive occupational attention is focused on a gold-mining operation in the Middle Mazaruni. Blyden Farm is an example of astute strategic diversification, unsure as the family is, of the fluctuating fortunes of a wayward gold-mining sector.
On Saturday, however, when Stabroek Business visited, Lindon Blyden was there, 'checking in' on his four children who comprise the operation's management team, and indulging in his "real passion" of being a farmer. These visits to the farm are also occasions to give advice and authorize investments in ventures designed to continually improve the operation. He looks forward, he says, to withdrawing one day from the exertions of gold mining and retire completely into his passion of farming.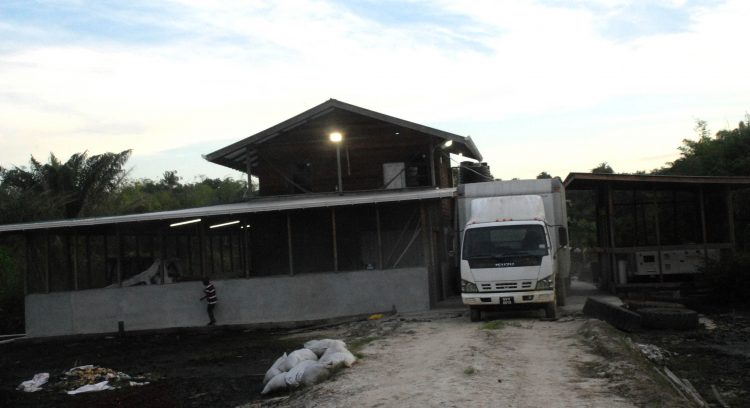 Kevin, one of the junior Blydens, is the designated Operations Manager in his father's absence.  On Saturday, he struck a decidedly proprietorial air, as he showed Stabroek Business  around, explaining that while the cherry, golden apple, cashew, avocado, banana and plantain crops scattered across the Blyden 'spread' represent the cash crops that provide a sustained, if modest, stream of income, the farm's 'bread and butter' investment is its poultry operation. 
Eager, confident and regretful of the fact that his interest in agriculture developed only after his formal schooling had ended, Kevin conceded that overall responsibility for an operation that manages around 3,000 chickens has focused his mind, compelling him to immerse himself in research into the management of both crops and livestock. On Saturday, he set out for us his vision for the creation of an ultra-modern farming operation, partly in order to fulfill the family's expectation of, at some stage, providing product acceptable to the various companies involved in the country's oil recovery operations.
 The senior Blyden volunteers the history of the farm. He says he acquired the plot of land on which it sits about twenty years ago. At the time it comprised no more than swamp and vegetation. There has, since then, been progress.  The farm, he says, is now worth in the vicinity of G$40 million. After ploughing several millions into its development, it is, he says, beginning to "take shape." At the start it was necessary to engage in the arduous task of removing thick vegetation, followed by altering the texture of a soil type that is in the habit of frustrating cultivation by holding considerable volumes of water. Landfill, drainage and road-building exercises eventually 'rounded out' the operations necessary for a feasible farming venture.
 The Blydens concede that more work is required to create their vision of a modern farm. The senior Blyden considers the operation a medium-scale venture. The chickens reared there are disposed of through target market arrangements, including the movement of meat to mining locations in the interior and the sale of smaller consignments to shops and markets.
On the farm the chickens are housed in two modern pens, each measuring 100 ft. x 30 ft. Equipped with eight 500-watt heaters, 64 feed cans, and 40 water cans, the cumulative cost  of 'putting down' the pens  was around seven million dollars. The pens are in the process of being upgraded through a water drip mechanism and it is envisaged that by 2020 the pens will be upgraded with plastic slate flooring. Casting the huge floor will require the recruitment of a labour force of around twenty- five men. The fully operational poultry business got underway just over a year ago.
There is still more ground to cover. The farm is only now being electrified, as two generators – a 15 KVA and a 28 KVA — have recently been acquired. In the absence of a regular and reliable water supply, availability is dependent on rain and a number of water tanks which sit on the farm.  Both chicks and feed are purchased locally. Feed costs amount to around one million dollars per month.  The Blydens' most significant acquisition to date is a refrigerated truck which will be pressed into service with a view to ensuring quality standards and increasing market share. The family is now discussing plans to invest in infrastructure, including pens that will double their accommodation space.
Kevin explains that it is in the very nature of the business of poultry-rearing that owners are not afforded the luxury of resting on their laurels. Vulnerability to disease and the danger of a consequential high mortality rate that can easily cripple an operation demands sustained and keen farm management, coupled with a knowledge of "warning signs." He is concerned, too, that the prevailing work ethic can render the acquisition of committed workers a considerable challenge.
"Workers will turn up initially and after a while they have lots of reasons why they cannot continue…………place too far, work too hard and the like." In this business, Kevin says, it is vital that you are able to depend on your workers. Still the idea of reaching a quality standard which will one day allow for Blydens' Chickens to sit on plates being served to crews responsible for recovering oil for Guyana continues to drive him. As a poultry farmer he cannot think of a loftier ambition.
Around the Web