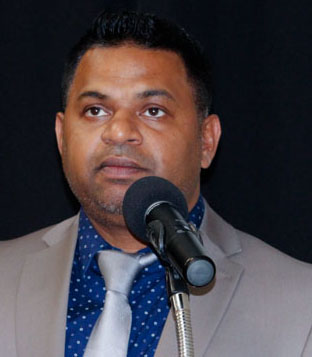 While the Georgetown Chamber of Commerce and Industry (GCCI) is upbeat about the prospects of Guyana landing a "formidable" oil and gas industry, it wants to see movement in the direction of complementary investments in the various other critical sectors that have a bearing on the overall development of the country.
"What is needed is investment in non-oil sectors such as medical facilities, infrastructure, agriculture, security, education and development of social systems," GCCI President Deodat Indar told the gathering at the recent GCCI awards ceremony.
Much of his address centred around what he said are the drastic changes that will result from the commencement of oil production "either at the end of 2019, latest March 2020." Alluding to reports of drilling activities by Tullow Oil in the Orinduk Block and Repsol's drilling activities in the Kanuku Block, Indar said that with these drilling activities, Guyana is shaping up to have a formidable oil and gas industry.
However, while asserting that the Chamber continues to be a consistent and persistent advocate in the fledgling oil and gas sector, Indar told his audience that the business support organisation was pushing for a number of sector-related developments including a local content policy based on the early materialization of a final document. He said that the Chamber had not only commented "in great detail" on the local content policy, but had also prepared a position paper on it.
Asserting that the GCCI had been working tirelessly since the first draft, Indar said that the body had also drafted "model" local content legislation which it sent to President David Granger for his consideration. "We hope that this administration uses it as a start to have legislation in place so that locals can be seriously considered in the oil and gas suppliers' network and be given first consideration for goods and services," he said.
A local content policy aside, Indar said that the Chamber had also advocated for the Petroleum Commission Bill to regulate the industry and was awaiting a revised version of the document. Additionally, he said that the Chamber had "made calls" for Sovereign Wealth Fund (SWF) legislation to be used as a legal instrument with which "to account for Guyana's patronage from the oil revenues. We have seen a green paper on it and we have facilitated national discussions on its strengths and weaknesses," Indar declared.
Describing the circulation of the draft legislation as "a good start," Indar said that it was important that the country "ensure that it has the hallmark of good governance written into it and that it protects intergenerational equity."
Turning to the broader range of national socio-economic issues, Indar said that the investment appeal of the country will also be driven by "the environment in which it is to be executed." In this context, Indar told his audience that the recent government takeover of the Berbice Bridge "does not augur well for public private partnerships."
He said that while the bridge owners had increased the rates "to an amount unheard of, creeping and indirect expropriation of assets by government must be the last resort." He added that "the investment climate must be protected in order for us to be the regional leader economically."
Around the Web