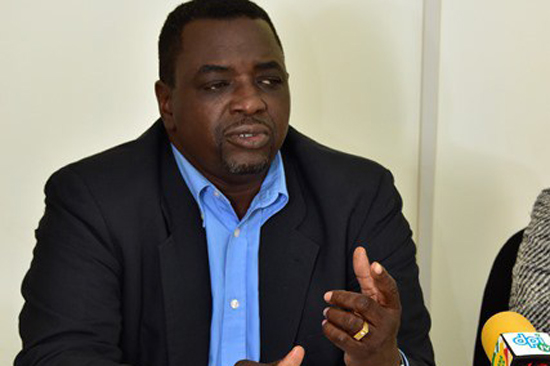 Chief Executive Officer of the Small Business Bureau, Dr Lowell Porter, on Tuesday confirmed that the way had been cleared for the full and effective implementation of the provision in the Small Business Act of 2004 for the allocation of 20% of government contracts to local small businesses.
While there had been an earlier announcement by Minister of Business Dominic Gaskin that the initiative would go ahead from January next year, doubts had subsequently been raised arising out of public comments made about the need for the National Assembly's intervention to ensure that the clause in the Small Business Act that allows for the 20% allocation, was in keeping with the Procurement Act. When asked about the issue at a media briefing held by the Bureau on Tuesday, Porter confirmed that the way had been cleared for the full implementation of the provision with effect from January 1.
Under the arrangement, small businesses seeking accreditation as "approved suppliers" must apply to the Bureau which would be responsible for providing the credential. The granting of accreditation will be based on small businesses satisfying criteria some of which are similar to those required of conventional businesses engaging in the conventional tender process including possession of Guyana Revenue Authority and National Insurance Scheme compliances.
The full and effective implementation of the 20% provision could pave the way for significant and meaningful job-creation and for the introduction of several small businesses to bigger contracts than they would have executed before. Stabroek Business understands that small businesses applying for contracts to deliver services to government, will be required to undergo an evaluation aimed at determining their capacity to deliver.
At last Tuesday's media briefing, questions also arose regarding the extent to which such a process could be undermined by corrupt interventions, such as 'insiders' who might use their influence to secure contracts through small business enterprises set up specifically for the purpose. Government has said that it will be seeking to ensure that state agencies, not least government ministries, administer the 20% provision transparently in order to ensure that the beneficiaries are bona fide small businesses.
At the media briefing, Porter encouraged small businesses to begin the process of registering with the Bureau early since he pointed out that failure to register would mean that businesses could not access the 20% provision. The Bureau, meanwhile, will be providing training for small businesses in various areas to help position them to benefit from the provision though Porter said that the entity will only train those who are registered with the Bureau. 
Around the Web