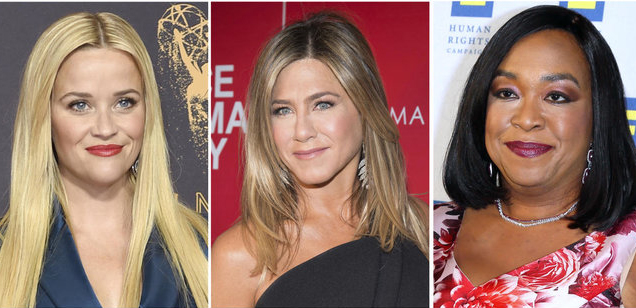 LONDON,  (Thomson Reuters Foundation) – Hollywood stars including Reese Witherspoon, Jessica Chastain and Natalie Portman have backed a campaign against sexual harassment called Time's Up as donations flood in for a multi-million dollar legal fund to fight abuse cases in the workplace.
In an open letter in the New York Times, they said they particularly wanted to "lift up the voices" of women in low-wage industries whose lack of financial stability left them vulnerable to exploitation.
"I stand with ALL WOMEN across every industry to say #TIMESUP on abuse, harassment, marginalization and underrepresentation," tweeted Witherspoon who won an Oscar for the Johnny Cash biopic "Walk the Line".
The campaign comes after a slew of allegations of sexual misconduct against Hollywood mogul Harvey Weinstein last year sparked the #MeToo campaign, with women and men using social media to talk about their experiences of harassment.
More than 300 show business figures including actors, writers and directors launched the Time's Up initiative with a full page advert in the New York Times on New Year's Day, pledging to support workers in all industries fight sexual misconduct. "Let's all make this resolution for the year: No more accepting sexual harassment and inequality at work as normal. It's NOT normal," tweeted actress Jessica Biel. By early Tuesday the initiative, also backed by Eva Longoria and Emma Stone, had raised nearly $14 million of a $15 million target for a legal fund to help victims of sexual harassment in the workplace. "We stand with all those who have endured sexual harassment: those who have come forward and those who have decided to remain quiet. It's time for change, and we must act now," the group said on their gofundme page. "The voices of those affected in every industry have been silenced for too long." They said harassment often continued because those responsible and employers never faced consequences and because of systematic gender inequality. "The struggle for women to break in, to rise up the ranks and to simply be heard and acknowledged in male-dominated workplaces must end; time's up on this impenetrable monopoly," they said. The campaign with hashtag #timesup will also push for legislation to penalise companies that tolerate harassment and to discourage the use of nondisclosure agreements to silence victims, according to the New York Times. "Time's up on silence. Time's up on waiting. Time's up on tolerating discrimination, harassment or abuse," Oscar winner Portman wrote on Instagram.
Actors are being encouraged to wear black at the Golden Globe Awards on Sunday to protest against sexual harassment.
Comments

LOS ANGELES,  (Reuters) – Dark comedy "Three Billboards Outside Ebbing, Missouri" won three prizes at the Screen Actors Guild (SAG) awards on Sunday in a ceremony marked by women and their stories amid the sexual misconduct scandal that has swept Hollywood.
LOS ANGELES,  (Variety.com) – Sony's "Jumanji: Welcome to the Jungle" has won its third weekend box office title with ease, topping newcomers "12 Strong" and "Den of Thieves," with $20 million at 3,704 North American locations.

LOS ANGELES, (Reuters) – Woody Allen's adopted daughter gave a tearful television interview yesterday, giving details of an alleged molestation by the filmmaker more than 25 years ago.

MUMBAI, (Reuters) – India's Supreme Court yesterday cleared the way for the release of a controversial Bollywood movie based on an epic poem about a 14th-century queen, a day after its producers went to court to fight bans by several states.

LONDON, (Thomson Reuters Foundation) – British-Indian sculptor Anish Kapoor donated $1 million to five charities working with refugees worldwide on Wednesday in a bid to alleviate a record-breaking global displacement crisis.