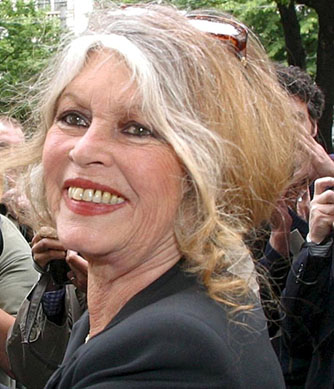 PARIS, (Reuters) – French activist and former actress Brigitte Bardot said many actresses sexually provoke film producers to win roles and then complain about harassment to get attention.
Her comments come a week after fellow French actress Catherine Deneuve sparked an outcry by saying a backlash against men following the Harvey Weinstein scandal had gone too far. She referred to the #Metoo campaign against sexual harassment as puritanism.
Bardot, one of France's most famous figures, was quoted by weekly magazine Paris Match as saying that most complaints of sexual harassment by actresses – not by women in general – were "hypocritical, ridiculous and pointless".
"There are many actresses who are coming on to producers just to get a role," the 83-year-old one-time model was quoted as saying. "Then, just so people will talk about them, they say they have been harassed."
Bardot, who became famous in the 1950s, marrying film director Roger Vadim when she was 18, said talk about harassment was getting in the way of more important topics and said she had never been the victim of sexual harassment.
"I was quite charmed when they told me I was beautiful or that I had a nice little ass," the magazine quoted her as saying. "That kind of compliment is nice."
Often referred to by her initials "BB", Bardot appeared in more than 40 films and was named as one of the five sexiest female stars of the 20th century by Playboy magazine.
After giving up cinema in 1973, she took up the cause of animal rights and later became an increasingly controversial figure with outbursts against gays, Muslim immigrants and the unemployed.
In 2008 she was convicted for a fifth time in 11 years for incitement to religious hatred and insulting Muslims.
Comments

LOS ANGELES,  (Variety.com) – Disney-Marvel's "Black Panther" is heading for a super-heroic $218 million debut over the four-day President's Day weekend at 4,020 North American locations, estimates showed Sunday.
LONDON,  (Reuters) – Dark comedy "Three Billboards Outside Ebbing, Missouri" was the biggest winner at the BAFTA Film Awards, held in London on Sunday, an event which saw the campaign for women's rights in the entertainment industry take centre stage.

LOS ANGELES, (Reuters) – Some film critics are calling it the best Marvel movie so far; others say it's a correction after years of neglecting minority talent in Hollywood.

(Reuters) Amid violent protests and calls for a ban, Sanjay Leela Bhansali's "Padmaavat" released in Indian theatres last week to a mostly positive reception from audiences.

LOS ANGELES,  (Reuters) – U.S. singer Vic Damone, a crooner who found fame in the 1940s and 1950s, has died at the age of 89, his family said on Monday.