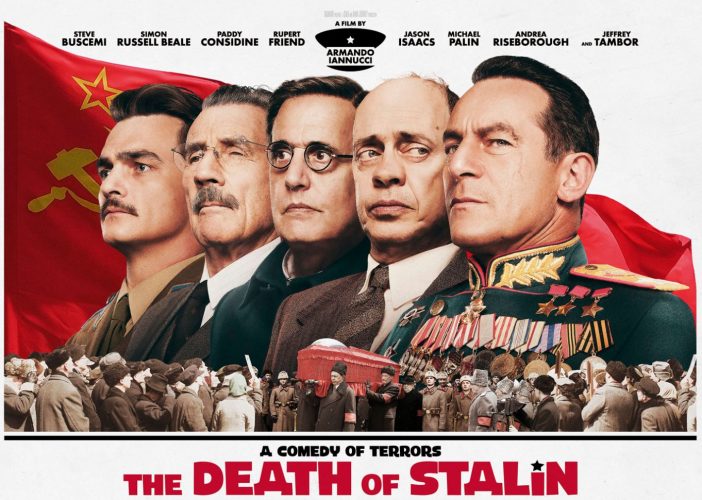 MOSCOW,  (Reuters) – The Russian premiere of "Death of Stalin, a dark, satirical movie from British director Armando Iannucci, was called off yesterday after a private pre-release viewing drew ire from government figures, TASS news agency reported.
The culture ministry withdrew the license it had previously granted for the movie's general release in Russia, the agency quoted the ministry's press office as saying.
It was not immediately clear if the film could still be shown in Russia at a later date. The culture ministry and the film's director could not be reached for comment.
The film, which focuses on the back-stabbing and in-fighting of the Soviet leader's closest allies as they vie for power immediately after his death, was viewed by culture ministry officials and advisors at the weekend.
"It's a despicable film," said Nadezhda Usmanova, head of the Russian Military Historical Society's department of information. The group was involved in organising the pre-release screening.
"It's a bad film, it's a boring film, and it's vile, repugnant and insulting," Usmanova told Reuters.
Elena Drapeko, deputy head of the culture committee in the State Duma, the lower house of Parliament, told Reuters she found "extremism" in the movie.
"It's an effort to breed bad blood into the social harmony that has been reached in Russian society", said Drapeko, who earlier in her career was a popular Soviet and Russian actress.
Comments

LOS ANGELES,  (Variety.com) – Disney-Marvel's "Black Panther" is heading for a super-heroic $218 million debut over the four-day President's Day weekend at 4,020 North American locations, estimates showed Sunday.
LONDON,  (Reuters) – Dark comedy "Three Billboards Outside Ebbing, Missouri" was the biggest winner at the BAFTA Film Awards, held in London on Sunday, an event which saw the campaign for women's rights in the entertainment industry take centre stage.

LOS ANGELES, (Reuters) – Some film critics are calling it the best Marvel movie so far; others say it's a correction after years of neglecting minority talent in Hollywood.

(Reuters) Amid violent protests and calls for a ban, Sanjay Leela Bhansali's "Padmaavat" released in Indian theatres last week to a mostly positive reception from audiences.

LOS ANGELES,  (Reuters) – U.S. singer Vic Damone, a crooner who found fame in the 1940s and 1950s, has died at the age of 89, his family said on Monday.