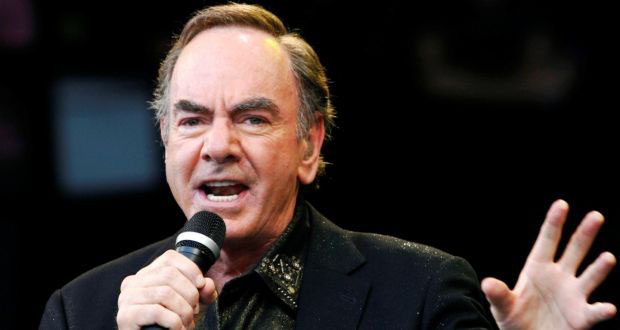 (Reuters) – U.S. singer-songwriter Neil Diamond, one of pop music's all-time best-selling artists, has been diagnosed with Parkinson's disease and plans to retire from touring, his official website said on Monday.
The onset of the disease has made it difficult for him to travel and perform on a large-scale, a statement on the site said, adding he will be cancelling upcoming concert dates in Australia and New Zealand and offering refunds.
"It is with great reluctance and disappointment that I announce my retirement from concert touring. I have been so honored to bring my shows to the public for the past 50 years," Diamond said in the statement, offering apologies to those who purchased tickets to his upcoming shows.
Diamond, known for hits including "Sweet Caroline" and "Cracklin' Rosie," said he plans to remain active in song writing and recording.
Later this week, Diamond will turn 77 and on Sunday the Recording Academy plans to honour him with its Lifetime Achievement Award.
Diamond has sold more than 130 million albums worldwide and 38 of his singles have made it to the Top 40, according to the academy.
Grammy-award winner Diamond, a fixture in American pop music since he began recording in the 1960s, has been inducted into the Rock and Roll Hall of Fame.
"My thanks goes out to my loyal and devoted audiences around the world. You will always have my appreciation for your support and encouragement," Diamond said.
"This ride has been 'so good, so good, so good' thanks to you," he said.
Comments

LOS ANGELES,  (Variety.com) – Disney-Marvel's "Black Panther" is heading for a super-heroic $218 million debut over the four-day President's Day weekend at 4,020 North American locations, estimates showed Sunday.
LONDON,  (Reuters) – Dark comedy "Three Billboards Outside Ebbing, Missouri" was the biggest winner at the BAFTA Film Awards, held in London on Sunday, an event which saw the campaign for women's rights in the entertainment industry take centre stage.

LOS ANGELES, (Reuters) – Some film critics are calling it the best Marvel movie so far; others say it's a correction after years of neglecting minority talent in Hollywood.

(Reuters) Amid violent protests and calls for a ban, Sanjay Leela Bhansali's "Padmaavat" released in Indian theatres last week to a mostly positive reception from audiences.

LOS ANGELES,  (Reuters) – U.S. singer Vic Damone, a crooner who found fame in the 1940s and 1950s, has died at the age of 89, his family said on Monday.