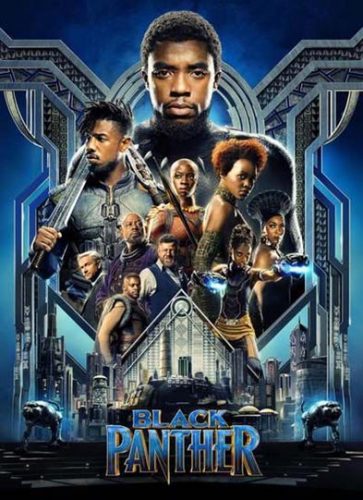 LOS ANGELES,  (Variety.com) – Disney-Marvel's "Black Panther" is heading for a super-heroic $218 million debut over the four-day President's Day weekend at 4,020 North American locations, estimates showed Sunday.
That number means that "Black Panther," starring Chadwick Boseman and directed by Ryan Coogler, has doubled its original tracking in less than a month. The film, which carries an estimated $200 million production cost, had been tracking to bring in between an impressive $100 and $120 million when first estimates emerged on Jan. 25. Since then, "Black Panther" has become a must-see movie for many moviegoers, underlined when Thursday previews brought in $25.2 million, the largest Thursday night preview gross for a February opener and the second-largest preview gross for a Marvel film.
The film's estimated three-day gross of $192 million is the highest debut ever for a February film and the fifth highest of all time. Combined with an estimated international debut of $169 million from 69 percent of the international market, the estimated global debut stands at $361 million through Sunday.
"Black Panther" has demolished the record for the largest Presidents Day weekend, blowing past "Deadpool's" 2016 mark of $152 million. Overall North American moviegoing for the four-day period should hit $300 million — far above the $278 million mark in 2016, according to comScore.
"This is proof that the big screen experience may arguably be the most powerful platform of change in our society," said Paul Dergarabedian," senior media analyst with comScore. "The emotional, communal, immersive and bigger than life theatrical experience has an impact that virtually no other medium can match."
Comscore's PostTrak survey of the audience showed outstanding numbers with 77 percent rating "Black Panther" as "excellent" and another 18 percent as "very good."
Boseman portrays King T'Challa, ruler of Wakanda, a technologically advanced society, who conflicts with Michael B. Jordan's Eric Killmonger, who intends to take over the throne. Letitia Wright, Lupita Nyong'o, Angela Bassett, Danai Gurira, and Daniel Kaluuya also star. It's received an A+ CinemaScore, the only Marvel film to have done so besides 2012's "The Avengers."
Sony's second weekend of "Peter Rabbit" should bring in $22.5 million from 3,275 domestic locations for the four-day weekend, yielding an 11-day domestic total of $53 million. The film stars the voice of James Corden as the titular rabbit, along with Margot Robbie, Elizabeth Debicki, and Daisy Ridley as Peter's sisters. Domhnall Gleeson stars as the heir to Mr. McGregor's property, with Rose Byrne as the kindly neighbor Bea.
The second weekend of Universal's "Fifty Shades Freed" follows in third with $18 million from 3,768 locations for the Friday through Monday period. The erotic romance stars Jamie Dornan and Dakota Johnson as Christian Grey and Anastasia Steele — now Mrs. Grey. Its Friday through Sunday total ($16 million) marks a 57 percent decline from its opening weekend. The film has earned $161 million worldwide in its first eight days.
Sony's ninth weekend of its durable action-comedy "Jumanji: Welcome to Jungle" finished fourth with $10 million at 2,800 venues. The 62-day domestic total will hit almost $380 million, just behind 2005's "Star Wars: Episode III — Revenge of the Sith" for 32nd spot on the all-time list.
Clint Eastwood's second weekend of the thriller "The 15:17 to Paris" is set to take fifth, with $9.1 million from 3,042 locations for Warner Bros. The movie, starring the three men who stopped an attempted 2015 terrorist attack on a European train, is projected to have grossed nearly $27 million domestically in 11 days.
Fox's ninth weekend of "The Greatest Showman" continued to show remarkable traction in sixth with a projected $6.3 million at 1,936 locations, which will lift the 62-day total to $155 million for the Hugh Jackman musical.
Nick Park's "Early Man" opened softly this weekend in the U.S. in the seventh slot with $4.2 million from 2,494 North American locations. The British film, which is being distributed in the United States via Lionsgate, utilizes the voice talents of Tom Hiddleston, Timothy Spall, Eddie Redmayne, and Maisie Williams.
Comments

LOS ANGELES,  (Reuters) – Romantic fantasy "The Shape of Water" won the best picture Oscar on Sunday, the film industry's most prestigious honour, on a night where themes of female empowerment and activism almost overshadowed the awards.

LOS ANGELES (Reuters) – Animated "The Emoji Movie" stunk up the annual Razzie awards on Saturday, tanking below all contenders for worst achievements in film, while Tom Cruise and Mel Gibson were also roasted for 2017's most ignoble performances.
CAIRO (Reuters) – Egypt's top court on Saturday dismissed all outstanding legal challenges to a deal transferring two Red Sea islands to Saudi Arabia, a day before a visit by its crown prince.

(Reuters) – Thousands of fans lined the streets of Mumbai yesterday, some weeping quietly, others running behind the hearse, as they joined Bollywood stars in paying tributes to actress Sridevi who died at the weekend in Dubai.
LOS ANGELES,  (Reuters) – The Academy Awards, the glitziest night in show business, takes place on Sunday, but the biggest drama may be not on the Dolby Theatre stage but behind-the-scenes moves to tackle the sexual misconduct scandal that has rocked the industry.