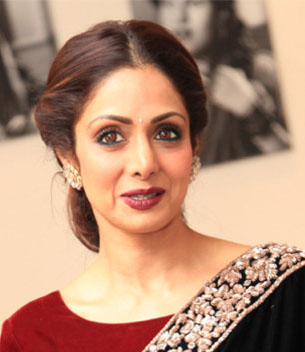 (Reuters) – Thousands of fans lined the streets of Mumbai yesterday, some weeping quietly, others running behind the hearse, as they joined Bollywood stars in paying tributes to actress Sridevi who died at the weekend in Dubai. Sridevi, 54, acted in 300 films in a career that began at age four and culminated in her becoming one of Hindi cinema's biggest female superstars. Police were called in to control a crowd that surged towards a Mumbai club where her body was placed for people to pay their respects.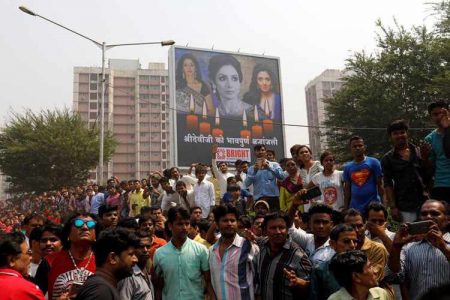 "She was in the first movie I saw in theatres. I wanted to get a last glimpse of her, but the police won't let us in," Indrayani, a woman from Sridevi's home state of Tamil Nadu in southern India, said.
Fans later ran behind a flower-bedecked truck carrying the body as it drove towards the crematorium.
Police in Dubai where Sridevi had gone to attend a family wedding said that a post mortem showed her death on Saturday was due to drowning in her hotel room's bathtub following loss of consciousness.
Media reports had earlier said the cause of death was cardiac arrest.
Sridevi is survived by her husband, Boney Kapoor, and daughters Janhvi and Khushi. The Kapoors are a prominent film family, and her brothers-in-law, Anil and Sanjay, are actors, as is Arjun Kapoor, her husband's son from a previous marriage.
"She was an all-round actress, a hard worker who was always willing to correct her mistakes and improve," Bharathi Pradhan, a film critic who knew Sridevi from her initial days in Bollywood, said.
"She had sensuality and oomph like no other actress of the time."
Comments

LOS ANGELES,  (Reuters) – Romantic fantasy "The Shape of Water" won the best picture Oscar on Sunday, the film industry's most prestigious honour, on a night where themes of female empowerment and activism almost overshadowed the awards.

LOS ANGELES (Reuters) – Animated "The Emoji Movie" stunk up the annual Razzie awards on Saturday, tanking below all contenders for worst achievements in film, while Tom Cruise and Mel Gibson were also roasted for 2017's most ignoble performances.
CAIRO (Reuters) – Egypt's top court on Saturday dismissed all outstanding legal challenges to a deal transferring two Red Sea islands to Saudi Arabia, a day before a visit by its crown prince.
LOS ANGELES,  (Reuters) – The Academy Awards, the glitziest night in show business, takes place on Sunday, but the biggest drama may be not on the Dolby Theatre stage but behind-the-scenes moves to tackle the sexual misconduct scandal that has rocked the industry.

PARIS/NEW YORK,  (Reuters) – A few months shy of her 90th birthday, French film director Agnes Varda is in the running for a second Oscar in a year, thanks to an unlikely partnership with street artist JR in a documentary spotlighting everyday life in small-town France.