(Reprinted from Stabroek News Souvenir Edition, Monday, March 17, 1997, page 10)
The widow of the late President, Janet Jagan, has expressed regret that her hus­band did not have enough time to fulfil the many dreams he harboured for his country and its citizens.
Her remarks were made during the state funeral ceremo­ny held on March 10 in the Parliament compound, before Dr Jagan's remains were taken to his Corentyne birthplace for cremation.
"We have all been deeply moved by the demonstrations of love, respect and genuine grief which we have seen demonstrated by so many Guyanese of all strata … of all races and religious groups, and from the young and the old. That in itself tells the tale about the man who today we mourn."
She said that she could testi­fy to the qualities that made him what he became in the hearts of all Guyanese. He was, above all, a fighter, a man dedi­cated not only to his fellow Guyanese, but to all humanity, she told the gathering at the state funeral.
She said that she could also testify to his goodness, integri­ty, and intellect, describing him as a man who was always seek­ing answers, always examining all aspects of a matter, always searching for the truth. He was constantly analysing, she con­tinued, looking at three and four sides of a problem in order to arrive at the correct answers.
Even when the odds were high against him and in the face of an almost hopeless situation, he never lost strength, never lost the will to achieve his goal.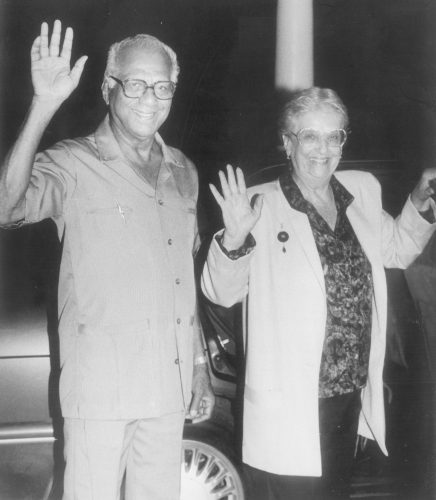 Mrs Jagan also spoke of his lack of concern for the material things of life.
She said her greatest regret at the passing of Dr Jagan, aside from the loss of her com­panion of more than half a cen­tury, the father of her two chil­dren and the grandfather of five, was that he was not given the time to carry out his plans to fulfil his dreams.
"He had many dreams for Guyana: to eradicate poverty, to build a strong and independent nation, to consolidate the democracy he had struggled to restore and, above all, to unite the nation."
She lauded those supporters who had stood by him faithful­ly for several years in the strug­gle for the people's rights. These persons, she said, knew his dreams, his wishes, his plans and would carry the torch he had lit so many years ago. "We say farewell to our dear comrade, our friend, our hero. Cheddi rest in peace; your name will live on."
Around the Web